Ep.474 – Adele @ The Palladium – Hollywood, CA – 08/17/11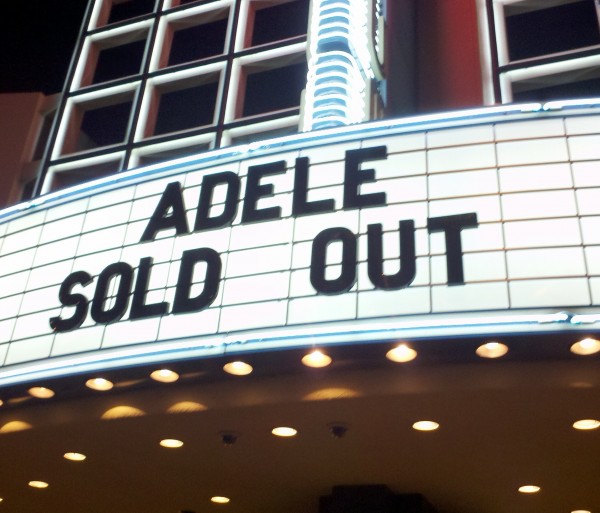 I have no other way to start this post besides saying that there is a damn good reason Adele has such a buzz around her, and that reason is an impeccable talent. Looking back at this show and watching video from Adele's performance at the Palladium I still cant help but have a shiver run through my body. I honestly don't think this show could have been any more amazing and it is def in my top shows of 2011 and I doubt that it will receive much competition in being the best show I will see all year.
Adele @ The Palladium Video Concert Review
Adele @ The Palladium Concert Review
I hadn't listened to a lot of Adele songs prior to attending this show, but knew Adele had won the 2009 Grammy for Best New Artist, that she had a #1 single, "Rolling In The Deep," and managed to sell out both the Greek Theater and the Palladium in the same week. In addition to selling out both the Greek and the Palladium, the ticket was by far the hottest ticket of the summer. From what I understand, even top level executives at Live Nation weren't able to gain entrance to this sold-out Palladium show.
When I arrived at the Palladium, I was semi-skeptical about being able to find a ticket to the show as the streets were crowded with scalpers and fans willing to pay anything to see Adele live in concert. At the same time, I knew that a miracle was going to take place (as it often does), and  I would somehow find my way into Adele. Sure enough, after about 15 min or so of hanging outside the Palladium, some totally random and awesome mystery chick dropped a ticket in my hand. I was set.
My friend Aly still need a ticket and things began to look a bit worse for us, but as Adele took the stage a cool-looking dude wearing a Red Sox hat named Chris walked by us. Aly said the magic words, "Ya Red Sox." Chris stopped and handed us a ticket. I was overjoyed and even jumped into the air with excitement. WE WERE GOING TO SEE ADELE! We rushed into the Palladium and were even able to catch all of Adele's set.
The stage set up for Adele's show was fairly simple, but also had a unique style.  It was almost bare and simply housed the band, Adele and a few lamps.  In addition to the lamps that were on the actual stage, there were several lamp shades hanging from the ceiling. That was the extent of Adele's lighting design.  It made me feel like I was in some sort of abstract dream scene.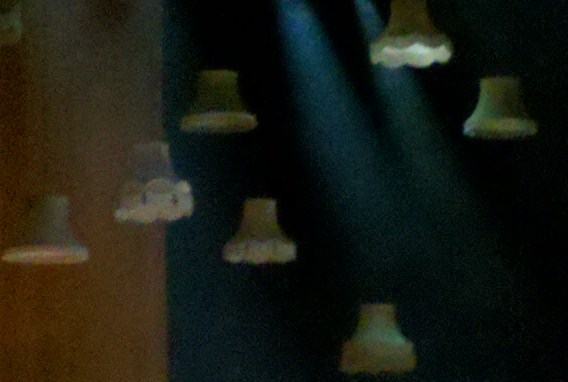 Although I didn't know a lot of Adele's songs, I was mesmerized by her sound and vocal talents.  Adele just had so much power and command – taking the audience by force.  There was an energy flowing in the Palladium during Adele's set, and I would be very surprised if everyone in attendance didn't feel it.  The crowd sang along to every single Adele song word-for-word.  I couldn't believe how spot-on the crowd was, and it made the show a bit more magical.
I dug Adele's backing band – especially her piano player.  A good chunk of the show featured just Adele and her piano player. The crowd really enjoyed the moments when it was just the two of them.  I also enjoyed the fact that there was multiple band set ups that allowed Adele to play different styles of music, from slow, classical-sounding songs to twangy country-like ditties, to upbeat jump-around tunes.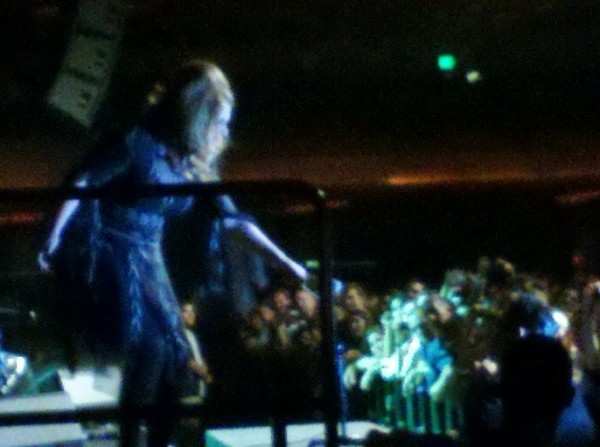 Another thing Adele had going for her was her ability to chat and banter with her audience.  Adele was kind enough to share stories of  what inspired her songs and how much her life has changed over the last few years.  Adele spoke with great sincerity, and I think that this hit home with the fans and made Adele's set far better than if she was to just stand on the stage and sing for an hour an a half.
In closing, this night was amazing! I cant stress enough how much you need to go see Adele.  Even if you don't consider yourself a fan of Adele's music, it's an almost guarantee that she will not disappoint – unless you hate talented singers and great performers. If you were at this show or have ever seen Adele, please comment on this post; well, because this is You Tell Concerts, and "When You Tell Concerts, It's Cooler!"  -lorn
Adele @ The Palladium Setlist 08/17/11
1. Hometown Glory
2. I'll Be Waiting
3. Don't You Remember
4. Turning Tables
5. Set Fire To The Rain
6. If It Hadn't Been For Love [SteelDrivers]
7. My Same
8. Take It All
9. Rumour Has It
10. Right As Rain
11. One And Only
12. Lovesong (The Cure cover)
13. Chasing Pavements
14. Make You Feel My Love (Bob Dylan cover)
Encore:
15. Someone Like You
16. Rolling In The Deep
Adele "Someone Like You" & "Rolling In The Deep" Live @ The Palladium 08/17/11