Event Guide – Audiotistic 2011 @ NOS Events Center – San Bernadino, CA – 07/30/11
Audiotistic 2011 – Event Guide
Audiotistic 2011 – 3pm – 2am
NOS EVENTS CENTER
689 South "E" Street
San Bernardino, CA 92408
18 and older event with ID
Tickets: $65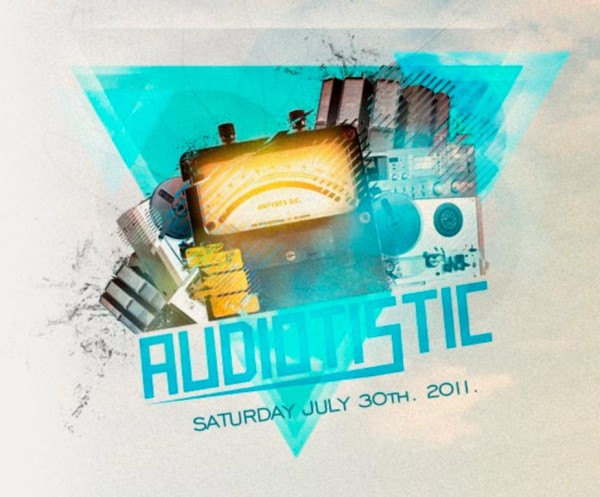 Audiotistic 2011 Lineup
Treble Frequency
Wolfgang Gartner
Crystal Castles (Live)
Diplo
Porter Robinson
Chris Lake
Bingo Players
Bobby Burns
Zoo Brazil
Morten Breum

Speaker Temple
Super8 & Tab
Mat Zo
Jaytech
Arty
Marcel Woods
Menno de Jong
Norin & Rad
Showtek
Bass Frequency
Flux Pavilion
Doctor P.
Datsik
Benga
Plastician
Ed Rush & Optical
Flinch
Fury
Deco
DJ Fresh
The Boombox
Major Lazer (Live)
Lil B "The Based God" (Live)
The Cool Kids (Live)
DJ Craze
Chiddy Bang (Live)
AC Slater
Daedelus
Nick Catchdubs
King Fantastic (Live)
AraabMUZIK
Thee Mike B
Hoodie Allen (Live)
Audiotistic 2011 Schedule
Hydrate:
Hydration is by far the most important thing to keep in mind while at Audiotistic 2011.  The fact of the matter is,  if you dance like a maniac for 11 hours straight, you are going to need to drink some water.  Water will be sold on site, but if you have a water bottle, you will be able to refill it the entire night free of charge. When you get to the fest, make sure that picking up a water bottle is your first order of business.
Identification: Audiotistic 2011  is 18+ and 21+ to drink. Make sure to bring a state-issued ID or a Passport, so you're not left out on all the fun.
Vibes: Go to Audiotistic 2011 to have fun, not to prove a point and be a total dick.  I'm just going to get down and have fun with friends. Go with good vibes, and good vibes will surround you. Audiotistic 2011 will be filled with all different types of people who like different types of music, and if anyone is going with the intention to cause problems, I hope they decide to stay home.
Meeting spot: If you and your friends plan to part ways,  pick a meeting spot, so at some point in the night everyone can regroup.
Audiotistic 2011 ZERO TOLERANCE For Drug Use Or Possession:
The use or possession of any illegal drugs will not be tolerated anywhere inside or outside the venue. Narcotics officers will be working both areas and enforcing all drug related laws. Do not bring any illegal substances to the event as violators will be prosecuted to the fullest extent of the law. If you are found inebriated at the door, security will not allow you to enter the venue. Event staff reserves the right to refuse entry to anyone. Please come with a smile and be prepared to enjoy a afternoon/night full of music, dancing, and the full festival experience of Audiotistic.
Audiotistic 2011 festival map