Ep.132 – Backstreet Boys @ The Palladium – Hollywood,CA – 11/23/08
Chrystal and Sam go on the greatest Backstreet Boys adventure ever and talk to fans about the show.
The Backstreet Boys @ The Palladium
Video Concert Review

Sunday was a huge day for boy bands here in Los Angeles. The American Music Awards were going on and the New Kids on the Block were performing. The Jonas Brothers announced a free show at the House of Blues following the AMAs, and the Backstreet Boys were playing the Hollywood Palladium. Backstreet was my priority. Besides, I've already seen NKOTB (twice), and the Jonas Brothers this year.
I've been a Backstreet fan since 1998 when I was throwing a raging kegger at my home in Auburn, Massachusetts. (My parents were away on vacation.) My friend Mary started talking about 'NSYNC, and my best bud, Erin, was like, "Nope, Backstreet is way better." I rolled my eyes and laughed at them. Then, they convinced me to put on my sister's VHS of BSB: Homecoming in Orlando. Suddenly, I knew what they were obsessed over. When Nick sang, "I Need You Tonight"- I cried. Brian won my heart in that video, but I had a dream about AJ that night, which immediately made him my favorite. That freed up Brian for Colleen.
Backstreet Boys became a part of life. The boys kept my high school group of girls connected while we went off to college. We would always plan Backstreet Boys adventures, and traveled all over. We maxed out a few credit cards in the process. My friend even got tattoos. Being a Nick and AJ fan, she got a "Shining Star" on her neck, and the Chinese symbols for "Wild and Free." (True Backstreet junkies will understand the significance.) I think Sunday was my 15th concert, solo shows included. (Man, I loved AJ's alter ego charity shows as Johnny No Name) I've been to Orlando, Toronto, New York City, Buffalo, Los Angeles, and Boston – all for the boys.
Those were the days…the smell of Joop in the hotel hallways always meant AJ had just been there. There was the time when we were in the elevator, and Kevin came in for the ride to the lobby. I'll never forget the screams when those doors opened to a huge mass of fans. I can only imagine what it feels like to know they are screaming for you. We've battled blizzards, car breakdowns, girl-fights, term paper due dates, budgets and security all to see our boys, and I don't regret a second of it. To this day, whenever I'm down, I throw on a little Backstreet Boys and life is suddenly much better.
Enough background, moving on… Sunday's concert. I was skeptical at first because at sound check we heard that the band only knew 3/4 of the new album, and the hits. Siberia is my all-time favorite Backstreet Boys song, so I was bummed out to hear that they wouldn't be playing it. And honestly, I haven't been super crazy about this album. But, it is the tour for Unbreakable, so obviously they need to play songs from it.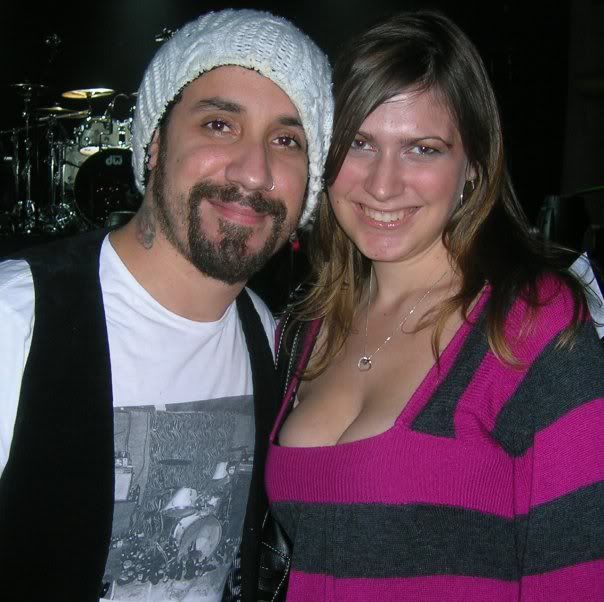 I have to say the Backstreet Boys never looked better. They were totally feeling the venue and the crowd. Nick was so sick, but he just pushed through and gave his all. Howie amazed me. He has grown so much vocally over the years, and he's hotter than ever. I was really impressed by him. The guys sprinkled in some solo numbers from their personal projects, which the audience loved. Brian's "Welcome Home You" gave me chills. I enjoyed when they projected their music videos on the screens during the "oldies"…adorable and heartwarming.
You can tell the economy has hit the Backstreet Boys, as the spectacle and set of this tour was a bit bland, and I noticed Marcus wasn't on bodyguard staff anymore. But, hey we are there for them, and as one fan mentions in this YTC episode…it's more personable and far more entertaining when they just goof off on stage and interact with the audience. Too much dancing and fancy effects take away from that. I can see how the set could be disappointing for a huge arena-like theater, but for this venue, it was PERFECT.
Of course the highlight of the show was Kevin's surprise appearance for the encore of "Shape of my Heart." What a moment! I'm so blessed to have experienced that.
What's great about all of this is…it's not over! It keeps going, and as long as the fans stay strong – the Backstreet Boys will. I've seen a lot of boy bands, and have been a fan for a lot of them, and nobody has more dedicated fans than the Backstreet Boys.
The boys announced that they were going back into the studio (the next day actually) to start recording the new album!!! YESSSSSSSSSS! They'll be working with T-Pain, so maybe a little extra effort will be put into this album, and we'll be seeing an answer back to the New Kids' kick-ass comeback CD.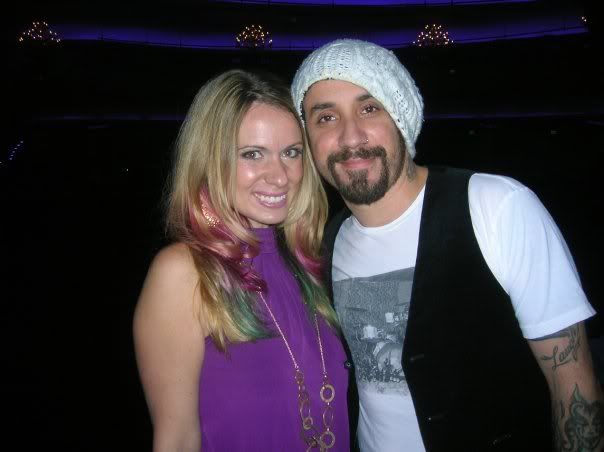 I have to say, this year was all about NKOTB for me, but Sunday I realized…in the words of Howie D My Heart Stays With You, BSB. When the New Kids left us for 15 years, the Backstreet Boys picked up the pieces, and have not given up on us. I'm not giving up on them. I'm keeping the Backstreet Boys pride alive.