Barenaked Ladies – Des Moines, IA – 07/29/10
My friend, Mike Bandow, (residing in Iowa) attended the Barenaked Ladies show on July 29th in Des Moines, and has contributed some pictures and his review of the show: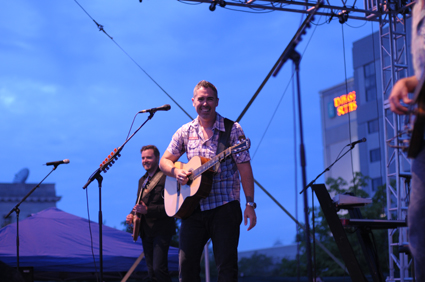 The Barenaked Ladies were in Des Moines, Iowa, on Thursday, July 29th, to support the 'All In Good Time' album. I've never seen them before, so I was really looking forward to this show. The show was sold out! It was suppose to take place at the Simon Estes Amphitheater, but due to flooding was moved to the Walnut St. bridge. This was my first concert on a bridge, and it worked surprisingly well. The weather was perfect for an outdoor show. I would guess the crowd at about a few thousand.
The current line up consists of Ed Robertson on lead vocals / guitar, Jim Creeggan on bass / vocals, Kevin Hearn Keyboards / Guitar / vocals, and Tyler Stewart on drums / vocals. Missing was Steven Page, (the other lead singer ); he left last year. I was worried Page would be missed, but Robertson pulled it off. BNL puts on a good show. I would put them in a (feel good music ) kind of category. You don't really have to know the music to enjoy the show, which I thought was cool. There were families and people of all ages there. BNL is a pretty clean band.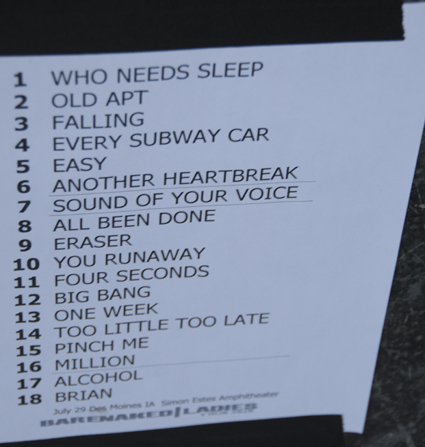 ~See The Barenaked Ladies Live~
They played about 2 hours, doing 18 songs. They covered all the big hits like "One Week", " If I Had a Million Dollars," "Pinch Me," and then some! You could tell these guys have been playing together a long time, they were tight. I had meant to get some good photos of the crowd partying during the show, but due to my camera deciding it needed a visit to the emergency room in mid-show, I only got a few of those off. I didn't see any craziness there like most shows I attend. It was pretty laid back and relaxed. Alot of people kicked back on lawn chairs and some danced. BNL put on a heck of a show for 12 bucks!
-reviewed by Mike Bandow: www.mikebandow.com
Angel Taylor is one of the opening acts on this Barenaked Ladies tour. Check out our phone interview with Angel HERE.
Barenaked Ladies – The Old Apartment
Barenaked Ladies – If I Had a Million Dollars