Ep.104 – Beck, Spoon, and MGMT @ The Hollywood Bowl – Hollywood, CA – 09/20/08
Lorn and Josh catch Beck,Spoon and MGMT at the Hollywood Bowl and get fan reviews of the show.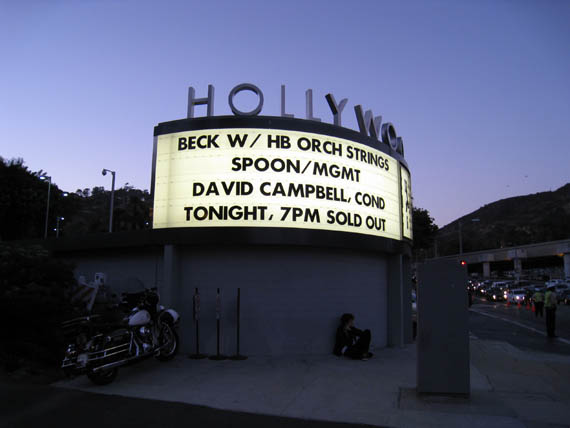 Beck w/ Spoon and MGMT @ The Hollywood Bowl
video concert review
"Los Angeles native and prolific rock inventor Beck plays his biggest hometown headline show to date on September 20 at the Hollywood Bowl. Spoon and MGMT also perform and make their venue debuts.
Beck hits the road this year in support of a new album planned for release this summer. Beck is close to completing sessions with producer Brian "Danger Mouse" Burton, his first collaboration with the Gnarls Barkley/Gorillaz veteran. The record is the first since Beck's Grammy-nominated digital single "Timebomb." The new songs also mark the first new material Beck has written since 2006's universally acclaimed The Information and 2005's platinum Guero.
Beck describes the new set as the most concise collection of music he's ever created. "The goal was 10 songs, 30 minutes, every song over before you want it to be. No fast-forward material. Anything that gave us any trouble was scrapped. There's no fat on this record whatsoever."
Austin, Texas-based rock outfit Spoon makes their only summer appearance in Los Angeles for this special one-night-only concert. Indie-electronic duo MGMT opens the show and performs in support of their first full-length album, Oracular Spectacular, an enigmatic and prophetic collection of hallucinatory sounds and hook-riddled pop tones."
- Hollywood Bowl press release
Beck @ The Hollywood Bowl 09/20/08 Setlist
Loser
Girl
Nausea
Leopard-Skin Pill-Box Hat (Bob Dylan cover)
Que Onda Guero
Nicotine & Gravy
Mixed Bizness
Devil's Haircut
Timebomb
Soul of a Man
Gamma Ray
Hell Yes
Black Tambourine
Modern Guilt
Paper Tiger
Think I'm in Love
Missing
Lonesome Tears
Replica
Round the Bend
Chemtrails