Bonnaroo B*tches!!!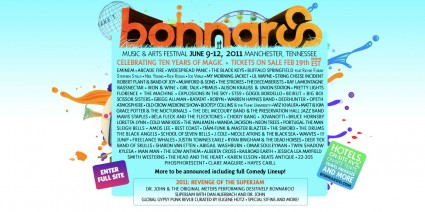 The Bonnaroo line-up was announced, and although the rumors of David Bowie and Daft Punk were bunk – this year's festival still has a lot of potential: Mumford & Sons, Sleigh Bells, My Morning Jacket, Scissor Sisters, Robyn, Bootsy Collins, Girl Talk, Wanda Jackson, and my even my boyfriend, Eminem! 

I'm pretty jazzed about Lil' Wayne, as he's playing Atlanta soon with Travis Barker and Nicki Minaj. I was planning on taking a trip to see it, but I just might wait for the festival. Hopefully, Barker and Minaj will be in tow.
Although the annoucement didn't punch me in the face like 2009′s did, I have a feeling 2011′s Bonnaroo is going to result numerous musical discoveries for me. I might even leave in love with Arcade Fire. Who knows?

Anyways, after the jump, is the wide-range of talent for the Class of '11 compiled by the good people at Nashville Cream. If you love Bonnaroo, you should definitely follow their blog, because their Bonnaroo coverage is outstanding every year. As of now, we are still waiting for the comedy line-up.
 Also, visit NPR for a great audio interview with Bonnaroo Co-Founder Ashley Capps.

* Eminem
* Arcade Fire
* Widespread Panic
* The Black Keys
* Buffalo Springfield feat Richie Furay, Stephen Stills, Neil Young, Rick Rosas, Joe Vitale
* My Morning Jacket
* Lil Wayne
* String Cheese Incident
* Robert Plant & Band of Joy
* Mumford & Sons
* The Strokes
* The Decemberists
* Ray Lamontagne
* Bassnectar
* Iron & Wine
* Girl Talk
* Primus
* Dr. John and The Original Meters performing Desitively Bonnaroo
* Alison Krauss and Union Station
* Pretty Lights
* Florence & the Machine
* Superjam ft. Dan Auerbach and Dr. John
* Explosions in the Sky
* STS9
* Gogol Bordello
* Beirut
* Big Boi
* Scissor Sisters
* Gregg Allman
* Ratatat
* Global Gypsy Punk Revue curated by Eugene Hütz
* Robyn
* Warren Haynes Band
* Deerhunter
* Opeth
* Atmosphere
* Old Crow Medicine Show
* Bootsy Collins & the Funk University
* Wiz Khalifa
* Matt & Kim
* Grace Potter & the Nocturnals
* The Del McCoury Band and the Preservation Hall Jazz Band
* Mavis Staples
* Béla Fleck & the Flecktones
* Chiddy Bang
* Javanotti
* Bruce Hornsby & the Noisemakers
* Loretta Lynn
* Cold War Kids
* The Walkmen
* Devotchka
* Wanda Jackson
* Neon Trees
* Portugal. The Man
* Sleigh Bells
* Amos Lee
* Best Coast
* Dãm-Funk
* The Sword
* The Drums
* The Black Angels
* School of Seven Bells
* J. Cole
* Nicole Atkins & the Black Sea
* Wavves
* !!!
* Junip
* Freelance Whales
* Justin Townes Earle
* Ryan Bingham
* Deer Tick
* Band of Skulls
* Sharon Van Etten
* Abigail Washburn
* Omar Souleyman
* Twin Shadow
* Kylesa
* Man Man
* The Low Anthem
* Alberta Cross
* Railroad Earth
* Jessica Lea Mayfield
* Smith Westerns
* The Head and the Heart
* Karen Elson
* Beats Antique
* 22-20s
* Phosphorescent
* Clare MaGuire
* Hayes Carll