Bryan's Top 10 Concerts of 2009

I counted somewhere around 90-95 concerts that I attended for the year of 2009.  I believe that's less than 10 more than I saw in 2008.  It's still a lot though.
Honestly I had much more trouble putting the concerts in order than I did picking out the top 10.  All of these shows really stood out to me.
Sure, there were lots of other shows this year, bu the following list are the shows I will never forget.
.
.
.
#10 The Pixies @ The Palladium

– The Pixies are one of those bands that I know the tunes and lyrics, but not always the names of the songs.  While I do have a favorite song (This Monkey's Gone to Heaven), I am more a fan of the band than any particular song or album.  Seeing them live at the Palladium just seemed right.

Ep.304 – Pixies @ The Palladium – Hollywood, CA 11/04/2009
.
.
.
#9 Phoenix w/ Metric @ The Greek

- I hadn't really listened to either of these bands previous to attending this show.  At least I hadn't listened to them knowingly.  During the show though, I realized I knew (and liked) many of the songs.  Both bands were very good live and I would certainly catch both again.

Ep.278 – Phoenix & Metric @ The Greek Theater – Los Angeles, CA

Photo by Jeff Miles
.
.
.
#8 Deadmau5 @ The Palladium

– A lot of hype surrounding this DJ/Producer at the beginning of the year.  Having never seen an electronic show at The Palladium before, this seemed like a fantastic opportunity.  I'll admit I was heavily intoxicated (vodka) during this show, but the atmosphere was unlike anything I have experienced all year long.  It really allowed me to appreciate both the artist and the venue.

Ep.216 – DeadMau5 @ The Palladium
.
.
.
#7 Flaming Lips w/ Ghostland Observatory @ The Greek

– This is one of those concerts that was a highlight of the year when I saw the billing for the first time.  Probably my 9th or 10th time seeing Ghostland Observatory and my 1st time seeing the Flaming Lips.  Amazing performances by both.  Incredible show.

Ep.264 – Flaming Lips w/ Ghostland Observatory @ The Greek Theater
.
.
.
#6 Santigold @ Hollywood Bowl

– Again… very intoxicated during this show.  However, my memories are all about dancing, being with friends, and just having a complete blast.  Santigold is an amazing live performer who is clearly very passionate and the Hollywood Bowl was a great venue to see her again.  She is a star and I highly recommend catching her next show.

Ep.236 – Santigold & Femi Kuti @ Hollywood Bowl

Lorn and Kimberly jammin' to Santigold – Hold the Line
.
.
.
#5 The Sounds @ The Key Club

– I was lucky to see The Sounds twice this year and this was my introduction.  OUTSTANDING!!  This band has an energy and talent that is very rare.  It doesn't hurt that the lead singer is so dang sexy.  Containing all that energy inside the Key Club was quite the experience. Will catch them every time they come around.

Ep.256 – The Sounds @ The Key Club
.
.
.
#4 Animal Collective @ The Troubadour

– AnCo released one of my favorite albums this year and getting to see them live at the Troubadour was a real treat.  Their live performance exceeds the album and the Troubadour is one of the most intimate venues in Los Angeles.

Ep.167 – Animal Collective @ The Troubadour
.
.
.
#3 Coachella Day 1 w/ Ghostland Observatory, Girl Talk, Paul McCartney + Music Loves Fashion

– This was an amazing day where I forged new friendships, lived the dream of seeing Ghostland Observatory play Coachella at dusk, and saw a living legend perform classic hits.  That's not even all either…

Music Loves Fashion @ The Riviera + Coachella Festival Friday

Me, Kimberly, Preston, and Kiki @ The Palm Springs Riviera Pool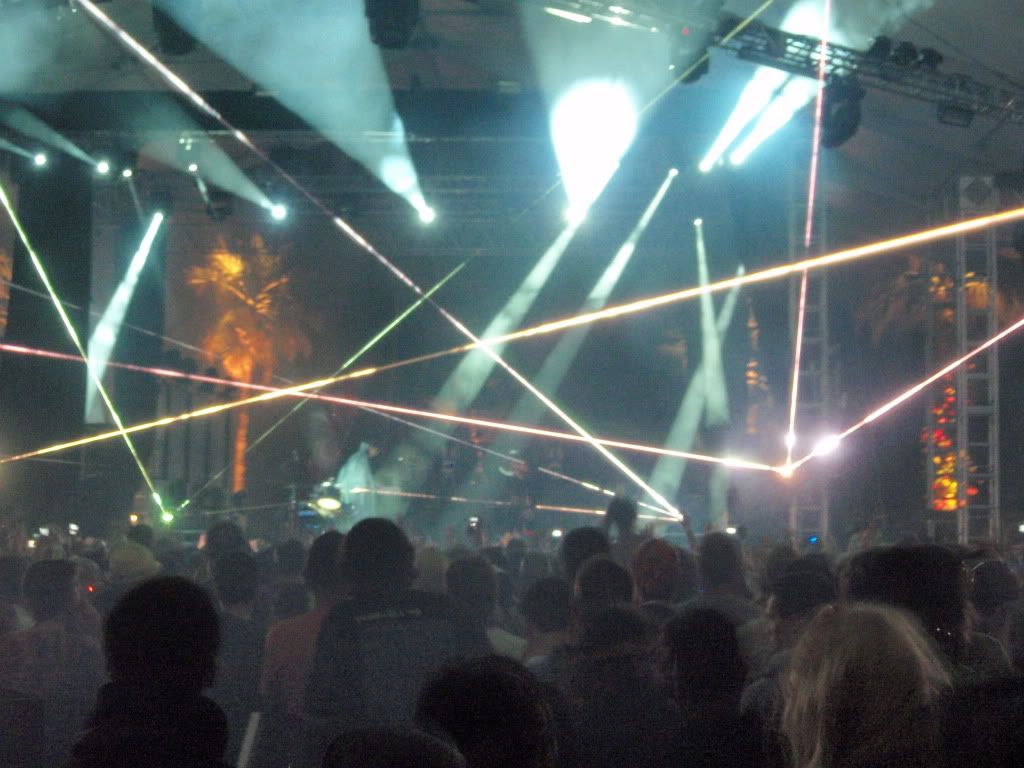 Ghostland Observatory in the Sahara Tent at Coachella 2009
.
.
.
#2 Ting Ting's Glow-in-the-Dark Paint Party @ a basement in Hollywood

– This really was a once in a lifetime opportunity.  Apparently they even used this event to make a music video for their song "Great DJ." Great times with great friends!

Ep.279 – The Ting Tings Glow-in-the-Dark Paint Party @ a basement

Photo by LA.com
.
.
.
#1 Rusko @ 15th Annual Nocturnal Festival

– This show stands out as probably the most enjoyable experience of the entire year.  Not only did we make some incredible new friends at this show, but everything was perfect.  Rusko's set was insane, there were fireworks, a large friendly crowd, and excellent weather.  I'm really looking forward to the release of Rusko's new album next spring and his tour to follow.  I hear he'll be playing Coachella and WMC this year, among other hot spots around the globe.
This was my second time to attend the Nocturnal Festival and I was just as impressed as the first time.  Insomniac really has their shit together and their "raves" or electronic dance festivals are very well managed and produced.  The dedication to the production at Nocturnal with the costumes, art design, and sound systems is unmatched.  I will see Rusko anytime and Nocturnal is a crazy experience.
Interview w/ Rusko @ the 15th Annual Nocturnal Wonderland

Photo by Kimberly Dawson
.
.
.
Honorable Festival Mention:
Winter Music Conference
2009 Ultra Music Festival / WMC
.
.
.
Honorable Party Mention:
Busy P's Birthday @ Cinespace
Busy P's Birthday @ Cinespace – Hollywood, CA (Daft Bangalter Special Guest!!!!)


Photo by Cobrasnake