Camp Bisco 9 = Road Trip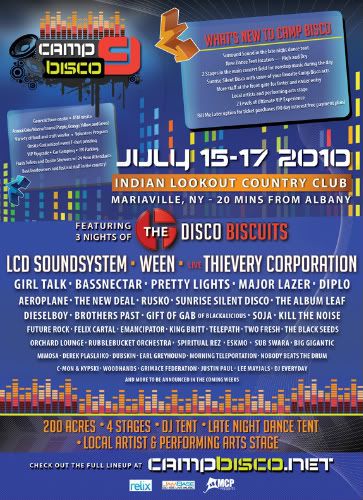 Hooray for yesterday! The first round of performers for Camp Bisco were announced, and the list is packed with acts that I have been dying to see per word-of-mouth recommendations. The awesomeness is too much to handle.
The Disco Biscuits – All 3 Nights; LCD Soundsystem; Ween; Thievery Corporation; Girl Talk; Bassnectar; Pretty Lights; Major Lazer; The New Deal; Diplo; Aeroplane; Rusko; Felix Cartal, Two Fresh…and that's just a few. Check out the poster above. More acts will be announced in the upcoming weeks.
This is the ninth year of the festival, and it will once again be held at Indian Lookout Country Club in Mariaville, New York (right outside Albany) from July 15th – 17th: 4 Stages, late night dance tent, 200 acres of rolling hills, flush toilets with 24/7 bathroom attendants, full bar and general store, and you camp within 20 yards of your car.
Oh, and Early Bird tickets are only $135 dollars – deal ends soon!
Check out www.campbisco.net for more info, and a chance to win 2 VIP tickets!
Say it with me now – "ROAD TRIP 2010!!!"
Camp Bisco Twitter: http://twitter.com/campbisco