CMA 2009 Recap

Unfortunately, I wasn't able to make a fan review video for last week's Country Music Awards, but I thought it'd be appropriate to write a little something about it as it is one of Nashville's biggest nights.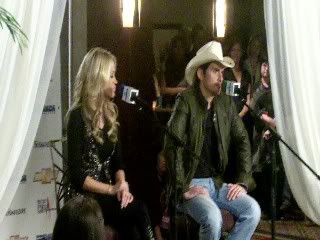 The whole week was madness – but fun madness. The company I work for is in charge of organizing the CMA remote broadcast and putting together coverage options for radio stations. About 50 stations, came to the Downtown Hilton and set up shop in a conference room. For 3 days, Country stars ranging from Jason Michael Carroll and Jake Owen to Reba and Taylor Swift were escorted through the room doing 5 minute interviews with each participating station.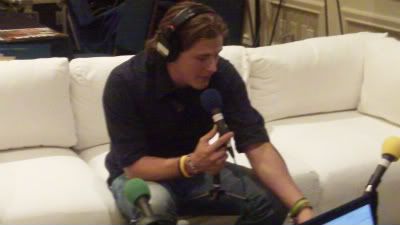 I stopped by the remote for orientation where Brad Paisley and Carrie Underwood did a brief press conference, and a couple other times throughout the week. It was incredible. The station's use of Flip cams and Kyte players for online footage really added a huge element to the coverage. Check out WSIX's player: HERE
On awards night, we got all beautified and headed out to the Sommet Center. I've been to a few awards shows, and surprisingly, this was the smoothest and classiest one that I've been too. Granted – I've never been to the Grammys. Maybe it was just that I had great seats, or that I wasn't working at the event. I like to hear how Nicole Kidman compares the two.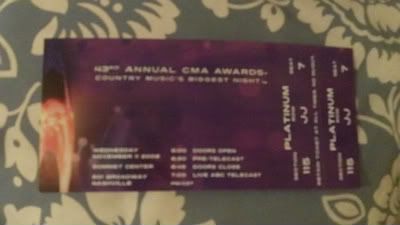 First of all, the tickets themselves were hella fancy – big, thick, glossy purple things. Then, we sat behind a camera crane, but I had a great view of all the stars on the floor; all of them greeting and congratulating each other, Miranda Lambert and Blake Shelton looking fabulous together, Big Kenny and his wife sporting awesome hats, Wynonna Judd walking in late with her fire engine red hair. At commercials, they played video of CMAs past, including Garth Brooks' "Friends in Low Places" performance.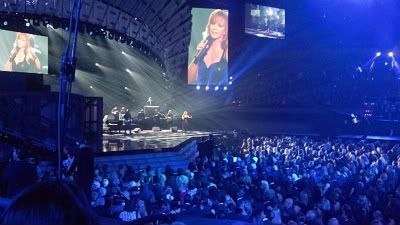 I loved how many performances were included in this show. I was afraid I'd get bored as these shows are hours long and sometimes drag. Also, I was anxious for the free food at the after parties – but I only glanced at my clock at 7:30 and then again at 9:14.
All of the acts were great, Carrie Underwood's had the most "show," but I'm not in love with that song…I know – how dare I? I certainly love me some Dave Matthews and Kenny Chesney duets – but the ones listed below were my favorites.
· Darius Rucker – He ran into the audience and danced with everyone. I'm so glad he is back on top again; just a fabulous thankful person with a big heart and the great talent of writing catchy songs.
· Zac Brown Band – They made "Devil Went Down to Georgia" their own, but kept it real at the same time. I love the hippie Country image of this band. They got robbed that night. They should have won "Single of the Year" – No disrespect to Lady Antebellum. Love them to death, but "Chicken Fried" is just a better Country song.
· Lady Antebellum – That being said, Lady A had a beautiful stage show for "Need You Now." It set the scene of a lonely winter night around the holidays. Heart-wrenching, but isn't that what we love about Country music? J
· Brooks and Dunn – It was their final performance as a group, and the ZZ Top's Billy Gibbons performed with them in "Honky Tonk Stomp." The song is rocking as f**k, and I couldn't help but look at my friend and giggle every time Gibbons came in with the signature "Honky Tonk Stomp." Great way to go out.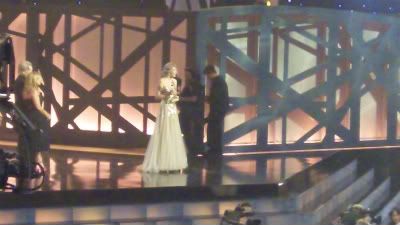 After Taylor Swift won "Entertainer of the Year," we gave her a much deserved standing ovation, and busted out to meet "our driver." Party time! I have some connected peeps.
We started at the Sony party, which was the best. Delicious food (#thisiswhyimfat); homemade Mac 'n Cheese, berry and apple coleslaw, Italian dishes, and even a s'more station! I wish I took advantage of it. Best of all – Miranda Lambert and Martina McBride "bro"ing down at a table not being bothered by anyone – priceless.
Next, we headed to the Warner Brothers' party that was hoppin' off the hook with a live band. That was a party you needed be willing to stay at for a while. We had our hearts set on the Big Machine party, so did a dash through and left, but the vibes there were great.
We did a stop off at Capitol's party at Sambuca, which had a DJ blaring The Black-Eyed Peas' "I Got a Feeling" as we walked in – perfectly suiting the celebration. Darius and Charles from Lady Antebellum were loving life. I caught Darius's wife who was glowing with happiness sneak him a precious quick kiss as they mingled with the crowd.
We finished off at the Big Machine party that was showing the awards. When Reba and Taylor walked in, the whole team got onto the stage and huddled together – reflecting on a memorable night.
I can't wait until next year. Is it just because I live here now, or is Country music really reaching audiences it has never reached before? I was setting goals the other day, and next year I hope to cover the CMAs from the red carpet. Pray for me!