Coachella 2012 Lineup – Happy Coachella
Coachella 2012 Lineup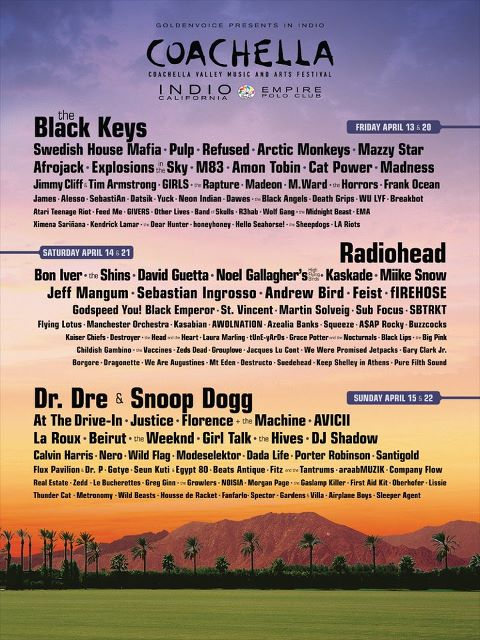 That's right folks, our favorite time of the year is almost here, the time of the year where we get to yell out at the top of our lungs 'HAPPY COACHELLA PASS IT ON!' This year's Coachella line-up features heavy hitters such as Coachella veterans Radiohead, The Black Keys, Justice, Girl Talk, Arctic Monkeys, Explosions in the Sky, Calvin Harris and David Guetta just to name a few. For me, the highlight of this year's Coachella lineup is def Dr. Dre and Snoop Dogg. I have always dreamed of seeing Dr. Dre at Coachella and it's been a good 10 years since the last time I saw Dre grace the stage, so I am really stoked!
Tickets for Coachella 2012 go on sale Friday January 13 at 10am exclusively at Coachella.com
With the announcement of the Coachella 2012 line-up, things are in full swing and we are ready to work on our Coachella 2012 HAPPY COACHELLA campaign. This year will mark the 5th year that You Tell Concerts has tried to get everyone on the polo fields to yell out HAPPY COACHELLA, and we couldn't be more excited.  The plan as of this point in time is to have two separate stickers, one for each weekend. So, if you are a die-hard HAPPY COACHELLA'er, you will have to attend the festival both weekends to complete your sticker collection.
Past Happy Coachella  stickers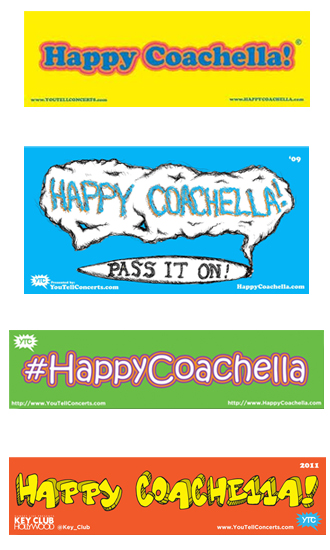 Past Coachella Coverage
Coachella 2011 Coverage
Coachella 2010 Coverage
Coachella 2009 Coverage
Coachella 2008 Coverage