Review – Avicii @ Ruby Skye – San Francisco, CA – 09/18/11
This review of Avicii at Ruby Skye in San Francisco, CA comes from Clare Healy. Clare has been following YTC  for a while and decided that she wanted to contribute.  Boy oh boy am I glad that she did, as it looks as though Clare has a taste for adventure.  Def hope to see more Clare in the future.  -lorn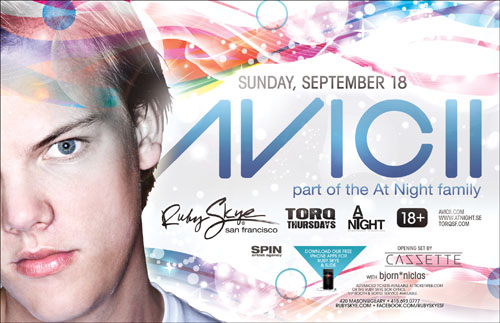 Avicii @ Ruby Skye Concert Review
If you have had the chance to take a dive into the overwhelming world of electronic music, you have heard the name AVICII. This young swede has been turning every major city upside down, selling out almost every show. Only having played in San Francisco once before, the entire Bay Area was a little anxious for this one. The Sunday night show sold out in just a few hours, but I was lucky enough to snatch a ticket. Then a Monday night show was added. After falling in love with Avicii after his initial release of "Seek Bromance," I have attempted to catch his live set a number of times – contemplating flying across the country or driving south to Los Angeles. However, the stars were not aligned until this past Sunday evening at Ruby Skye of San Francisco.
Of course there was no other venue to hold a show of this magnitude besides Ruby Skye, San Francisco's premier night club and the stop of almost every DJ. I have frequented Ruby Skye mainly because of the talent they pull there and the intimacy of the club. With a capacity of 3,000 and an incredible sound system, nothing beats this venue. The club was completely overflowing with electro lovers who, like myself, have been anxiously waiting to see Avicii for months, if not years.
For this show, I got the honor of hanging out backstage with Avicii and his manager for both the Sunday and Monday night shows. Upon my arrival on Sunday, the swedish duo know as Cazzette was just getting the crowd's adrenaline pumping. Cazzette has been paired with Avicii for this North American tour as a kick-off to their signing with Avicii's management, AtNight. Prior to this show, I had only heard one song by Cazzette (their "Seek Bromance" remix) and one song was all I needed to be convinced that they would kill it. Now, I can safely say that my expectations were an underestimation. Cazzette has taken Avicii's style of upbeat, poppy house music and added a bass-heavy, dubby twist to it. The crowd was absolutely loving every second of it, making Avicii's appearance even more energetic. Their closing song, a remix of Swedish House Mafia's "Save the World," especially got the crowd moving.
Ruby Skye was flooded with die-hard fans and electronic music lovers of all ages. The entire club was bursting with energy, you could feel it upon entrance. Once Cazzette finished blowing the roof off, Avicii made his grand entrance. He did not let the crowd down easy. From minute one of his set, he dropped bangers upon bangers, letting the crowd indulge in his remix of "Sweet Dreams" and his original "ID" within just minutes of starting. This kid has his live sets nailed, balancing out his most famous original tracks with his up and coming music, the tops songs in the EDM scene such as Above and Beyond's "Sun and Moon" and Sweidsh House Mafia's "Save the World," and sometimes even depicting his skills by freestyling a bit. Avicii's entire set was flawless and the crowd could not get enough of it. Avicii did not just play all of his most famous songs, but he kept the crowd guessing throughout the entire 3 hour set. Some of the most well-received surprises were Avicii's remixes of the Killers' "Mr. Brightside" and Kings of Leon's "Sex on Fire" and one of his up and coming singles.
I had never managed to attend the same concert two nights in a row until Avicii came to town. This was quite an experience in itself – seeing the difference between the 18+ crowd and the 21+ crowd and observing how Avicii's sets compared each night. I was even more so impressed to see Avicii drop two completely different, yet two absolutely incredible sets. After the show, I got the opportunity to talk with Avicii and Cazzette about how their current tour is going, how they started making music and what their world is like. I have never met three more passionate, yet levelheaded musicians in the electronic music industry. It was refreshing to hear how much they love what they do.
San Francisco's every expectation seemed to be met and there is still a very loud buzz going around about the incredible performances. Avicii's upward climb to the top has been quick and I don't see it slowing down anytime soon. Even if you don't enjoy electronic music particularly, Avicii will never fail to satisfy. – Clare Healy