Review – Beck @ El Rey Theatre – Los Angeles, CA – 5/22/12
Review – Beck @ El Rey Theatre
Every now and then a show comes along that puts all others to shame. Beck at El Rey Theatre was such a show. It was announced via the Goldenvoice Facebook page just a week prior. I wasn't surprised that the show sold out instantly.
I arrived at El Rey about an hour and a half before Beck took the stage, and finding a ticket was no easy task. Eventually I ran across a buddy that had an extra ticket and I was in. Prior to coming to this show I was under the impression that Beck would have no opening act. It wasn't until I was inside that I found out that one of my favorite comedians Demetri Martin had actually graced the stage. I was def bummed that I missed out on seeing Demetri, but since I made it in time to see Beck I couldn't complain too much.
As Beck and his band took the stage, the crowd screamed and applauded more than the norm in Los Angeles. This was the first time in four years that Beck had played in his hometown, so he pulled put all the stops.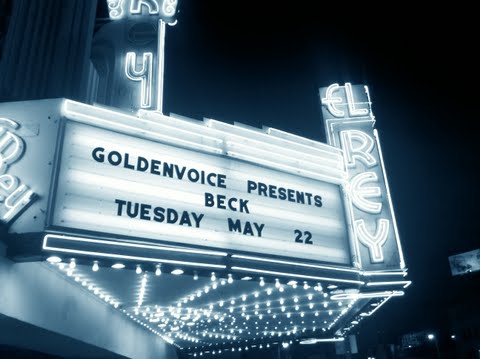 The set started off with Beck on the acoustic guitar performing "The Golden Age", "Lost Cause", "End of the Day", "Dead Melodies" and "Sunday Sun". Beck's banter with his band mates and the crowd was highly engaging and entertaining. One special thing about this show was Beck was playing with the band involved with recording Sea Change, whom he hadn't played with in a long time. Beck made sure to mention this fact a couple times during his set, so you could tell it meant a lot to him to be on stage with them again.
Beck – Already Dead (Live @ El Rey)

After Beck finished his mini acoustic set, he strapped on an electric ax and dove into Odelay's "Where It's At". The song was met with enthusiasm from the crowd: everyone sang along.  He then went into another jam from Odelay "Hot Wax". The song was funky and really got the crowd grooving. As the night went on Beck continued to please, dropping memorable songs such as "Black Tambourine", "Paper Tiger", "Modern Guilt", "Soldier Jane", "Already Dead", "Guess I'm Doing  Fine", "Gamma Ray", "Devils Haircut" and "Loser" before walking offstage momentarily. When Beck returned he told us he was about to perform a song the band hadn't practiced, warning us it might not be spot on. Earlier in the show Beck asked us what we wanted to hear. The vast majority of the crowd yelled "Deborah", but a few people shouted out "Sissyneck". Beck started to rock out the first few cords of "Sissyneck" during the set but it ended up just being a tease. For the encore I was sure that he was going to do "Deborah" but instead he went into the full version of "Sissyneck". Although I would have rather heard "Deborah" over "Sissyneck" the song still absolutely killed. "The New Polution" and "E-Pro" finished out the set in a rocking fashion.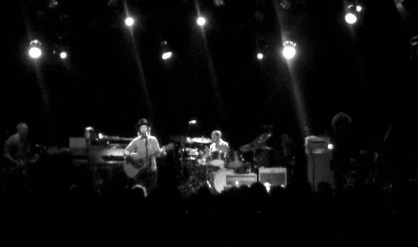 The entire show was spot on and def a crowd pleaser. I heard a  few complaints about the performance, one of which was that Beck hadn't performed in four years and didn't have any new material to share. I would have loved to have heard some new tunes but getting to see a 24 set of songs I knew brought no complaints from me. Beck performed eight songs off Odelay, seven from "Sea Change", three off Modern Guilt, Two from Guero and The Information, and a single song off Mellow Gold and Mutations. Strangely enough, the only album Beck didn't play a song from was Midnight Vultures.
One of my favorite things about seeing Beck live is bassist  Justin Meldal-Johnsen. Not only has Justin been a long time Beck contributor, but he was also the touring bassist for Nine Inch Nails for several years. Justin has a real way with the crowd and an incredible musical ability. Getting to see Justin play the bass is always a treat, and he is the perfect onstage sidekick for Beck. In closin,g four years was far too long to be without Beck and I hope that it's not another four years before I get to see him again.
Review – Beck @ El Rey Theatre Setlist 5/22/12
The Golden Age
Lost Cause
End of the Day
Dead Melodies
Sunday Sun
Where It's At
Hotwax
Black Tambourine
Think I'm In Love
Soul of a Man
Paper Tiger
Modern Guilt
Soldier Jane
Already Dead
Guess I'm Doing Fine
Sissyneck
(tease)
Jack-Ass
Gamma Ray
Minus
Devil's Haircut
Loser
Encore:
Sissyneck
The New Pollution
E-Pro