Ep.489 – Blink 182 @ The Hollywood Bowl – Hollywood, CA – 10/08/11
What's my age again? Honestly,  I am not sure anymore, but this was my nineth time seeing Blink 182, and I was def acting like I was 13. I couldn't believe I was actually going to see Blink 182 at the Hollywood Bowl. The Hollywood Bowl has always been home to prestigious shows such as those from the LA Philharmonic Orchestra, The Eagles, Willie Nelson and Paul McCartney – just to name a few. What were these foul-mouthed hooligans doing playing the Hollywood Bowl? Packing it and rocking it…that's what!

Blink 182 @ The Hollywood Bowl Video Concert Review
Blink 182 @ The Hollywood Bowl Concert Review
Blink 182 def brought the party to the Hollywood Bowl on the 2011 Honda Civic Tour. Matt and Kim started off the show, but unfortunately I was running late and missed them.  My Chemical Romance was the next band to take the stage. The crowd really seemed to enjoy My Chemical Romance, but I was far from blown away by their performance.
However, My Chemical Romance did sound good and knew what they were doing. The highlight of My Chemical Romance's set was when they asked the crowd to put up their lighters and cell phones. I honestly don't think I have ever seen so many lights in the air at the Bowl, so that was pretty cool.
When Blink 182 hit the stage, the Hollywood Bowl was on fire! Going into this show,  I kind of expected Blink 182 to sound like crap, as they often have in the past. Well, I was wrong.  The band's hiatus and the 10-week nation wide tour had them performing at their best.
Tom and Mark were busting out the dirty jokes that they have became synonymous with. They one thing that kind of weirded me out was all of the parents that were at this show with their 13-year-old kids. Seriously, my parents let me listen to this stuff when I was 13?  The sheer fact I was thinking this makes me feel as if I am becoming incredibly ancient.
I loved Blink 182′s set and must admit I was acting like an idiot the entire time. Blink 182 started off with their 2003 hit, "Feeling This," and I was amped. From that point on, Blink 182 played a wide array of tracks that spanned their career.
Highlights from the set included "The Rock Show," "Whats My Age Again"?, "Down," "I Miss You,""Stay Together For The Kids," "Dumpweed," "First Date," "Man Overboard,""All the Small Things,""Josie,""Can A Drummer Get Some," "Dammit" and the infamous, "Family Reunion." I also really dug the track off Blink 182′s new album, "Neighborhoods," such as "Ghost On The Dance Floor" and "Up All Night."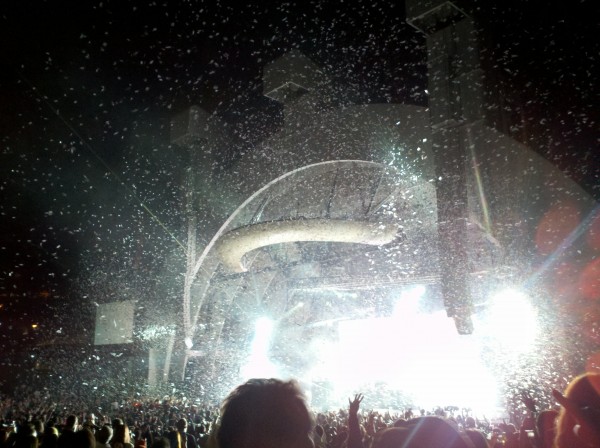 The visual displays for Blink 182′s set were also off-the-scale excellent. Whoever did the graphic designs that were being shown throughout the show knows what's up and made the show visually stimulating throughout.
One of the coolest parts of the show was when the band returned for their encore with Travis Barker being hovered above the crowd on a giant crane arm while doing an epic drum solo on his solo track, "Can A Drummer Get Some."
In closing, Blink 182 still knows how to rock and is (in fact) better than ever.   From the age of the crowd, it's easy to tell that Blink 182 is going to be around for a long time to come.
I can safely say that I have never been to a concert with so many screaming 13-year-old girls. The undisputed best part about this show for me was the 13-year-old that was standing behind me screaming at the top of her lungs the entire show, "I want to touch you Travis! AHAHHAAHHAHAHAHAHAHHAAH!"
Blink 182 remains one of my all time favorite live bands, and I can't wait to see them again.
If you were at this show, or have ever seen Blink 182, please make sure to comment on this post and let us know what you think…because I am a critic and… "When You Tell Concerts…It's Cooler!" – poppinoff
Blink 182 @ The Hollywood Bowl 10/08/11 Setlist
Feeling This
Up All Night
The Rock Show
What's My Age Again?
Down
I Miss You
Stay Together for the Kids
Dumpweed
Always
Violence
After Midnight
First Date
Fuck a Dog
Heart's All Gone
Man Overboard
Ghost On The Dance Floor
All the Small Things
Josie
Encore:
Can a Drummer Get Some (Drum Solo)
Carousel
Dammit
Family Reunion