Ep. 511 – Bob Seger & The Silver Bullet Band @ Staples Center – Los Angeles, CA – 12/28/11
For some reason or another, Bob Seger & The Silver Bullet Band didn't really catch my attention until last minute. I didn't know much about Bob Seger, but a good concert buddy of mine, Josh, highly recommended checking him out.  I figured that I might as well give it a shot. Luckily for me, Josh also had an extra ticket that he was kind enough to give me as a Christmas present. I did do a little research about Bob Seger before the show and was excited to find that he was the singer of two songs that I have always really dug ("Night Moves" and "Old Time Rock and Roll").

Bob Seger & The Silver Bullet Band
@ Staples Center Video Concert Review
Bob Seger & The Silver Bullet Band@ Staples Center Concert Review
The crowd was an older one, but down to rock! I even had a few people comment on my age (28). They were shocked someone my age was there, saying I didn't look like I would be a Bob Seger fan. The Staples Center wasn't packed to the brim like it was for Watch The Throne, but the turnout was much larger then I had expected! The crowd was hyped and hooting and hollering for Bob Seger & The Silver Bullet Band.
From the start of the show, you could tell that Bob Seger & The Silver Bullet Band were there to rock! Bob Seger had a lot of energy and made it a point to engage the crowd throughout the show. It blew my mind that Seger was 66 years old. He was running back and forth across the stage, making shout-outs to the crowd and going the extra mile to rock out. Bob Seger's voice was far from superb and a bit hard to hear at times, but I really can't criticize too much…because he's 66 years old! If I sound nearly as good as him and am able to rock out like that at 66,  I will be a happy man.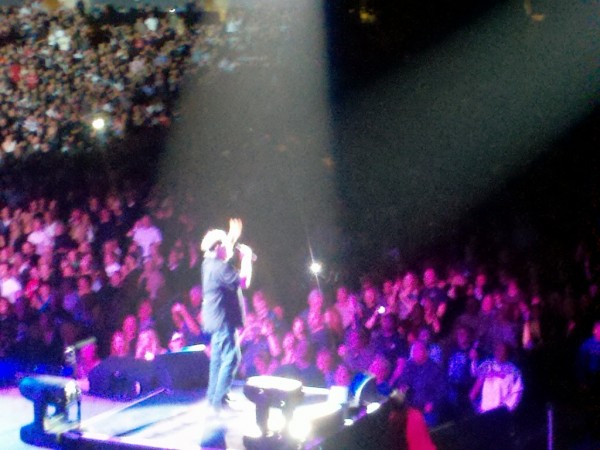 Although Bob Seger was very entertaining, I have to say that The Silver Bullet Band stole the show.  Saxophonist, Alto Reed, really hit the horns just right. There were a few exceptional saxophone solos from Alto during the show. My favorite song featuring the talents of Alto Reed was "Turn The Page." Chris Campbell was  on the bass, laying down some classic licks like only a pro could. That's the one advantage The Silver Bullet Band had over Bob Seger – time truly perfects the art of playing an instrument.  Craig Frost was on the keys and did a great job of tying all of the songs together.
In closing, I wish I had more to say about Bob Seger beside the show being a lot of fun. I wish I would have been turned on to Bob Seger earlier and had been given a chance to see him more than once as of this point in time. The Silver Bullet Band is filled with world-class musicians and worth checking out.
If you were at this show, or have ever seen Bob Seger and The Silver Bullet Band, make sure to comment on this post…because we are You Tell Concerts – and "When You Tell Concerts, It's Cooler!" – poppinoff
Bob Seger @ Staples Center Setlist
Roll Me Away Play
Tryin' to Live My Life Without You
The Fire Down Below
Mainstreet
Old Time Rock & Roll
Ramblin' Gamblin' Man
Hey Hey Hey Hey (Goin' Back to Birmingham) (Little Richard cover)
Travelin' Man
Beautiful Loser
We've Got Tonight
Nutbush City Limits (Tina Turner cover)
Come to Poppa
Her Strut
Real Mean Bottle (Vince Gill cover)
Turn the Page
Sunspot Baby
Katmandu
Encore:
Against the Wind
Hollywood Nights
Encore 2:
Night Moves
Rock and Roll Never Forgets