Review – Bret Michaels Rockfest 2011 @ Meskwaki Casino – Tama, IA – 8-27-11
Bret Michaels Rockfest 2011 @ Meskwaki Casino
Concert Review
Rockfest 2011 was a totally last minute show. I got there just in time to catch Bret Michaels' entire set, but missed the other acts that were on the bill. The Meskwaki Casino shows are held outside on a superb and large stage, that can accommodate pretty much any big show. The weather was perfect, and I love shows outdoors in the summertime.  I was quite lucky, seeing many great bands both outdoors and inside. Now that summer is almost over, I'm starting to realize that I am going to be at a lot less shows until this time next year.  However, festivals seem to be popping up all over the place now. The music scene is really alive and kicking! This Casino seems interested in getting some well-known acts in there, and I'll definitely be keeping an eye on their concert calender.
The first time I saw Bret Michaels perform was on the Poison/Warrant tour in 1990…I think. I've always been a huge Bret Michaels fan, so there was no way I was going to pass up on the opportunity to catch one of his shows. Bret Michaels has so much material from his 25-plus year musical career that he could probably easily do a few hour set.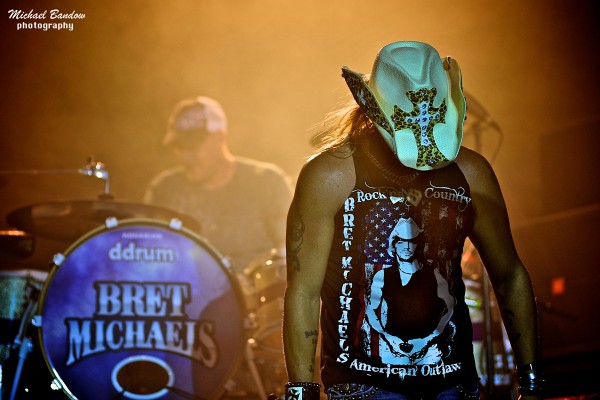 Bret put on a amazing high-energy show from start to finish. For a guy that has had his share of health problems, you sure wouldn't know it – kicks, jumps, running back and forth from one end of the stage to the other all night. Bret Michaels' voice was dead on, and I loved his set list. The only song  I would have liked to have seen him do was Poison's "I Wont Forget You."  Bret Michaels did, however, do two of my favorite Poison songs – "Look What The Cat Dragged In" and "Fallen Angel." Those took me right back to the 80's!
This was an amazing show, and I had an awesome time! After the show, I was lucky enough to actually score a meet n' greet with Bret. I have to say Bret Michaels is a very down-to-earth guy that really cares about his fans. There were people of all ages, and Bret took photos with everyone. So cool! There is still quite a few tour dates left, so be sure to catch Bret Michaels live, if you have the chance.