Ep.495 – Chris Brown @ Staples Center – Los Angeles, CA – 10/20/11
This video concert review of Chris Brown at Staples Center comes from Stephanie Lopez. I had met Stephanie a few weeks back, and she expressed interest in getting involved in YTC. I told her to check out our concert calendar and let me know what shows she would be interested in catching.
She got back to me immediately and said that she wanted to see Chris Brown at Staples Center. I hadn't really intended on going to this show, but figured hey why not, I love adventure.
Unfortunately, I arrived at Staples a bit late and was unable to find a ticket for the show, but Stephanie, being the go-getter that she is, was cool enough to interview fans after the show and submit this review.
If you were at this show, or have ever seen Chris Brown, please make sure to comment on this post and let us know what you thought…because this is You Tell Concerts, and "When You Tell Concerts…It's Cooler" – poppinoff
Chris Brown @ Staples Center Video Concert Review
Chris Brown @ Staples Center Concert Review
Hey people!!!!  Ok,  so Lorn and I arrived a bit late (about 8:40 p.m.).  It was my first time going out looking for tickets.  Since it was later, not many people were walking in, but we were finally able to get one ticket. The torch was passed to me! I ran in as fast as possible and found out I had a floor ticket. Score!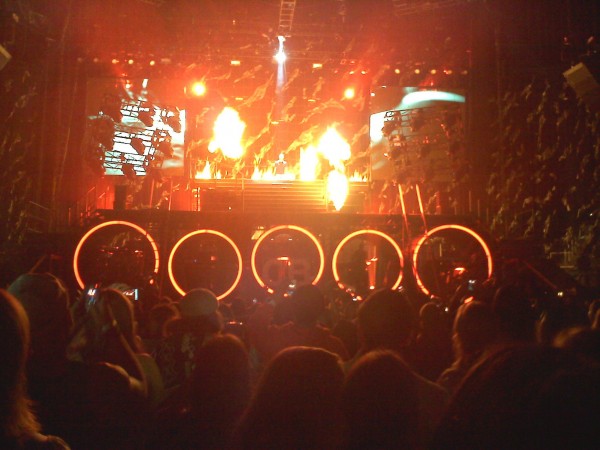 I walked in during the song, "She Ain't You." The stage had multiple glow rings and amazing light effects. It was awesome! Chris Brown gave a heartfelt performance. Almost everyone in the Staple Center knew the words and was singing along. The crowd went wild when Chris Brown started performing his hit, "Deuces."
One of my favorite parts of the show was when Tyga and K-Mac jumped on stage as  surprise guests to perform, "Snapbacks Back."  To top that, Chris Brown was then joined on stage by Bow Wow to perform "Ain't Thinkin About You."
Chris Brown also dropped "Look at Me Now" while over 15 dancers performed on the stage. Although, Jordin Sparks was not in the house to perform,  "No Air" with Chris Brown,  he performed it beautifully.
When "Yeah 3X" started, everyone in the audience began to club dance.  It was definitely a party scene. The whole stage lit on fire during  "Forever on the Dance Floor."
For his final song,  Chris changed into  a white tux that was covered in glow lights. The back-up dancers also changed up their wardrobe and returned to the stage dressed in all white with glowing alien masks.  At one point,  Brown was lifted on strings high above the crowd and did some freestyle dance with lights.
In closing,  Chris Brown is  gifted in the art of dance.  His movements  are impressive, energetic and flawless.  If you love dancing, partying and Chris Brown,  I recommend you attend the next show near your area.  Peace, party hard! – Stephanie Lopez