Ep.518 – Coldplay @ Club Nokia – Los Angeles, CA – 2/8/12
Coldplay at Club Nokia was certainly a treat. And big ups and thanks to all of those who made it happen. For this review I comprised the video portion of it and guest writer Romina Rosenow took care of the written portion of it. Romina did a great job of describing the night and really captured a lot of my favorite aspects of the show.
If you were at this show or have ever seen Coldplay please comment on this video and let us know what you think because this is You Tell Concerts and "When You Tell Concerts It's Cooler". – poppinoff
Coldplay @ Club Nokia Video Concert Review
Coldplay @ Club Nokia Concert Review
On Wednesday, I had the opportunity to see Coldplay-play (tongue twister frenzy!) a benefit show for IHeartRadio. When I heard about the show, I instantly felt pulled to attend because a) Club Nokia is a relatively small venue (seats about 2,300), and from what I was told they'd previously sold out the comparatively ginormous Hollywood Bowl b) I had spent many a night in high school/early college years listening to Chris Martin serenade me in that, 'These songs are for your ears only' siren way he has about him. Damn you, Gwyneth. Put it blankly: Coldplay's music held a special place in my heart, yet I had all but forgotten about them until this point.
Because I'm easily amused, the fun started for me right when I entered. Inside, I noticed a bin of Coachella-esque cloth wristbands that lit up in a variety of colors. Everyone was wearing them, and throughout the show they were controlled to light up and blink at the same time. It definitely added a heightened effect to the fun mood, sort of reminding me of a 2006 Flaming Lips show at the Hollywood Bowl where everyone was given glow-sticks (during a time BEFORE the EDM scene had totally taken LA hostage and the sight of glow-sticks caused little more than a yawn).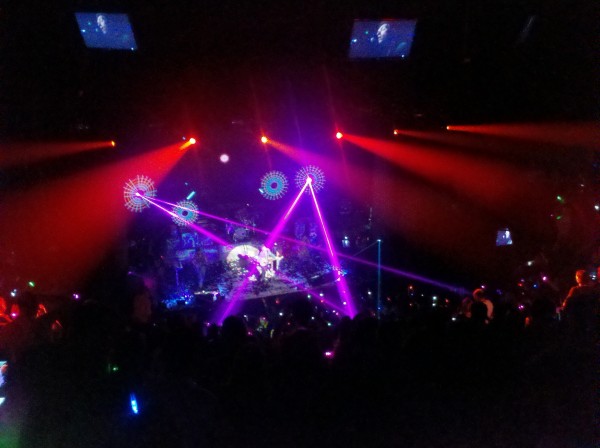 Apparently Ryan Seacrest introduced Coldplay, but I didn't make it until they were halfway through the second song of their set, 'Hurts Like Heaven' off the 2011 album Mylo Xyloto. I wasn't too broken up about missing the first two songs because I am not familiar with this album and was in the mood to get back into the old school Coldplay that I know and love. Thankfully, they delivered. The 3rd song played was 'Yellow'. Though I remember feeling oversaturated by this song when it was at the height of its fame (thank you KIIS FM, and don't worry Ryan, it was before your time), it was amazing to hear it live. Chris Martin showed incredible energy, catapulting himself all over the stage in a sweaty frenzy. During this song, confetti was released all over the place and everyone was standing up dancing and singing along.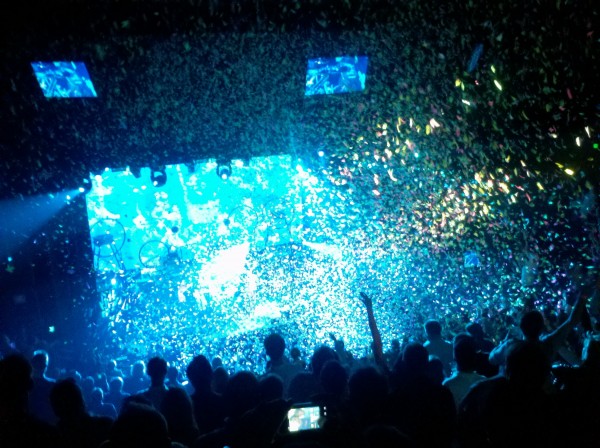 I was dancing in the balcony, where I stayed throughout the duration of the concert. As can be expected, there definitely was probably not as much energy up there as there would have been downstairs, but I was still happy with my seat because I had a clear view of the band and the sound was great. After 'Yellow', the band played 'In My Place' and then 'Major Minus', a song I did not know but thoroughly enjoyed. I was also really happy to hear 'The Scientist', as I've always loved that song and think it has particularly poetic lyrics.
A highlight for me was hearing 'Viva La Vida'. Coldplay asked everyone to sing along, and it has a slow build that makes it one of their most uplifting songs. After they finished their initial set, something happened that I've never seen at a concert before. Coldplay stopped playing and left the stage, and the lights stayed dim. I started clapping, assuming it was an encore but everyone else just sat down and did not clap. I was totally bewildered. Eventually I sat down as well, convinced the show was not over, but confused as to what was going on. Coldplay did eventually come back out and people cheered. They played another short set. At this point the filming for the benefit show was over, and once that was done they could just play for fun. After they finished the first encore, Chris Martin told the crowd they'd like to keep playing but hinted, 'This time, clap', so for the second encore people actually clapped and cheered, and additionally started humming 'Viva la Vida'. Coldplay came back and played again, but I definitely thought it was pretty funny that Chris called out the typically LA crowd.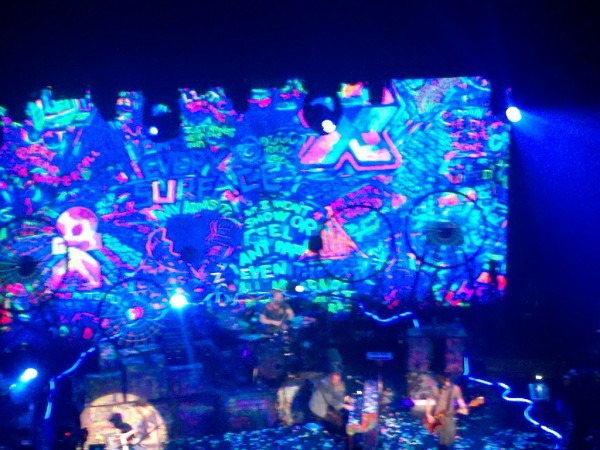 Going to this show has definitely revitalized a previously dormant love of Coldplay for me. Chris Martin really knows how to turn up the energy of a crowd and didn't allow LA's momentary lameness deter him for a moment. Overall, The band played a lot of up-tempo, danceable songs and mixed it up with a couple slow songs in between, and I was totally into it from start to finish. In close, Coldplay has a real talent that gets better the longer they hone their skills. I would definitely see them again if I get the chance.
Coldplay @ Club Nokia Setlist 2/8/12
Mylo Xyloto
Hurts Like Heaven
Yellow
In My Place
Major Minus
The Scientist
God Put A Smile Upon Your Face
Up in Flames
Viva La Vida
Charlie Brown
Paradise
Encore:
Clocks
Fix You
M.M.I.X.(Intro to ETIAW)
Every Teardrop is a Waterfall
Encore 2:
Us Against the World
Everything's Not Lost