Ep.520 – Die Antwoord @ Club Nokia – Los Angeles, CA – 2/24/12
Wowzers was Die Antwoord at Club Nokia a doozy! I had an absolute blast at this show and have to say that if there is one artist that needs more buzz behind them its Die Antwoord. For this review I comprised the video portion of it and guest writer Romina Rosenow took care of the written portion of it. Romina did a great job of describing Die Antwoord, and I am really glad that she decided to write this review.
If you were at this show or have ever seen Die Antwoord make sure to comment this video and let us know what you think because this is You Tell Concerts and "When You Tell Concerts It's Cooler". – poppinoff
Die Antwoord @ Club Nokia Video Concert Review
Die Antwoord @ Club Nokia Concert Review
The first time South African rap-rave trio Die Antwoord edged into my periphery was in early 2010 when someone sent me a link to their video 'Enter the Ninja' explaining them as a sort of 'comedy rap'. That video blew up on YouTube, caused instant Internet stardom, and resulted in Interscope Records snapping them up for a record deal (which recently fell apart due to creative conflict, of course). Honestly, Die Antwoord, made up of lead vocalist, the tattoo-covered Ninja (born Watkin Tudor Jones), his lady Yo-Landi Vi$$er, and DJ Hi-Tek edged into my periphery less than they slapped me in the face with their trance-like heavy bass beats and blasphemous lyrics. All of it is said to be an expression of South African culture, specifically the Zef counter-culture movement, which features a lot of bling and tongue-in-cheek, purposely outdated cultural elements. The lyrics are a mix of English and Afrikaans (Die Antwoord is Afrikaans for 'The Answer'). I didn't know what to expect from their live performance, but when I heard they were playing Club Nokia, I wanted to check them out because the general buzz around the group made me sense that they'd be worth seeing.
Before they hit the stage, the lights dimmed and mood music that sounded like a humming of the occult started up. Meanwhile, across the projector flashed an image of what looked like an ancient world indigenous character, staring us down before the group sauntered out in matching orange jumpsuits and grotesque masks, diving first into a track off their newest album Ten$Ion, 'DJ Hi-Tek Rulez'.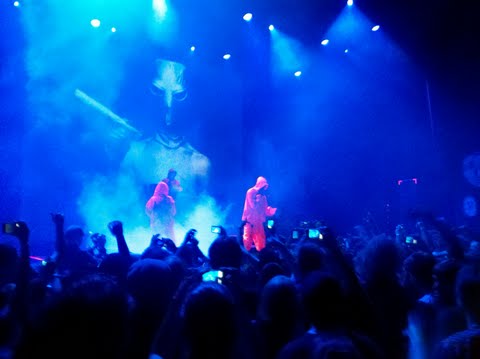 Right away the crowd started moving, almost instantly hypnotized by this odd mix of beats, lyrics and styles (which include Yo-Landi performing from behind her unsettling all-black contacts). They transitioned seamlessly into each song without missing a beat, while also getting rid of the masks and stripping into different getups. DJ Hi-Tek stayed for the most part in the background behind a laptop, while Ninja and Yo-Landi moved around the stage throughout the performance, dancing and hyping up the crowd. I particularly enjoyed hearing 'Fatty Boom Boom' a track that has an up-tempo gun-shot like beat throughout and is just a lot of fun to hear, and 'Fok Julle Naaiers', the single that caused a rift between Die Antwoord and Interscope. One of the outfit changes involved Ninja wearing the same faded Pink Floyd boxers that he donned in the video 'Zef Side'. From the first track, which was distinctly more rap-like, to the last song in the encore, 'Never Le Nkemise 2', which had heavy happy hardcore like elements, the crowd couldn't get enough and neither could I.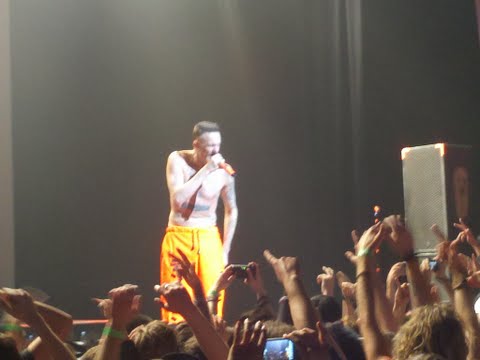 It's easy to tell that these guys are totally into what they're doing and though they've only pretty recently come up, they've had years in the South African hip-hop scene to polish their sound. Before I saw them live, I liked them, but at the same time sort of didn't get it. 'Why do they sound like angry gangsters and throw out slang reminiscent of a weird dystopian other-cultures?' and 'Is this shit for real?' were a few of the musings I had in my mind. After seeing them, I'm not really concerned with these questions, because no matter whether it's satirical or not, Die Antwoord knows how to get a crowd riled up and everything they come out with has been undeniably creative, if not slightly off the mainstream grid of music. The weird combination of beats, lyrics and styles doesn't make any apologies, but for some reason it works. Front-man Ninja has adopted different personas throughout his career, but he seems to have found something that clicks in this latest one. With a five-album plan in the works, Die Antwoord doesn't seem to be going anywhere. I'm definitely planning to see what they have in store next time they're in town.
Die Antwoord @ Club Nokia Setlist
1. Monks (Intro)
2. DJ Hi-Tek Rulez
3. Fok Julle Naaiers
4. Wat Kyk Jy
5. Wat Pomp
6. Hey Sexy
7. Fatty Boom Boom
8. Money and Da Power
9. Rich Bitch/So What
10. Orinoco Flow (Sail Away)
11. Babies On Fire
12. I Fink U Freeky
13. Beat Boy
Encore
14. Enter the Ninja
15. Never Le Nkemise 2
Die Antwoord – "Fok Julle Naaiers" (Live @ Club Nokia)