Review – Dirty Projectors @ The Troubadour – West Hollywood, CA – 2/5/13
This review of the Dirty Projectors comes from Chris Modisette, someone who I consider to be one of LA's greatest concert goers.  Chris has written review's for YTC from time to time over the year and is incredible knowledgeable and insightful when it comes to critiquing concerts. Thanks for the review Chris, we hope to see more of your thoughts in the future. – Lorn
Dirty Projectors @ The Troubadour Concert Review
In a musical world of ever-increasing amounts of sameness, it is a breath of fresh air to come across a band like Dirty Projectors that insist on looking forward.  I attended their show on Tuesday night at the Troubadour, what I assume was a special one-off show as the band had just finished up their tour in Japan.  After their last two LA stops had been at the Wiltern, it was wonderful seeing them again in a 450-capacity venue, the same place I saw them for the first time in 2009 when they were touring in support of the wonderful Bitte Orca.
As soon as the band took the stage, it was fully obvious that I was not alone in my appreciation for them playing this intimate venue.  Opening with the title track from the most recent effort, Swing Lo Magellan, the band began what was a seemingly effortless and triumphant set.  Mixing songs from their most recent two albums at first, they then performed one of the most vocally astounding songs I've ever seen performed live – "Beautiful Mother" from the Mount Wittenberg Orca EP that they recorded with Bjork back in 2010.  Any doubt that Olga Bell could not be a perfectly suitable for the departed Angel Deradoorian is profoundly squashed when they perform this song…an absolutely insane three-way harmony unlike anything else.
Dirty Projectors – "Stillness is the Move" @ The Troubadour
After performing a few older tracks, the light and sunny "Temecula Sunrise" proved to be a crowd favorite, a crowd who had little idea of what the band had in store just a few minutes later.  This was my fifth time seeing the band, and this was, by far, the most thunderous and apocalyptic version of "Useful Chamber" I have ever seen them perform.  And, if I think back, probably the single best song over the course of those shows as well.  Michael Johnson's drums were completely overpowering, and in one section of the song he and band leader Dave Longstreth zoned out for a bit in this thumping, hypnotic groove that left everyone in attendance in an absolute daze.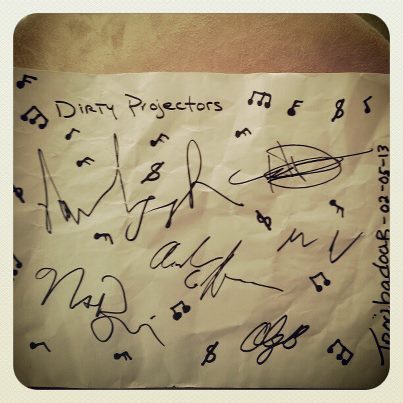 They concluded the show with the lovely "Dance For You", "Stillness is the Move", and warm and dreamy "Impregnable Question." This is a band at the absolute top of their game.  A band who refuses to sit on their laurels and be content with the present.  This is what music should be, and I cannot wait to see what they do next. – Chris Modisette
Dirty Projectors @ The Troubadour Setlist
Swing Lo Magellan
Offspring Are Blank
The Socialites
Cannibal Resource
Beautiful Mother
See What She Seeing
About to Die
No Intention
When the World Comes to an End
Fucked for Life
Temecula Sunrise
Just From Chevron
Gun Has No Trigger
Useful Chamber
Rise Above
Encore:
Dance for You
Stillness Is The Move
Impregnable Question