Ep.521 – Guns N Roses @ The Palladium – Hollywood, CA – 3/09/12
Guns N Roses @ The Palladium Video Concert Review
Guns N Roses @ The Palladium Concert Review
I had seen Guns N' Roses a few times before. The first time I saw them was in 2002 on the "Chinese Democracy Tour."  The tour was scheduled to kick-off in Vancouver, but due to a riot in the parking lot, it was canceled. That made the Tacoma, WA show the start to their tour. The show was horrible. Axl was overweight, sounded awful and used prompters to remember lyrics throughout the show. The tour only made it a few more stops before the remaining dates were canceled.
I def had a sour taste in my mouth after that show and never spoke all that highly of Guns N' Roses. In 2006, I decided to give Guns N' Roses another chance, and have to say, I was pretty impressed. Axl  had lost a lot of weight and was on top of his game. The show was rocking. It had been several years since I had seen Guns N' Roses and after missing their show at the Forum, I was pretty darn excited to get to see them at the Palladium.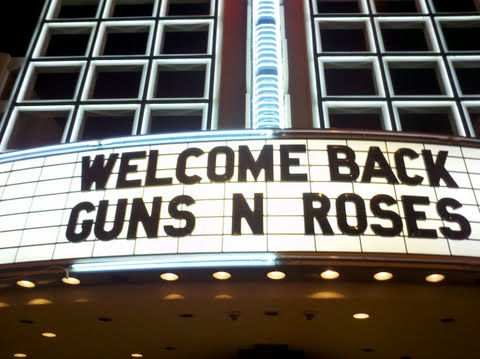 I have to start off this review by saying that I had a really great time at this show and think that Guns N' Roses put on one hell of a performance.  I def want to see them again. I do, however, have a fair amount of criticisms about this show.
First off, the cost of tickets for this show were at a ridiculous price of $125. There were only about 3K people in attendance and had the tickets even been $30 cheaper, I am sure this show would have gotten closer to selling out.
The show was scheduled to start at 11:30pm, but from the get-go I know there was no way that was going to happen. Around 12:20 or so, Guns N' Roses took the stage. The show started off a bit sloppy. During "Chinese Democracy" and "Welcome To The Jungle,"  it was kind of hard to hear Axl, and it seemed as if the background vocals were a bit heavy in the mix.  Three songs into the set Axl's voice was warmed up, and the show continued to get better from there.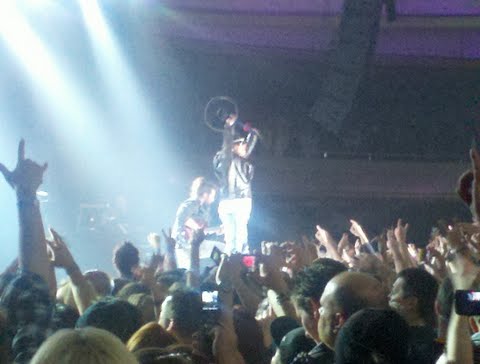 Guns N' Roses performed a 34-song set list that included hits such as "November Rain,""Sweet Child O' Mine,""Rocket Queen,""Mr. Brownstone,""Used to Love Her" and "You're Crazy," plus a handful of covers including, Bob Dylan's "Knocking on Heaven's Door,"AC/DC's  "Riff Raff," and Paul McCartney's "Live and Let Die."
The one annoying thing about the set was that there were several solos from Axl's backing band. All of the musicians onstage were no doubt incredibly talented, but in the end, everyone came to see Axl. We didn't need an hour worth of solos from dudes I had never heard of before.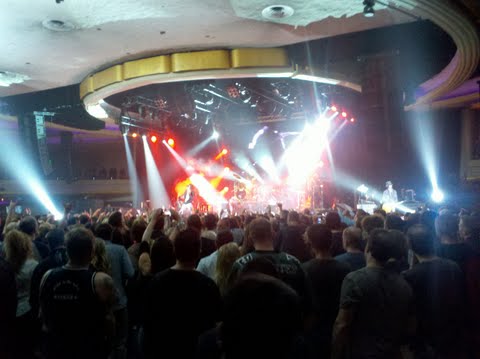 Around 2am, the crowd at the Palladium began to dwindle, but Axl and company were still hitting it full force. I stuck it out until 2:50 am or so and made my exit during "Knocking on Heaven's Door." At that point in time, I'd say there was only about 1,200 people left in the venue. I thought to myself, 'had Axl just went on a little earlier, he would not had to perform for a half house at 3am.'  I think had Axl even just cut out all the BS back-up band solos, the show would have ended at a more reasonable hour.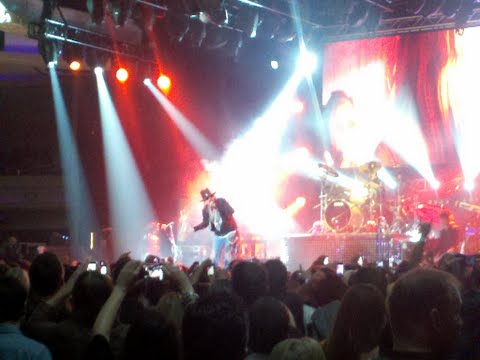 I really would have loved to caught this entire show, because it really was a good performance. Semi-bummed that I missed "Paradise City" and "Patience," but all in all, I was fairly satisfied with this show. I think that Axl has a unique voice, and I'm am glad that I have got to see him a few times. There is one thing that is for sure, if you go to see Gun N' Roses, you are going to see a show! These guys really do deliver. I just wish they would tighten up their routine a bit.
If you were at this show, or have ever seen Guns N' Roses, make sure to comment on this post and let us know what you think…Because this is You Tell Concerts, and "When You Tell Concerts, It's Cooler." – poppinoff
Guns N Roses @ The Palladium Setlist
Chinese Democracy
Welcome to the Jungle
It's So Easy
Mr. Brownstone
Sorry
Rocket Queen
Estranged
You're Crazy
Used to Love Her
Richard Fortus Guitar Solo(James Bond Theme)
Live and Let Die (Paul McCartney & Wings cover)
This I Love
Motivation(Tommy Stinson song) (Tommy Stinson on lead vocals, with band introductions)
Street of Dreams
You Could Be Mine
DJ Ashba Guitar Solo
Sweet Child O' Mine
Instrumental Jam (Another Brick In The Wall Pt. 2)
Axl Rose Piano Solo (Gran Torino/Goodbye Yellow … more)
November Rain
Bumblefoot Guitar Solo(Pink Panther Theme)
Don't Cry
Riff Raff (AC/DC cover)
Civil War
Shackler's Revenge
Knockin' On Heaven's Door(Bob Dylan cover)
Nightrain
Encore:
Instrumental Jam
Madagascar
Better
Instrumental Jam
Patience
Instrumental Jam
Paradise City