Ep.5 – Holy Fuck @ Spaceland – Silverlake, CA – 3/1/08
Holy Fuck @ Spaceland Video Concert Review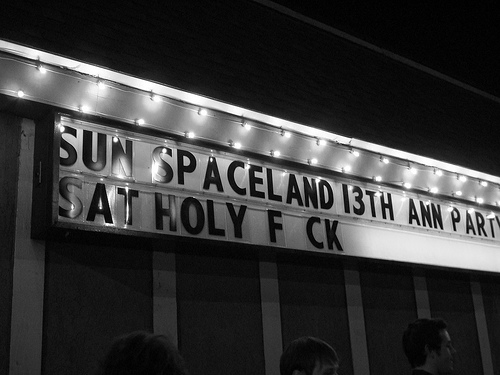 Lorn, Josh, and Bryan head out to Spaceland to catch Holy Fuck perform and get fan reviews of the show. This was the second show we had procured credentials for and Bryan's first YTC adventure.
This is definitely one of YTC's more controversial episodes and as you can tell I was still in my yelling phase and was told to "quite down" by security. But its all good!
-lorn
Holy Fuck Fun Facts:
Holy Fuck is a Canadian electronica band from Toronto. The band uses live instrumentation and miscellaneous instruments and non-instruments (including a 35 mm film synchronizer, toy keyboards and toy phaser guns) to achieve electronic-sounding effects without the use of laptops or programmed backing tracks. According to Pitchfork Media, "The band was formed with the intent of creating the equivalent of modern electronic music without actually using the techniques—looping, splicing, programming and the like—of that music.