Ep.524 – Hugh Laurie @ El Rey Theatre – Los Angeles, CA – 5/24/12
I have been a fan of Hugh Laurie's work in the hit FOX drama, "House" for several years now. When I heard that Laurie had recorded a Blues record for Warner Brothers Records, I was weary. I had seen far to many actors try to break into the world of music and fail miserably. I gave a few of Hugh Laurie's tracks a listen and was still unsure as to if he really had the chops to play the Blues. Regardless, I decided that I would give him a chance and decided to check out his El Rey performance.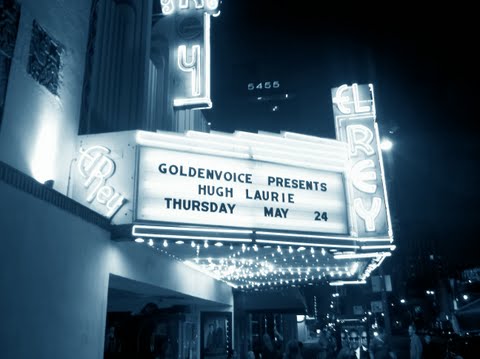 Hugh Laurie @ El Rey Theatre Video Concert Review
Hugh Laurie @ El Rey Theatre Concert Review
I arrived at El Rey Theatre about five minutes into Hugh Laurie's set, and with some help from the kind folks at PBS , was able to make my way into the show moments after my arrival. El Rey was close to packed, and the entire crowd listened as Laurie and The Copper Bottom Band jammed out some Bluesy tunes. The stage design was reminiscent of  the 1920s. A chandelier hung above the performers, and the stage was lined with old lamps. The crowd was much older then the crowd I have come to expect at El Rey Theatre, which was a nice change. Everyone was quiet as a mouse, and when people began to talk, they were instantly shushed.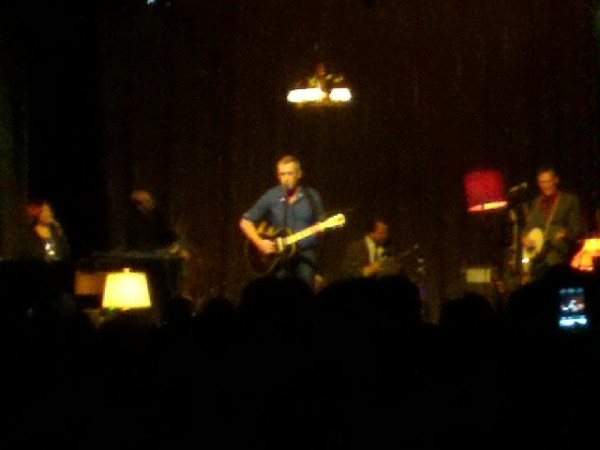 The vast majority of the setlist consisted of cover songs that spanned the history of Blues.  Before each song, Hugh Laurie spent a few minutes going into the history of the tune. After he had spent a fair amount of time going into the explanation, he would cut himself off with a snarky remark and apologize for getting side-tracked. The highlights of the set for me was when the band performed their rendition of Lead Belly's "You Don't Know My Mind," the Stephen Foster classic, "Suwannee River," and  Bobby Sharp's "Unchain My Heart."
Hugh Laurie – "Suwannee River" (Live @ El Rey Theatre)
Laurie's banter was fantastic, the band was on point, and the show was solid throughout. However, I was not grabbed by the performance. I am not sure if it was because I am not versed in the music that was being played, or if it was the fact the crowd wasn't filled with 20-somethings jumping off the walls. I'm not sure if I will ever see Hugh Laurie again, but I can say in confidence that if you are a fan of the Blues, you will not be disappointed by the show.
If you were at this concert, or ever seen Hugh Laurie and the Copper Bottom Band, make sure to comment on this post let us know what you think; because this is You Tell Concerts, and "When You Tell Concerts…It's Cooler!" – poppinoff