Ep. 506 – Iggy and The Stooges @ The Palladium – Hollywood, Ca – 12/02/11
I had only seen Iggy and The Stooges one time before this show, so I was pretty excited to finally have the chance to get to see them again. Unfortunately I didn't have a ticket, no money, and was running extremely late to the Palladium.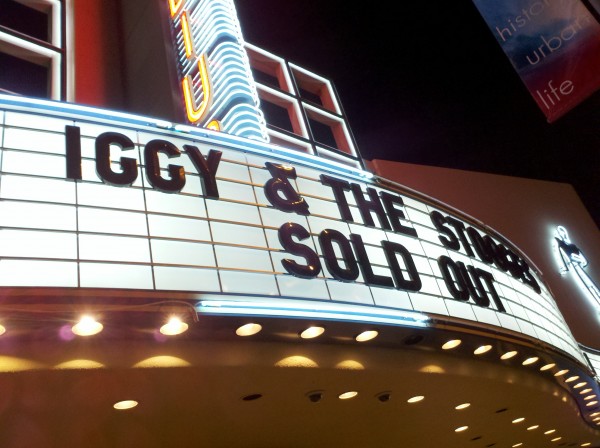 Poppinoff's Iggy and the Stooges adventure
I arrived at the Palladium about 10 minutes before Iggy and The Stooges took the stage. The street was bare, and all the tickets were in the hand of scalpers that were asking upward of $100 a ticket. In addition to the tickets being way over face value, a lot of people were getting turned away at the door for having fake tickets.
Iggy and The Stooges took the stage promptly at 10:00pm. The show was only scheduled to go until 11:15 so the clock was ticking. I was never able to find my miracle ticket, but decided to stick around and rock out to Iggy and The Stooges in the parking lot. Although I  couldn't see Iggy and The Stooges, I could actually hear them pretty well. I was able to listen to the show up until the last 15 minutes or so, when I was finally kicked off the property by Palladium security.
I figured that since I had already stuck out an hour in the lot, I might as well hang out for a bit and make a video concert review.  I wish the video would have been a bit longer. Unfortunately, due to a camera issue, a few of my videos were lost. My apologies to those I interviewed that are not featured in this video.
Iggy and the Stooges @ The Palladium video concert review
If you were at this show, and could give a bit more insight on how the show actually was, it would rock! Comment on this post, and let us know; because this is You Tell Concerts…and when "You Tell Concerts, It's Cooler!" – poppinoff
Iggy and the Stooges @ The Palladium Setlist
Raw Power
Search and Destroy
Gimme Danger
Your Pretty Face Is Going to Hell
Shake Appeal
I Need Somebody
1970
Fun House
L.A. Blues
Night Theme
Beyond the Law
I Got a Right
I Wanna Be Your Dog
Open Up and Bleed
Encore:
Penetration
No Fun
Cock in My Pocket