Ep.488 – Incubus @ The Hollywood Bowl – Hollywood, CA – 10/07/11
This was my second time seeing Incubus at the Hollywood Bowl, and I couldn't have been more excited.  I never really considered myself a fan of Incubus, until I attended one of their concerts.  After seeing Incubus live, it was apparent to me that these guys have it on lock and are going to be around for a long time to come.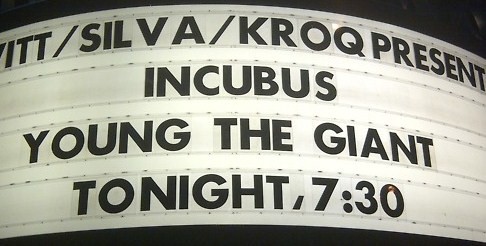 Incubus @ The Hollywood Bowl Video Concert Review
Incubus @ The Hollywood Bowl Concert Review
It is always a delight to see a show at the Hollywood Bowl, especially when its a band that's at the caliber of Incubus. The crowd at the Hollywood Bowl was bursting with energy, and by the time Incubus took the stage, the audience was in a frenzy.
Incubus's set was solid from start to finish. The setlist was incredibly well-crafted and included everything I could have possibly wanted to hear. Incubus started off their set with the song that first got me into them, "Megalomaniac," and then went straight into their all-time classic, "Wish You Were Here." From that point on, they went into a group of songs that I didn't know as well, but were rocking nonetheless. Other favorites from Incubus's set included, "Love Hurts," "Are You In"?, "Dig," "Drive," "Nice To Know You," and "Pardon Me."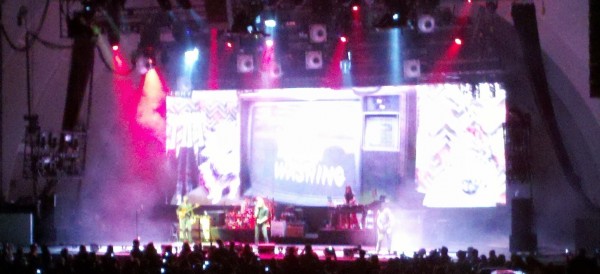 Brandon Boyd's voice was top-notch and carried the show, but one of the things that I enjoyed the most about this show (and Incubus overall) is that DJ Kilmore was fully incorporated into the band. I really dug the scratching that took place throughout the songs, and in retrospect,  I have recognized how ahead of their time Incubus truly was.
In closing, I had a great time at this show and am more of an Incubus fan after everytime I see them.  The highlight of the night for me (strangely enough) was that after Incubus had left the stage Journey's "Don't Stop Believing" was played over the house PA.  The reason this was such a highlight for me is that the last time Incubus played the Hollywood Bowl, they played the same track as the audience was exiting.  I am sure Incubus plays the same song after every show, and I think it's great. Everyone was singing along as they left the Hollywood Bowl, and it def made the show a bit more special.
If you were at this show, or have ever seen Incubus, please let us know what you think of their live show – Because "When You Tell Concerts…It's Cooler." -poppinoff
Incubus @ The Hollywood Bowl 10/07/11 Setlist
Megalomaniac
Wish You Were Here
Adolescents
Anna Molly
Promises, Promises
If Not Now, When?
Circles
Privilege
Vitamin
In the Company of Wolves
Defiance (acoustic)
Love Hurts (acoustic)
Are You In? (Riders on the Storm snippet)
A Kiss to Send Us Off
Dig (remix)
Drive
Switchblade
Nice To Know You
Encore:
Pardon Me
Tomorrow's Food