Review – Jack White @ The Mayan Theater – Los Angeles, CA – 4/30/12
Jack White @ The Mayan Theater Concert Review
This show seemed to pop up out of nowhere. Jack White had already sold out two nights at the Wiltern, but wanted to give some extra love to the City of Angels. This show was in celebration of the release of Jack's first solo album Blunderbuss.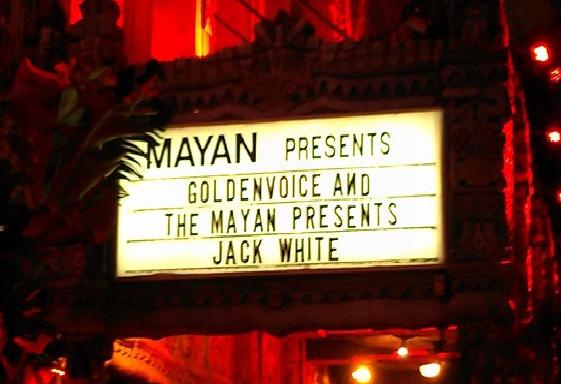 When it comes down to a hot ticket, it honestly couldn't have gotten any hotter than this show. Tickets were reasonable priced at around $50 after service fees but sold out seconds after going on sale. This unfortunately led tickets to being scalped for prices upwards of $200 per ticket. The sidewalk in front of the Mayan was crowded with fans trying to score a ticket and twice as many scalpers gobbling them up and flipping them at triple the price. The folks at the Mayan did their darnedest to put a stop to the scalping, but in the end they didn't have all that much luck. For those stuck outside of the show, they were treated to a parade of celebrities entering the venue including Axel Rose, Conan O'Brien and Gary Oldman. The celebrity that surprised me the most was Axel Rose, who took the time to take pictures with adoring fans as he entered. About 5 minutes before the show started I lucked out and was able to score a ticket. I was so darn excited that I literally jumped with joy.
The show started with Jack White and his all female backing band (The Peacocks) performing The White Stripes hit "Dead Leaves and the Dirty Ground". Jack then dove into a few new tracks, "Missing Pieces" and "Sixteen Saltines".  Both songs were well received by the crowd, and before they knew it Jack and company were performing more familiar songs such as The White Stripes "Hotel Yorba" and The Raconteurs "Top Yourself".  In addition to Jack White and company performing songs off  Blunderbuss, they also busted out The White Stripes, "I'm Slowly Turning Into You",  "We're Going to Be Friends", "Ball and Biscuit", "Seven Nation Army", The Raconteurs "Carolina Drama" and The Dead Weather's "Blue Blood Blues".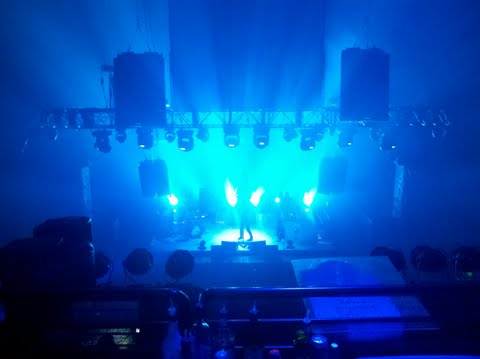 Although I found Jack's set to be full of energy, I thought that his backing band caused a lot of  the songs to sound a bit too rackety, especially The White Stripes songs that were originally composed with just drums and guitar. I felt like those song's strengths come out more with a more pared down delivery. I am aware that this wasn't a White Stripes show but couldn't get over how much the keyboards, violin, bass and tambourine drowned out Jack's voice. These sentiments are probably due to the fact that the one White Stripes show I saw years back still stands as one of the greatest I have ever been to.  Since then, I have been chasing the high, having seen The Raconteurs three times and The Dead Weather twice. I hate to say it, but I was far from impressed by both of Jack's side projects. Though every review I read about last night's concert has been positive, I just wasn't blown away by this show either. I'm willing to bet I'll find myself at another Jack White concert, but as of right now don't get what all of the hype is about.
If you were at this show or have ever seen Jack White please comment on this post and let us know what you think because this is You Tell Concerts and "When You Tell Concerts It's Cooler!" – poppinoff
Jack White @ The Mayan Theater Setlist 4/30/12
Dead Leaves and the Dirty Ground (The White Stripes song)
Missing Pieces
Sixteen Saltines
Hotel Yorba (The White Stripes song)
Top Yourself (The Raconteurs song)
Love Interruption
Weep Themselves to Sleep
I'm Slowly Turning Into You (The White Stripes song)
Blue Blood Blues (The Dead Weather song)
Blunderbuss
We're Going to Be Friends (The White Stripes song)
Take Me With You When You Go
Ball and Biscuit (The White Stripes song)
Encore:
Freedom At 21
My Doorbell (The White Stripes song)
You Know That I Know (Hank Williams cover)
Two Against One (Rome cover)
Carolina Drama (The Raconteurs song)
Seven Nation Army (The White Stripes song) (With "Suzy Lee" Intro)
Goodnight Irene (Leadbelly cover)