Ep.526 – Jack White @ The Wiltern – Los Angeles, CA – 5/30/12
I had seen Jack White just a month earlier at The Mayan and was less than impressed. I found the show to be shaky and left with a bad taste in my mouth. Regardless, I dig Jack White quite a bit and figured I would give his show another shot. When I caught Jack at The Mayan, he was backed by an all-female band, The Peacocks. For the first night of his two-night stint at the Wiltern, White decided to use his male-backing band, Los Buzzsardos. I was excited to see how they would compare to The Peacocks.
Jack White @ The Wiltern Video Concert Review
Jack White @ The Wiltern Concert Review
I managed to miss the first four songs of the set, but made it into the show just in time to catch Jack busting out The White Stripes' "Hotel Yorba." I instantly regretted not getting into the show earlier; Jack with Los Buzzsardoswas rocking!  The crowd was going wild, and there wasn't a person in the house not enjoying him/herself.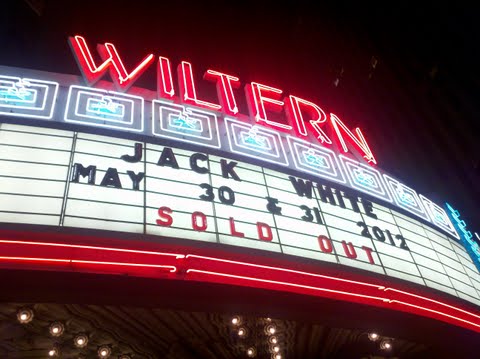 Los Buzzsardos seemed to have it a bit more together than The Peacocks. It's not that The Peacocks weren't all incredible musicians; they  just didn't hit it as hard as Los Buzzsardos. When it comes to Jack White, I want to have my face rocked off!
White arranged a set that showcased his new album, Blunderbuss, but also featured a good chunk of White Stripes songs such as "Black Math," "Hotel Yorba," "Dead Leaves and the Dirty Ground," "We're Going to Be Friends," "My Doorbell," and "Ball and  Biscuit." In addition, The Raconteurs' "Top Yourself" and The Dead Weather's "I Cut Like a Buffalo" were additional crowd favorites.  Jack also worked in a couple of covers, Rome's "Two Against One," Hank Williams' "You Know That I Know," and Dick Dale's "Nitro."
"My Doorbell" – Live (Jack White @ The Wiltern)
There wasn't a second of the show that Jack wasn't rocking out. For the vast majority of the set, White was dripping pools of sweat. The one down side to Jack White's intense rocking out was that as the show went on his voice began to become a bit gruff.
Los Buzzsardos played as if they had something to prove. Drummer, Daru Jones, was especially gifted and really pulled the set together and made it impossible to stand still.
I have  had my ups and downs with Jack White and am not sure that I will ever be 100% on his performance. Nonetheless, he killed the Wiltern and delivered a high-energy performance.  I will def end up seeing Jack White again and am really glad to see that his solo live set has progressed so much in just a month.
If you were at this concert, or ever seen Jack White, make sure comment on this post let us know what you think; because this is You Tell Concerts, and "When You Tell Concerts…It's Cooler!" – Poppinoff
Jack White @ The Wiltern Setlist 5/30/12
Black Math (The White Stripes song)
Missing Pieces
Weep Themselves to Sleep
Trash Tongue Talker
Two Against One (Rome cover)
Hotel Yorba (The White Stripes song)
Hypocritical Kiss
Top Yourself (The Raconteurs song)
I Cut Like A Buffalo(The Dead Weather song)
Dead Leaves and the Dirty Ground (The White Stripes song) (Jack on piano)
Blunderbuss
You Know That I Know (Hank Williams cover)
We're Going to Be Friends (The White Stripes song)
I Guess I Should Go to Sleep
Take Me With You When You Go
Encore:
My Doorbell (The White Stripes song)
Freedom At 21
Nitro (Dick Dale cover)
Sixteen Saltines
Ball and Biscuit (The White Stripes song)