Ep.485 – Jimmy Eat World @ The Wiltern – Los Angeles, CA – 09/29/11

This was my sixth time seeing Jimmy Eat world live,  and they never disappoint. This show was extra special because Jimmy Eat World was celebrating the ten-year anniversary of their album "Bleed American."  The album is one of my favorites and includes hits such as "Bleed American," "The Middle," "Sweetness,"  and "A Praise Chorus."
Jimmy Eat World @ The Wiltern
Video Concert Review
Jimmy Eat World @ The Wiltern Concert Review
From the beginning,  this show was top-notch. Jimmy Eat World started the set off by performing "Bleed American" in its entirety.   It was pretty cool for me to get to see this,  since the first few times I saw Jimmy Eat World was when they were on their original "Bleed American" tour.
Jimmy Eat World jumped right into "Bleed American" full-force and rocked the house with the title track off the album.  As the show went on,   I couldn't believe how many Jimmy Eat World songs I knew. I def have to give a special nod to the crowd at this show.  Jimmy Eat World had everyone really into it, which made the show a lot of fun.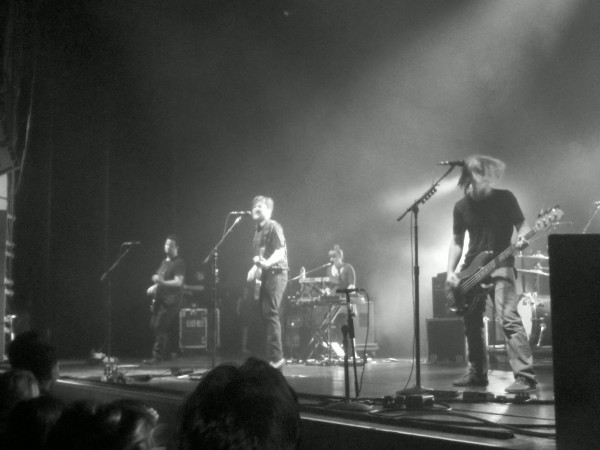 Another great thing about this show was that Jimmy Adkins shared stories that surrounded the release of "Bleed American."  I always love to hear bands reminisce, especially after having come so far.
Once Jimmy Eat World finished playing "Bleed American," they left the stage for mere moments before returning to play another ten-song set, which included "Pain," "23″ and "Invented."  I didn't know nearly as many songs from the second set as I did the first, but Jimmy Eat World rocked it regardless. One thing that impressed me about the songs in the second set was that they seemed to have more complex guitar parts then the songs off "Bleed American."
In closing Jimmy Eat World is a solid buy, and I will catch Jimmy Eat World again.  If you have ever been a fan of their music, you should try and check them out.  I'm sure you'll know a lot more Jimmy Eat World songs than you think you do.
If you were at this show, or have ever seen Jimmy Eat World,  make sure to comment on this post, because "When You Tell Concerts…It's Cooler!." – lorn
Jimmy Eat World @ The Wiltern 09/29/11 Setlist
Bleed American
A Praise Chorus
The Middle
Your House
Sweetness
Hear You Me
If You Don't, Don't
Get It Faster
Cautioners
The Authority Song
My Sundown
Encore:
Goodbye Sky Harbor
Work
Big Casino
Blister
Invented
Lucky Denver Mint
My Best Theory
Evidence
23
Pain