Ep.504 – Katy Perry @ Staples Center – Los Angeles, CA – 11/22/11
I have never been a huge Katy Perry fan, but I just had to catch this show.  For some reason, I was under the impression that Katy Perry had managed to accumulate seven #1 singles off of her "Teenage Dream" album.  I was, however, incorrect, there has only been five number ones off the album as of this point in time. Regardless,  Katy Perry is tied with Michael Jackson for the most number ones off a single album and has def secured herself a position as a Pop icon.

Katy Perry @ Staples Center Video Concert Review
Katy Perry @ Staples Center Concert Review
Staples Center was packed from top to bottom for this sold-out show. The crowd seemed to be primarily young girls and their parents, but they were ready to party. The theme of the show was that we were inside miss Katy Perry's dreamland. The stage design for this show was over-the-top. The video monitors were giant pink clouds and the stage was covered with over-sized lollipops and candy canes. Katy referred to her dream world as "Candyfornia." The show was certainly an adventure from start to finish.
Katy Perry's set list was solid and filled with hits. Katy opened the set with her hit "Teenage Dream" and just a few songs later she dived into "Waking Up in Vegas." Other highlights from Katy Perry's set include "I Kissed a Girl," "Hot n Cold", "E.T.,""Last Friday Night (T.G.I.F)," "Firework," and "California Gurls."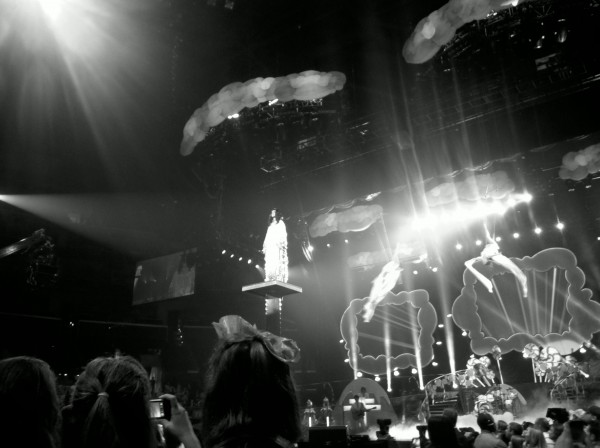 This was the second to last show for Katy on the "California Dreams" tour. The tour started back in February, went around the world and consisted of 124 dates. That's a hefty schedule for any artist. With that said, Katy Perry's voice was a bit rough and obviously exhausted.  Regardless, Katy didn't roll tape and gave it her all throughout the show.
In closing,  I wish that Katy Perry would have brought out a saxophone player for  "Last Friday Night (T.G.I.F.).  Any saxophone player would have done, but Kenny G would have been spectacular. I have to say the saxophone solo in "Last Friday Night (T.G.I.F.) was my main reason for going to this show, so not seeing it was a bit of a let down.
On the more outlandish side of things, I would have like to have seen appearances from Kanye West and/or Snoop Dogg, as that would have made this show epic. Nonetheless, this show was a lot of fun and Katy Perry is def worth the money.
If you were at this show, or have ever seen Katy Perry, make sure to comment on this post… because this is You Tell Concerts, and "When You Tell Concerts – It's Cooler!" – poppinoff
Katy Perry @ Staples Center Setlist – 11/22/11
Teenage Dream
Hummingbird Heartbeat
Waking Up in Vegas
Ur So Gay
Peacock
I Kissed a Girl
Circle the Drain
E.T.
Who Am I Living For?
Pearl
Not Like the Movies
The One That Got Away
Thinking of You
Hot N Cold
Last Friday Night (T.G.I.F.)
I Wanna Dance With Somebody(Whitney Houston cover)
Firework
Encore:
California Gurls