Review – Ke$ha w/ LMFAO @ Nashville Municipal Auditorium – Nashville, TN 7-31-11
Concert Review – Ke$ha w/ LMFAO
@ Nashville Municipal Auditorium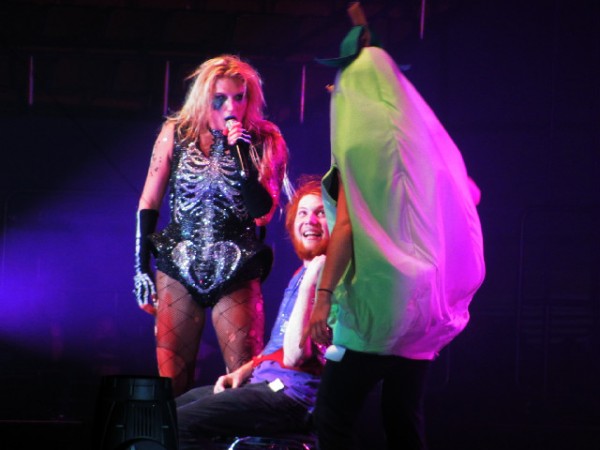 July 31, 2011 – approximately 7:30 PM: @chrystalrocks: "If anyone can get Irene and I into Ke$ha, please message me! Thanks!"
We had a couple of opportunities to score tickets over the past couple of months, but of course, we waited until the last minute.
There had been a Groupon deal for $25 tickets several weeks ago, and Ke$ha was even offering FREE tickets at one point for fans that volunteered for a community project through Hands On Nashville. She figured since she used to sneak her way into shows regularly before fame, this was a good way for people to get in for free without having to put themselves in jeopardy. I dig your style, Miss Ke$ha.
Dodging pavement cracks in my rainbow sequin heels, I was psyched to receive a re-tweet – only to find it was a delicate jab at my musical tastes from a journalist I truly respect saying: "That's tough. I don't know anyone who's into her." (sad trombone)
I simpered at that tweet and a number of other micro-blogs posted that night bashing one of my favorite groups of all time LMFAO.
LMFAO Video Fan Reviews @ The Roxy – LA
I know. It's not cool to like Ke$ha at my age, but I'm not even going to try and help it. And sure, requesting LMFAO at a club is a major faux pas nowadays; it's like the "FREEBIRD!" of the club scene, still, I do it every time I'm out. It's not like the DJs are going to play it anyway, I mean, unless you're somewhere that actually takes into account what the people ask to hear. Imagine.
I'm all for original mixes and such, but it's okay to throw in something recognizable once in a while.I ferociously bust a move when LMFAO comes on, and I don't care who's watching – judge me if you must. So, basically what I'm saying is, no one was going to burst my Party Rock bubble. I even bought a comp floor ticket from a scalper for $20. Normally, I'd wait until he'd let it go for $10/$15, but it wasn't worth missing a millisecond of those LMFAO guys.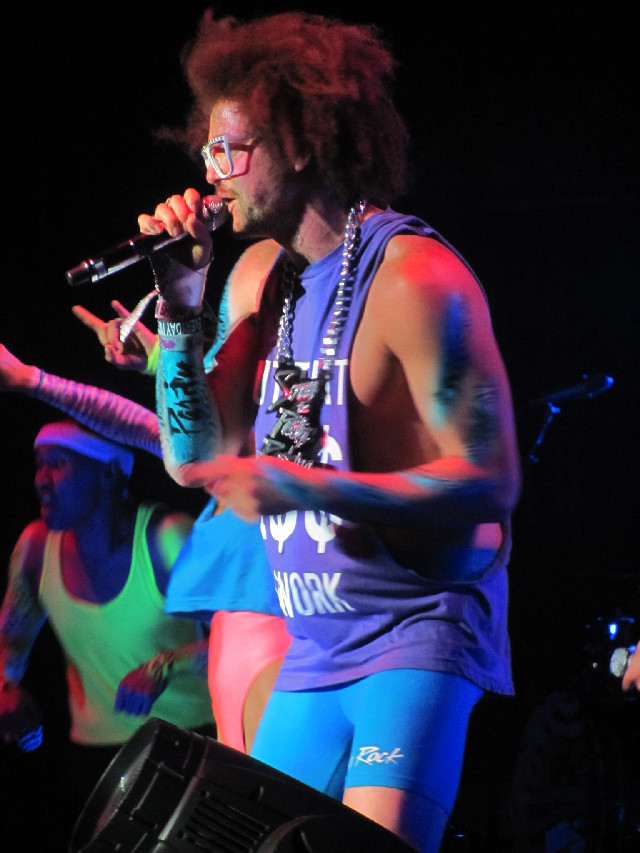 I have never seen an opening act own like LMFAO; they are a tough act to follow. The show gets more outrageous every time I see it. This time, stagehands equipped the crowd with a glow sticks before LMFAO came out. Then, it popped off like some wild carnival pool party with inflatable animals, dancers, Shake Weights, a trampoline, kick lines and planking.
Video Credit – YouTube User: socawksa
I've said it since the first time I saw LMFAO at the Project Ethos event in Los Angeles years ago – they are like today's Kid 'n Play or Fresh Prince and Jazzy Jeff. Purposely funny and often ridiculous, but the beats are well-produced and contagious. Red Foo (who dabbled in comedy first) has spent years not only mastering software and crafting beats, but he understood how to build a brand and how to "fake it 'til you make it." I believe Sky Blu is testing out the DJ circuit now as well, as I saw he had a slot at this year's SXSW.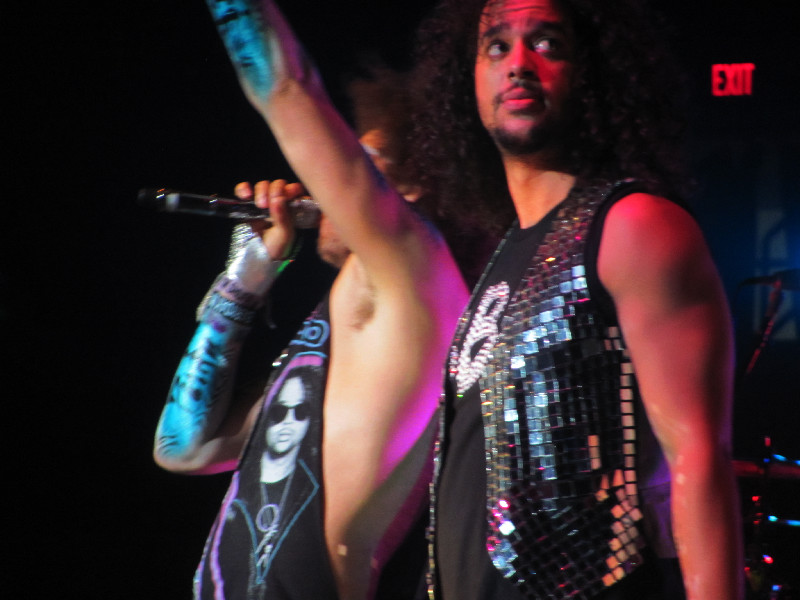 Last time I saw LMFAO, they were opening for Black Eyed Peas at the Bridgestone Arena, which was a set of songs I knew inside-out and upside down. This show put a big push on the new release,, "Sorry for Party Rockin'." I've only listened to it once, but there are some fun tracks on it. You've got your work-out jam ("I'm Sexy and I Know It"), your rich & famous fantasy ("Champagne Showers"), and of course, the hit that has gone number one internationally ("Party Rock Anthem") among others. There's even an ode to street meat. They did the bangers from the "Party Rock" album as well, so I was satisfied.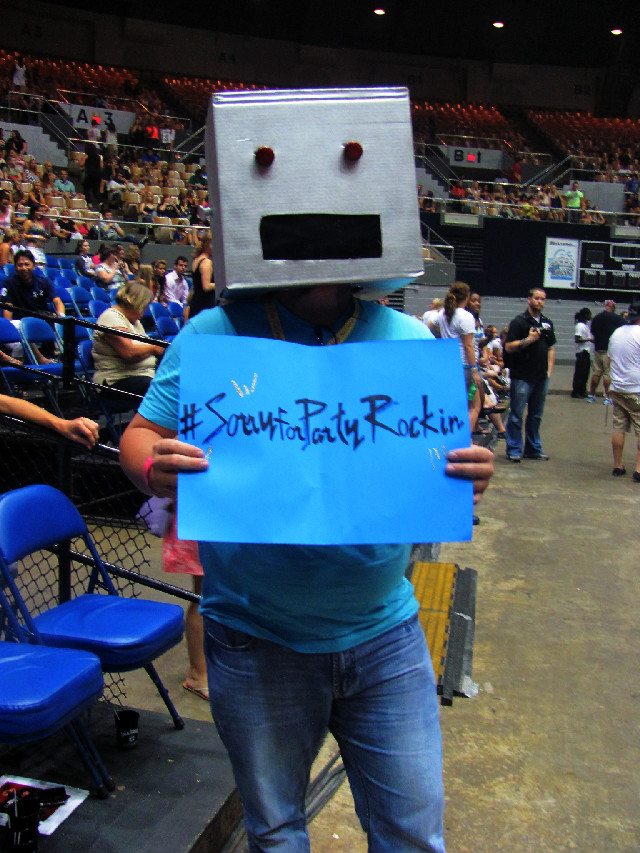 The Ke$ha crowd was more receptive to LMFAO than the BEP crowd was. Fans were dressed in their thick rims, animal prints and fluorescents ready to shuffle it out. When it comes to the live show, LMFAO spiked the punch this year by working in a live drummer and bassist (I think it was a bassist) and a dance crew.
The next day at work, LMFAO was who everyone was talking about. Whether you thought they were asinine or awesome, chances are you had a good time. If it was laughing at those having a good time, well, at least you were entertained in some fashion.
Video Credit – YouTube User: socawksa
It took a long bit for Ke$ha to make her entrance, but when she did, she appeared on a metal diamond-shaped edifice that resembled the head of a spaceship wearing light-up goggles. She took command in the hub behind some synths triggering different sounds and beats, which she didn't do when I saw her at 107.5 The River's Acoustic Christmas concert. She also played the guitar here-and there, which shows that she took the time to lock down her performance skills before taking on instruments as well. It shows. Her stage presence has improved drastically, and now that she's playing, she gains more clout.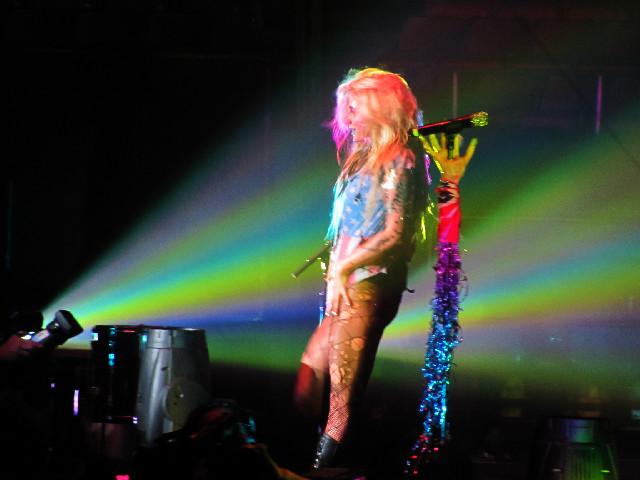 Ke$ha's show was a dirty, hot, glittery mess – just the way I like it. I kept thinking, "Ah! If I was a Pop star, this is how I'd do it." Instead of constant costume changes and clean-ups, she kept the sweat, sparkles and fake blood (used when she drank blood from a human heart in "Cannibal") as part of her look.
The lighting grabbed me. At one point, it looked like she had a neon edge work video setting on her projection screens, but then I realized it must have been a mixture of glow-in-the-dark face paint and black lights – it created a cool innovative effect. The rainbow luminance and mood gels captured the sick sleaze behind Ke$ha's lyrics, and I liked how it wasn't a priority to make her look beautiful, although she was a knockout in her own skanky way.
You could tell Ke$ha was glad to be in back in Nashville where she went to school, pointing out that some of the songs she was singing were about people that might be in the room.
Ke$ha @ 107.5′s Acoustic Christmas 2009
Ke$ha gets accused of "not being able to sing," but I disagree. I decided this when she played "The Harold Song" – a ballad that I hadn't heard before. It was a beautifully earnest performance, and yeah, there's processing on her voice recorded and live, but you can hear that she has pitch control with that character. I don't know if she could nail "The Star-Spangled Banner," but she knows what she can handle, and is getting stronger in all aspects of performance.  Actually, a Ke$ha version of the national anthem might be kinda rad.
Anyway, I'm sure she could produce something that would surprise people, but why? She's on top of the world, and besides, I've heard industry people say that it's important to find your sound and stick to it. If you go too far this way or that, people can't pinpoint your work and you lose your identity with your diversity.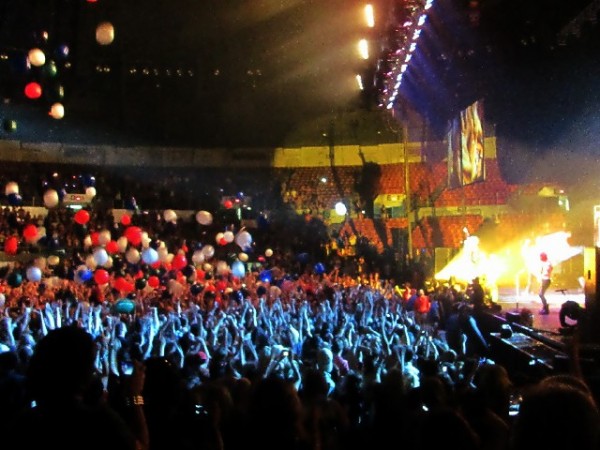 The show ended with a balloon drop and cannons shooting glitter and gold confetti. We left during the encore of "We R Who We R," (even before the havoc that broke out for the "Fight for Your Right to Party cover) and looking around, I felt for the maintenance staff. It reminded me of a party I threw in Junior High where I spent the rest of my weekend scraping smashed Starbursts off the cellar floor – remnants of an end-of-the-night candy war. You know how hard it is to get sparkles off your skin; imagine a concrete floor covered in beer spillage and glitter. I'm sure the Nashville Municipal Auditorium will be twinkling for months.
As we made our way to finish off the night at the final Sunday Supper (featuring Joe Firstman and Jaron Lowenstein) at Douglas Corner, we felt the show was $20 well spent, especially with parking being only $5. Plus, I got felt up by a girl on ecstasy free-of-charge!
Check out the links below for video fan reviews of other LMFAO and Ke$ha shows: