Review – Kid Rock @ Verizon Wireless Amphitheatre – Irvine, CA – 07/31/11
This review of Kid Rock at Verizon Wireless Amphitheatre comes from long time YTC supporter, Tony Cota. I can't remember when the first time I met Tony was, but I do remember how passionate about concerts he is. When it comes down to it, Tony knows what he likes and what he is talking about. With that said, enjoy Tony's review of Kid Rock at Verizon Wireless Amp  -lorn
Kid Rock @ Verizon Wireless Amphitheatre – Concert review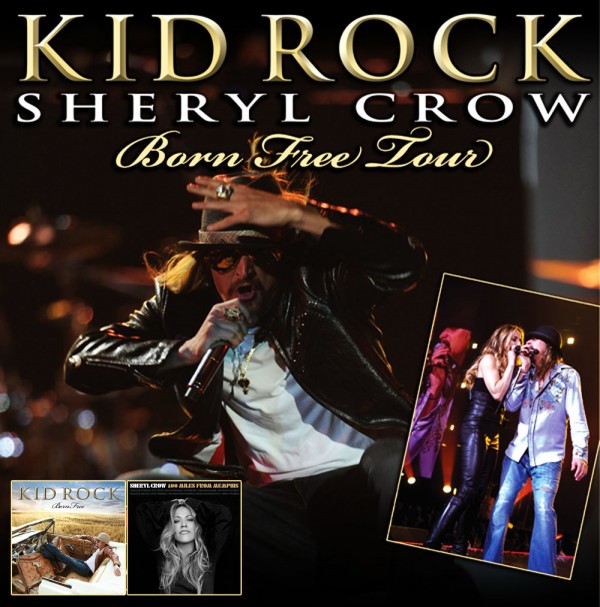 Kid Rock came back to Southern California on Saturday night with one intention – to blow everyone away with his spectacular stage show performance and fist-pumping ferocity that we all love to indulge in. This was the fourth time I had seen Kid Rock, and I do have to say that this was the finest show I have seen yet.
Arriving at the venue was a breeze. The parking was free, and the line to get in was not excruciatingly long. In no time, we (my better half & I, Carol) were inside munching on a chicken teriyaki barbecue bowl (no vegetables, please!) and washing it down with plenty of Shock Top draft. Yum!
It had been awhile since I have been to the old "Irvine Meadows," so I was pleasantly surprised that there was a good variety of eats and drink choices – although, no Patron tequila. (That really was a good thing!) The place seemed to fill up steadily as the first band came on. They were a three-piece rocking Southern-style band by the name of Leroy Powell and The Messengers. The drummer was kick ass on the double bass and very lively!
It hadn't been too long into the intermission when a gal with her boyfriend started to puke into the seat adjacent to us. Man, talk about blowing your wad! They split, and the ushers were left with the clean-up.
Sheryl Crow came on and gave a fantastic set. She looked as polished and tight as ever. Her tune, "All I Wanna Do" was perfect, and got the crowd warmed up. The lawn was rocking and where we sat, in lower lodge, it was just grooving! I knew that when her set ended, that would not be the last we saw of her.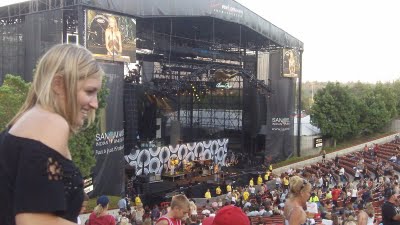 The sun had completely gone down by the time by the time Kid Rock took the stage. Kid Rock's set started with a five minute video montage of the life of Kid Rock. The video was pretty entertaining and allowed for people to make the final push to the restrooms and beer line.
Kid Rock tore through "American Bad Ass" and perfectly transitioned into his new tune, "God Bless Saturday." I was super bummed that I didn't capture this song on video. Damn toggle button! "Slow my Roll" was another great song that Kid Rock performed off his "Born Free" album. Kid Rock then busted into an awesome rendition of The Allman Brothers' "Midnight Rider" that segued into "Cowboy." This was one of the my many highlights from Kid Rock's set.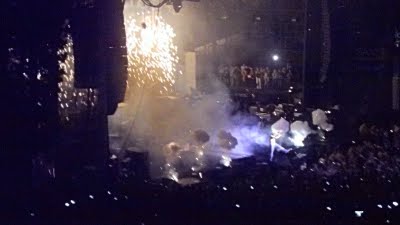 Kid Rock's stage show was so over the top, featuring a big ass steer head with giant horns stretching along the drum riser and a killer looking Jim Beam bar right behind center stage. The lighting, pyrotechnics and lasers were outta this world. The sound where we were positioned was rather good. Outdoor venues can be tricky but, V.W.A seemed to iron out those old kinks from long ago.
About halfway through Kid Rock's set, the place got that smell of beer, sweat, puke & weed and the ladies were beginning to look scarier than the guys! Yup, this is what a full-tilt boogie rock show brings out. Good times!
I was surprised that I enjoyed the song "Sugar" live even more than I already had. When Kid Rock did his hilarious song "Forty," you could tell that it got the crowd feeling fine. This was a perfect example of an artist that can turn already great songs into a live treat. Kid Rock also did a great job of performing his new tracks with a unique style and approach, while keeping you guessing and wanting more.
Sheryl Crow returned to the stage for two awesome songs with Kid Rock, Crosby Stills & Nash's "Love The One Your With," and of course, the Kid Rock and Sheryl Crow classic, "Picture." After Sheryl left the stage, a super sing-a-long of, "All Summer Long" signaled what was the beginning of the end of this incredible evening. "Born Free" (the title track off the current disc) capped off the night with an enthusiastic and patriotic exuberance.
All in all, Kid Rock clocked in set of about 2 hours and 10 minutes. People all around were wanting more, including me, but to no avail. Everytime I see Kid Rock, I can't help but think about when and where I am going to see him again.
I have to give a big thanks to my lovely wife for venturing out on this killer night. She loves Kid Rock, and I am okay with that. I definitely have to recommend the VIP parking for $20, because if you decide to go with the free parking, you could end up waiting about an hour to squeeze out of the lot. Also, I should recommend staying close the amphitheater if you plan having adult beverages and/or driving over an hour to see a show here. The Candlewood Suites was a quiet, clean and affordable place to stay. – Tony Cota
Kid Rock @ Verizon Wireless Amp video concert review
Kid Rock @ Verizon Wireless Amp 07/31/11 Setlist
American Bad Ass
God Bless Saturday
You Never Met A Motherfucker Quite Like Me
Lowlife / Keep Your Hands to Yourself
Cocky
Slow My Roll
Midnight Rider / Cowboy
Care
Somebody's Gotta Feel This / Fist Of Rage / I Am The Bullgod / Forever
Sugar
Flyin' High
Forty
Love The One You're With (with Sheryl Crow)
Picture (with Sheryl Crow)
Instrument Jam / La Grange / Cat Scratch Fever
So Hott
Bawitdaba
Encore:
All Summer Long
Born Free