Review – Korn @ The Wiltern – Los Angeles, CA – 10/10/13
Korn @ The Wiltern Concert Review
On October 10th, 2013 Korn sold out the Wiltern theatre in Los Angeles, CA and the diehard Korn fans were in attendance to witness another unforgettable concert experience. If you weren't here, then you have issues.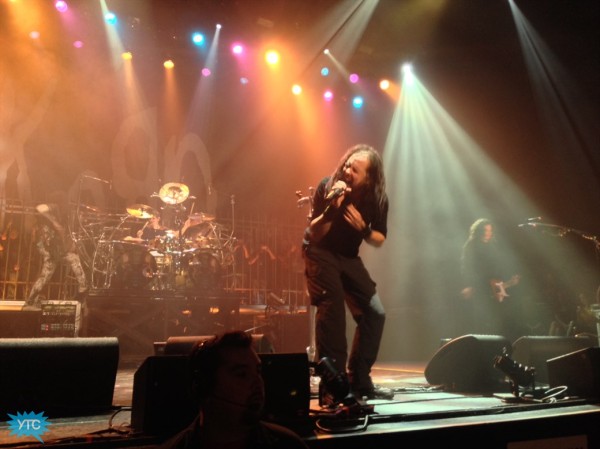 For many, including myself, this was the second time seeing the band in Los Angeles this week. Although no Korn experience is bad, it did leave me wanting more and luckily I got to have a full-blown experience only a few days after their Jimmy Kimmel mini concert. The fans at the Kimmel show weren't the normal Korn fans I've been accustomed to, but thankful they were there at the Wiltern show in full force. The sold out crowd in attendance made the historic venue roar with lyrics and screams of hardcore dedicated fans. I've been to concerts at the Staples Center, and this night by was louder than any show I've seen at the home of the Lakers.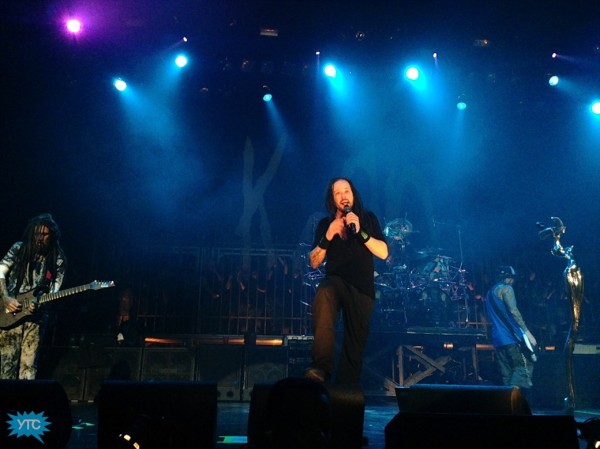 Jonathan Davis had been sick this past week, but there were no signs of illness at this show. He said to hell with his illness and put on one of the better Korn shows Los Angeles has seen in the past several years. There's a reason these guys are one of the very few metal bands that survived the 90′s nü-metal scene, and that's because of their hard work and their passion for their music. May that be a lesson to those who want to survive in the music industry.
The welcoming return of Brian 'Head' Welch has been highly anti cared in the Korn community and seeing him on stage smiling and grooving with Korn once again is such a delight. To see a band this happy after so being together for as long as they have and to have gone through so much individually is heart warming. Korn is much more than a band, they are a family.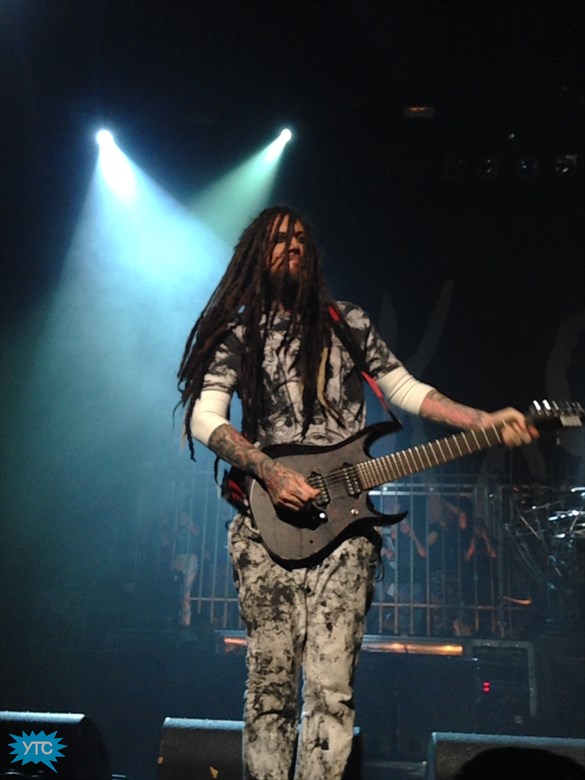 Once in a while you go to a concert and it inspires you, and this was that inspiration I've been desperately been seeking. After attending 50 some odd concerts in 2013, the Korn concert at the Wiltern Theatre had transported me into a state of mind I haven't witnessed until this night. Just standing around seeing the fans and Korn unite made me want to pick up an instrument and connect with people the way these guys do.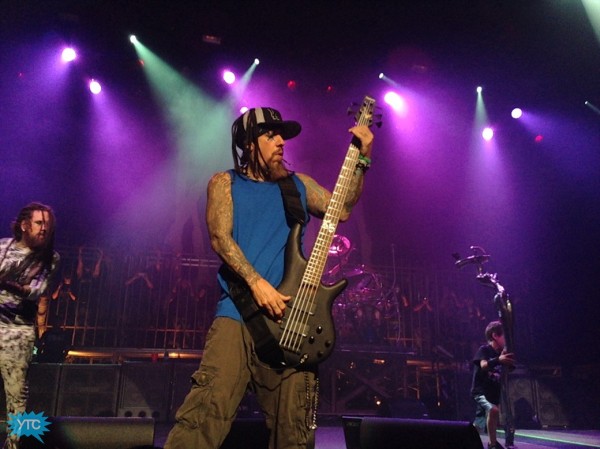 As of this show, I believe Korn is at their peak and it will be a very long time before they descend this position. I've had the pleasure of seeing these guys 3 times this year and I can tell you that their shows get better and better as they go along. Book your tickets f you haven't had the honor of seeing them, trust me, these guys are unbelievable.
Make sure to check out the their recent release, The Paradigm Shift, out now at all major retailers.
Korn @ The Wiltern – Setlist
Blind
Twist
Falling Away from Me
Love & Meth
Narcissistic Cannibal
Dead Bodies Everywhere
Coming Undone
(preceded by Open Up Outro)
Did My Time
Shoots and Ladders / Somebody Someone
Never Never
Here to Stay
Y'All Want a Single
Prey For Me
Another Brick in the Wall (Pink Floyd cover)
Encore:
Get Up!
Got the Life
Freak on a Leash
Korn on Tour
Korn's current tour with Asking Alexandria and Love and Death is rapping up, but make sure to catch them this fall with Rob Zombie!
11/3 Reno, NV
Grand Sierra Resort
11/5 Yakima, WA @ Yakima Valley Sundome
11/6 Butte, MT @ The Butte Civic Center
11/7 Salt Lake City, UT @ Maverik Center
11/9 Bismarck, ND @ Bismarck Civic Center
11/10 Rapid City, SD @ Rushmore Plaza Arena
11/12 Casper, WY @ Casper Events Center
11/13 Sioux City, IA @ Tyson Event Center
11/15 Oklahoma City, OK @ Chesapeake Energy Arena
11/16 Wichita Falls, TX @ Kay Yeager Coliseum
11/17 Corpus Christi TX @Concrete Street Amphitheatre
11/19 Springfield, MO   O'Reilly Family Center
11/20 Cedar Rapids, IA @ US Cellular Center
11/22 Grand Rapids, MI @ Deltaplex
11/23 Huntington, WV @ Big Sandy Superstore Arena
11/24 Nashville,TN @ Bridgestone Arena
11/26 Bethlehem, PA @ Bethlehem Events Center
For more information on Korn, please visit Korn.com