Ep.519 – Lenny Kravitz @ Nokia Theatre – Los Angeles, CA – 2/16/12
This show was my first time seeing Lenny Kravitz. In all honesty I had doubted him a lot in the past. I never really dug the music of Lenny Kravitz and in a lot of ways couldn't stand him. You are probably asking yourself, "Then why did you go see him live?" Well, the reason is simple. Lenny Kravitz has no doubt made his mark on the music industry and I would have been kicking myself for a while if I passed up the chance to catch this dude live.

Lenny Kravitz @ Nokia Theatre Video Concert Review
Lenny Kravitz @ Nokia Theatre Concert Review
It had been well over a year since the last time I attended a show at the Nokia Theatre and def have to say I forgot how great of a venue it is. I walked in the door just as Lenny Kravitz was hitting the stage and the Nokia Theatre was def buzzing. Peeps were beyond excited to see Lenny live.
Lenny Kravitz hit the stage with a burst of energy and the crowd was loving it. Everyone on the floor was up and dancing from start to finish and Lenny had everyone all riled up.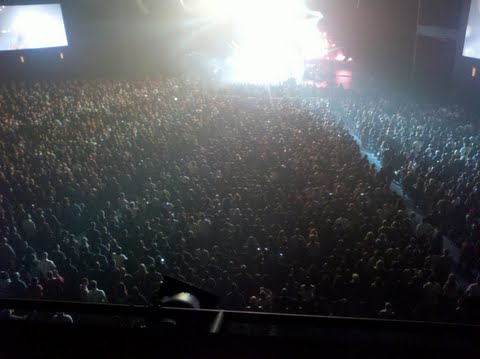 Although I'm not very versed on Lenny's catalog I found his music to be a great mix of modern music and 70′s funk. The bass lines were heavy and Lenny was laying down some solid vocals. I didn't know the first two songs that Lenny busted out but was very pleased when three songs deep into the set he performed his cover of the Guess Who's hit "American Woman". From that point on I didn't recognize any of Lenny's songs until the end of his set. Despite not knowing a lot of Lenny Kravitz's songs I was really impressed by "Black And White America", "Stand By My Woman","Rock And Roll Is Dead" and "Rock Star City Life". Lenny closed out his set by performing some of his biggest hits such as "Where Are We Runnin","Fly Away" and "Are You Gonna Go My Way".  Lenny returned to perform a three song encore that featured a lot of jamming and a few songs performed acoustically.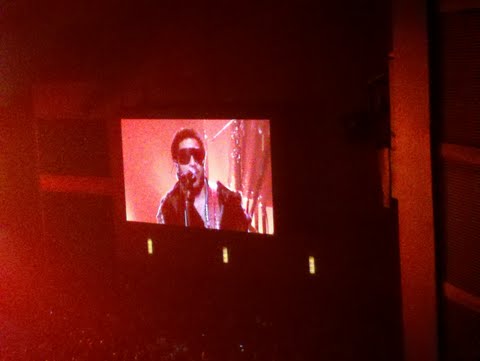 In closing, I read a bunch of reviews that described the show as cookie cutter pop. I def agree that it was very much a cookie cutter pop show, but that's what I wanted to see from Lenny Kravitz. I had a great time and am really glad that I got to see Lenny Kravitz live. The stage and lighting design were incredibly enjoyable. Lenny's sound was polished and came off great live. I would highly recommend checking out Lenny Kravitz if you have the chance.
If you were at this show or have ever seen Lenny Kravitz live make sure to comment on this post and let us know what you think because this is You Tell Concerts and "When You Tell Concerts It's Cooler". – poppinoff
Lenny Kravitz @ Nokia Theatre Setlist 2/16/12
Come On Get It
Always on the Run
American Woman
It Ain't Over 'Til It's Over
Mr. Cab Driver
Black And White America
Fields of Joy
Stand By My Woman
Believe
Stand
Rock And Roll Is Dead
Rock Star City Life
Where Are We Runnin'?
Fly Away
Are You Gonna Go My Way
Encore:
Push (acoustic)
I Belong To You (acoustic)
Let Love Rule
Lenny Kravitz – Fly Away (Live)