Ep. 513 – M83 @ Club Nokia – Los Angeles, CA – 01/13/12
I had seen M83 in 2008 when they performed at the Music Box, but managed to forget about them over their three-year touring hiatus. I tried to catch their show at the Music Box in November of 2011, but was unfortunately shut out and unable to find tickets to the show. M83 has gained a lot of buzz over the last three years and even managed to get play on mainstream radio. I knew I didn't have anything against M83, but had no idea what I was in for.
M83 @ Club Nokia Video Concert Review
M83 @ Club Nokia Concert Review
M83 was supported by Big Black Delta and a totally kick-ass Disco DJ, Midnight Surfer. I managed to get into Club Nokia for the last 20 min of Midnight Surfer's set and have to say this dude def knows how to lay down some funky disco beats. I have seen Midnight Surfer a few times and was really glad to see him on this bill.
Big Black Delta took the stage next and put on a great performance and really got the crowd amped and ready to go for M83. To read more about Big Black Delta make sure to check out our review of their set here.
For M83′s set, I decided to head to the balcony of Club Nokia. I had sat on the balcony at several shows before and had always found it to be the way to go. You have a clear view of the stage from almost any angle, and the sound is phenomenal. Club Nokia was packed and from the second M83 took the stage until the end of the show.  The entire place was enchanted.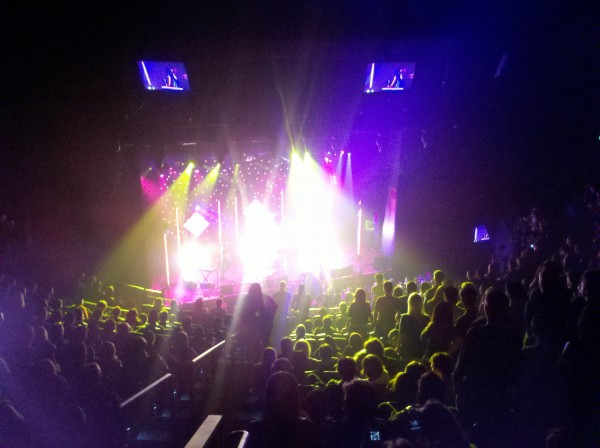 M83 only played a 15-song set (if you count their intro), but it was a captivating show. The band was lead by Anthony Gonzalez on vocals and heavily supported by the lovely Morgan Kibby. Anthony did sing on the vast majority of the songs performed throughout the evening, but Morgan's voice shined as well and really rounded out the sound of M83′s live set. In addition to Anthony and Morgan, the rest of the band was absolutely fantastic as well. I was in a trance; I can't believe I somehow managed to forget about these guys. As they played, I suddenly had flashbacks from the group's Music Box performance in '08 and was dumbfounded by how good they really were.
One thing that I found to be extra special about this show was how excited the band was to play for us. Anthony made several comments throughout the night about how excited they were to play to a sold-out crowd in a venue so large. He even took time to take a picture of the crowd and seemed as if he was speechless.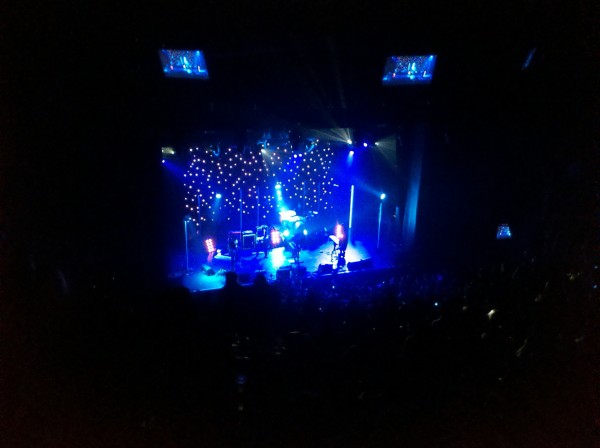 For the encore, I decided to leave the balcony and head to the main floor. The second I arrived on the floor, I was treated to a crowd that was dancing and having the time of their lives. Not that the folks on the balcony weren't enjoying themselves, it's just that the folks on the floor were going insane! In retrospect, I really wish I would have spent more time on the floor as there was an incredible energy emanating through the room.
In closing, the future is looking bright for M83, and I feel truly blessed having been able to attend this show. One thing that I continuously thought during the show was how amazing the band's Coachella performance is going to be. I can't wait to get to the Polo Fields and drift off into the night with the music of M83 and thousands upon thousands of fans. I can only imagine that it will be  magical. I have to strongly suggest that if you have the chance to see M83, you def take advantage of it.
If you were at this show, or have ever seen M83, please comment on this post and let us know what you think, because this is You Tell Concerts and "When You Tell Concerts, It's Cooler!" – poppinoff
M83 @ Club Nokia Setlist 01/13/12
Intro
Teen Angst
Kim & Jessie
Reunion
Sitting
Year One, One UFO
We Own The Sky
Steve McQueen
Wait
This Bright Flash
Claudia Lewis
Midnight City
A Guitar And A Heart
Encore:
Skin Of The Night
Couleurs