Ep.473 – Matisyahu @ Club Nokia – Los Angeles, CA – 08/03/11
I had heard people ranting and raving about Matisyahu for years, but had always written him off as a "one-trick pony."  A few months back,  I caught a bit of Matisyahu "Live at Stubb's" on Palladia and was blown away.
Matisyahu had so much energy in his live performance and gave off a completely different vibe than he did on his studio tracks.  Needless to say,  I was excited to finally get a chance to see Matisyahu live in concert.
Matisyahu @ Club Nokia video concert review
Matisyahu @ Club Nokia concert review
Matisyahu started his Club Nokia set off kind of slow, and it didn't seem like there was much energy.  Matisyahu was dancing around the stage and seemed as if he was trying to find his groove.
About 3 songs deep,  Matisyahu climbed on to the top of a speaker and began to look around the venue.  I was wondering what exactly Matisyahu was doing and said to myself there is no way this dude is going to stage dive – the show just started.  Well…I was wrong.
Matisyahu took the great leap into the crowd and began to crowd surf.  From that moment on, the energy of the show changed and everyone in Club Nokia was up on their feet dancing.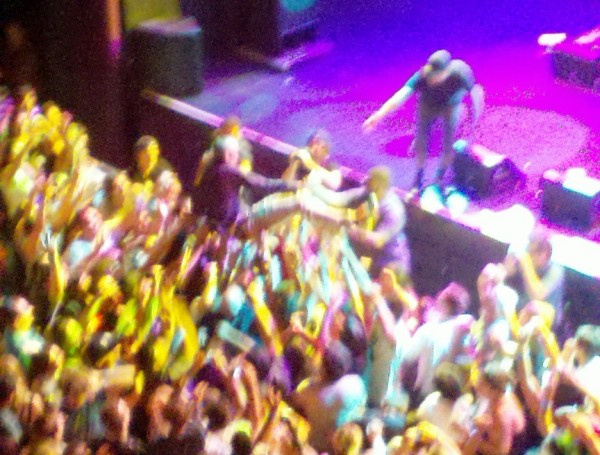 Matisyahu and his entire band were on-point, dropping some amazing beats and just all-around getting down.  Matisyahu's backing band were all top-notch musicians who knew how to work the room and jam to the max!
I wish I could pick one member of Matisyahu's band that shined more than the other, but they were all on their game.  Matisyahu's music had so much emotion and love in it that you could truly feel the energy radiating throughout the club.
Matisyahu's music was inspirational and uplifting. All the songs have such a positive message; making you want to live life your life to the fullest.
At one point during the show,  Matisyahu brought out a special guest that had no clue that he was going to be a special guest.  I didn't catch the special guest's name, but Matisyahu prefaced him by saying that the guest didn't know the song they were about the perform, but he would be jamming out on vocals  anyway.
Matisyahu and band began to jam and do the song as they knew it, and the guest improvised a melody underneath Matishau's lyrics.  Another cool thing that Matisyahu did during his set was showcase his beat-boxing skills. The sound and quality he was able to create was unreal.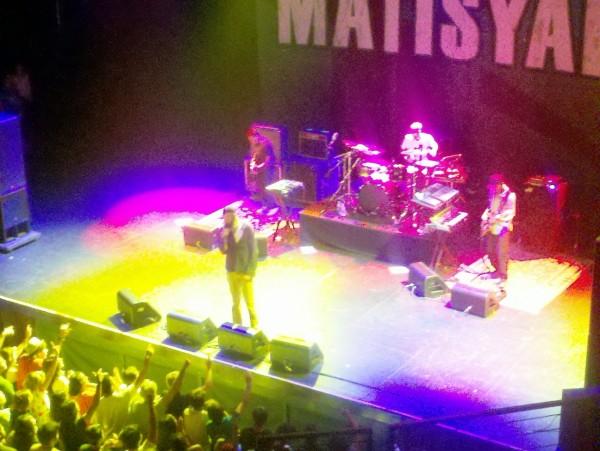 Matisyahu played for close to two hours and had the crowd enthralled the entire time. While I am talking about the crowd, I have to mention that it has been a while since I have been to a show with such a cool crowd.  Everyone was polite, friendly, and seemed to have no problem saying "howdy" and dancing.
I wasn't sure that Matisyahu was going to return for an encore.  He had already played for a good hour and 45 min before he left the stage, but Matisyahu did return and ended his show with a punch, by bringing a good chunk of the crowd onstage to dance party with him.
Security wasn't too happy about the situation, but the fans that made it onstage were more then ecstatic.  I always love when an artist lets the crowd onstage to close their set out. Matisyahu made a great choice in doing so.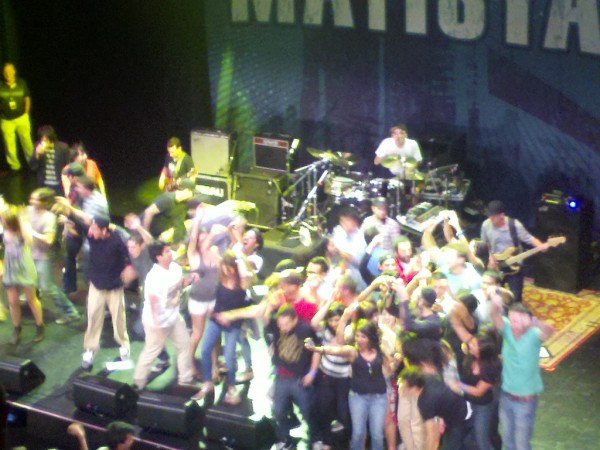 In closing,  Matisyahu put on a fantastic show. It's something everyone needs to experience.  Even though a lot of Matisyahu's work  is religious in nature,  the message of peace and love is universal and he delivers it with perfection.
If you were at this show or have ever seen Matisyahu, please make sure to comment on this post, because " When You Tell Concerts…It's Cooler."  – Lorn
Matisyahu Fun Facts:
Matthew Paul Miller (born June 30, 1979), better known by his Hebrew name and stage name Matisyahu (Hebrew:מתתיהו) is an American Hasidic Jewish reggae musician. Known for blending traditional Jewish themes with Reggae, rock and hip hop beat-boxing sounds, Matisyahu's single "King Without a Crown" was a Top 40 hit in the United States of America. Since 2004, Matisyahu  has released three studio albums as well as two live albums, two remix CDs and two DVDs featuring live concerts – wiki