Ep.532 – Metric @ KROQ Red Bull Sound Space – Culver City, CA – 6/21/12
Getting to see Metric in the intimate setting of the KROQ Red Bull Sound Space was def a treat. For this review I comprised the video portion of it and guest writer Romina Rosenow took care of the writing and photography. Romina did a great job of describing Metric, and I am really glad that she decided to write this review. If you were lucky enough to be at this show or have ever seen Metric before, make sure to comment on this post and let us know what you think because this is You Tell Concerts and "When You Tell Concerts It's Cooler!" – poppinoff
Metric @ KROQ Red Bull Sound Space
Video Concert Review
Metric @ KROQ Red Bull Sound Space Concert Review
Something about Emily Haines I've learned over the years is this: the girl can really rock. She's toned it down a bit lately, evolving from early days of angry screaming siren to current melancholy singing songstress, but still owns every stage she graces. I was reintroduced to the lady's talent and awesome personal style that included purple suede boots, gold glitter sunglasses and bright red lipstick when I went to see her up front and personal at KROQ's Red Bull Sound Space last week for a private midday show with her band Metric.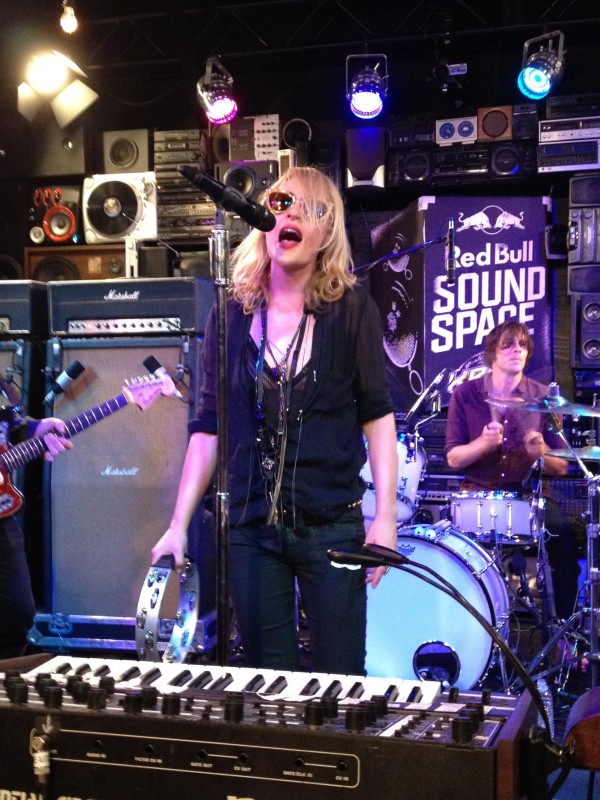 Though they'd played the El Rey Theatre the night before and by her own admission had gone to bed after 3 a.m., their six song set at KROQ began at noon on the dot with 'Artificial Nocturne' from their fifth and newest album Synthetica, showing me that above all else, these musicians are nothing if not totally professional.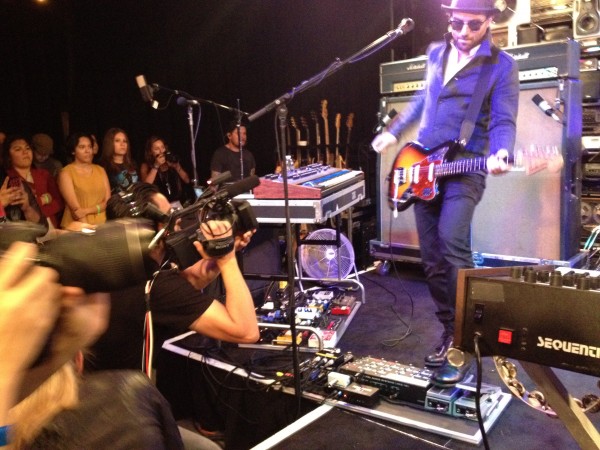 Since the band is currently touring to promote Synthetica and the set was short, the rest of the show was comprised only of songs from that album. It included the hit single 'Youth Without Youth' and 'Lost Kitten' and ended with the haunting synth lover's dream track 'Breathing Underwater'. The band, especially Emily had incredible energy, coupling her vocals and body shaking with keyboard playing for a couple tracks.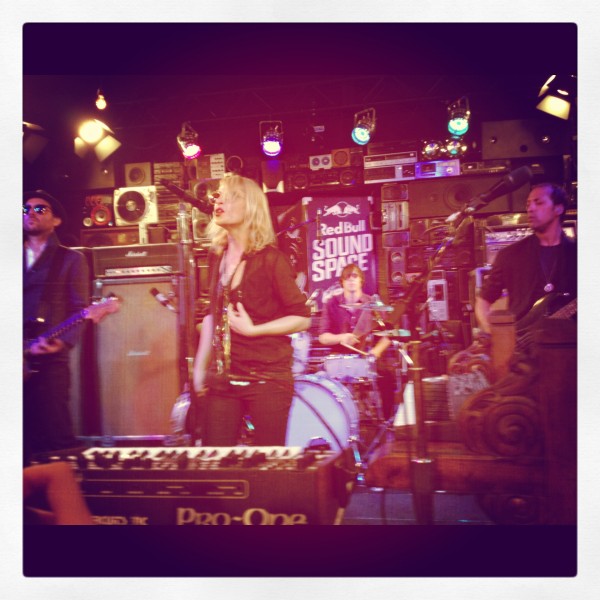 One of the most fun parts was after the show, when the audience was given a chance to shout out questions to the band. One tatted fan told her his wife has her lyrics tattooed on her back, and asked if she would sign his arm so he could make it permanent to match (of course she said yes).
As solidified by this performance, Synthetica is a great album that picks up where Fantasies left off. The songs are similar in style to Fantasies, but each track is distinctively different from the last and easy to put on repeat. Seeing her live for a second time definitely left me with the feeling that I'll be playing this album all summer long.