Review – Ms. Lauryn Hill @ The Palladium – Hollywood, CA – 2/14/12
Lauryn Hill at The Palladium wasn't really a show that I was interested in attending. But when I got a text from a buddy who was in town saying he had an extra ticket for the show, I figured it would be cool to hang with him and check out one of the founding members of the Fugees at the same time.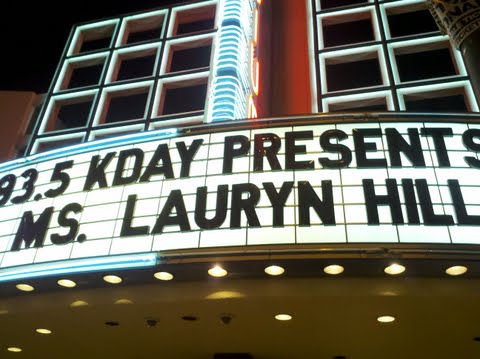 Ms. Lauryn Hill @ The Palladium Concert Review
The Palladium was packed and to my surprise this show was SOLD OUT. I was incredibly shocked that Lauryn Hill managed to sell out The Palladium with an $85 face value on her tickets. After a bit of research and talking with my buddy Bennynova I discovered that tickets for this show were sold via Groupon for $36.

Lauryn Hill was set to hit the stage at 9pm. Well, that didn't happen. Lauryn hit the stage around 9:45pm and it wasn't pretty. From the beginning of the show and for the vast majority of it there were a lot of audio issues.  By my count, the show stopped at least 4 times to work out kinks in Lauryn Hill's monitor. Lauryn sounded horrible, and her back-up singers sounded like they couldn't carry a pitch if their lives depended on it. At first, I though to myself maybe Lauryn found the worst back-up singers in the world to make her sound better by comparison, but as the show went on the audio issues became more and more prevalent. Around the 4th song in the set things started to sound a bit better, but I was still unimpressed by Lauryn Hill's vocal skills.  My best guess as to why there were so many audio issues during this show was that Lauryn acted too cool for school and most likely skipped her sound check.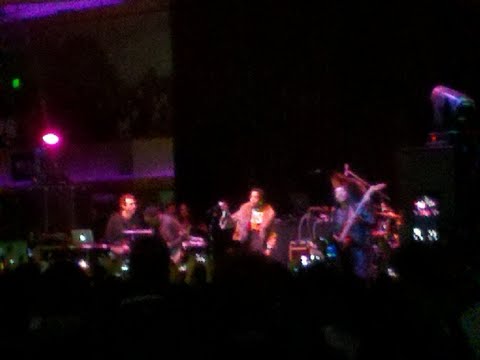 Another thing that really sucked about this show was that Lauryn opened up with a horrible dub version of the Fugees hit "Killing Me Softly".  The song was butchered to say the least. I only stuck out the first 9 songs of the set or so and then decided to peace out.
From what I have been able to tell, the audio and technical issues didn't stop after I left. I was told that during her performance of "Lost Ones" the band had to restart the song four times. To close out her set Lauryn busted out Fugees classic's  "How Many Mics", "Fu-Gee-La" and an unjacked up version of "Killing Me Softly".
I had heard bad things about Lauryn Hill's live performance and even that she is often booed off stage.  Well she lived up to her rep and in my opinion is a horrible performer and singer. If you want my advice, avoid Lauryn Hill at all costs and def make sure you don't send a single cent her way.
This review is just my take on the night, so if you were at this show or have ever seen Lauryn Hill please comment on this post and let us know what you think because this is You Tell Concerts and "When You Tell Concerts It's Cooler!" – poppinoff
Ms. Lauryn Hill @ The Palladium Setlist 2/14/12
Killing Me Softly (Dub Version) (Fugees song)
Everything Is Everything
Superstar
Concrete Jungle (The Wailers cover)
Forgive Them Father
Final Hour
To Zion (about 20 minutes long, most … more)
The Sweetest Thing
When It Hurts So Bad
I Used to Love Him
Nothing Even Matters
Lost Ones (three false starts)
Ex-Factor
Master Blaster (Jammin')(Stevie Wonder cover)
How Many Mics (Fugees song)
Fu-Gee-La (Fugees song)
Killing Me Softly (Fugees song)
Encore:
Turn Your Lights Down Low (Bob Marley & The Wailers cover)
Could You Be Loved (Bob Marley & The Wailers cover)
Doo Wop (That Thing)