Review – Nightmare and the Cat @ Dim Mak Studios – Hollywood, CA – 3/30/12
This review of Nightmare and the Cat was contributed by Romina Rosenow. The event was The Kaleidoscope Experiment, it featured eight artists and was produced by Kaleidoscope Honey and Behind The Hype. This was my first time checking out The Kaleidoscope Experiment, and I have to say I dug it. The show was well curated, not to mention FREE!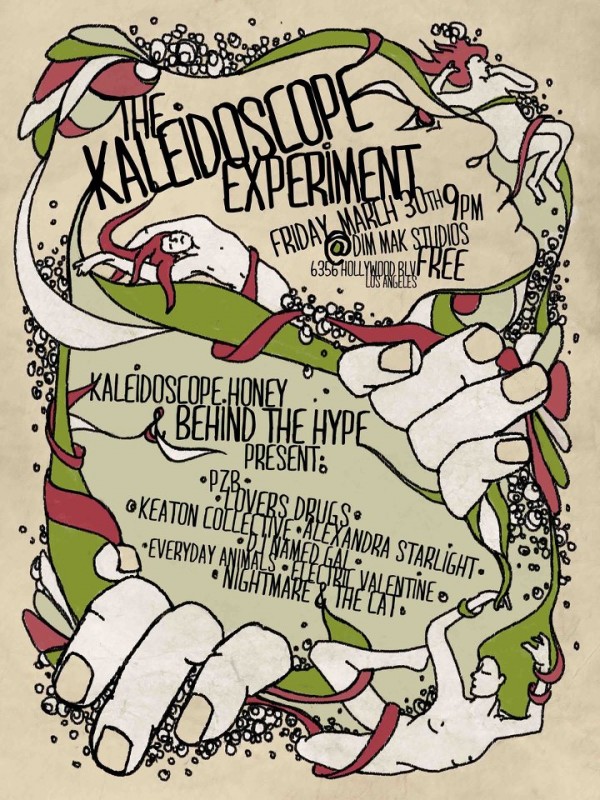 Nightmare and the Cat @ Dim Mak Studios concert review
Last Friday night, I moseyed on over to Dim Mak Studios to check out some live music. Yes, I went to the former Cinespace on a Friday, not a Tuesday night. Predictably, the front room's DJ played to a sparse crowd, with most of the action happening where the bands were playing, in the back room.
Since I'd never heard of any bands on the bill for the night, I walked in with no expectations. A rock band called Keaton Collective was on stage when I arrived, and the audience seemed to be half listening, half chatting amongst themselves. But when an LA based 5-piece band called Nightmare and the Cat took the stage, the audience completely changed its tune. I fell under front man Django Stewart's spell almost immediately, in retrospect an appropriate reaction on my part, considering the band's bewitching name. Their short set made an equal impression on me as well as the audience, who suddenly seemed to wake up due to Django's commanding stage presence and vocals, which reminded me of Jeff Buckley (who I later found out is an inspiration to him), though there's something a little darker about the former's delivery. Maybe it's due to his British accent, maybe it's due to other musical influences like The Pixies, or perhaps it was the aesthetic appeal of his garb, which consisted of a grey button down with torn up sleeves, unbuttoned at the throat to show chains draped around his neck. Django had some vocal help from guitarist Sam Stewart's girlfriend Claire Acey, who provided back up vocals. The first track they played had some Mars Volta buildup going on, but most of the other ones were a little more folk-y, with the shining star being Django's sweet voice. "Sarah Beth" and "The Missing Year" are definitely some of my favorites from their set.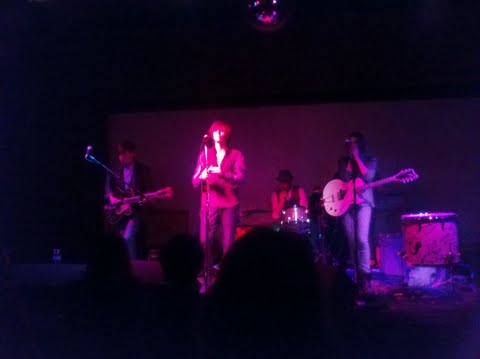 Nightmare and the Cat came out with their debut self-titled EP last summer, and as the project of Django and Sam Stewart, two brothers who hail from English rockers Dave Stewart of Eurythmics and Siobhan Fahey of Bananarama they are already receiving quite a bit of buzz. Oh, and their EP was produced by Glen Ballard (Dave Matthews Band, Aerosmith, No Doubt). Okay, so perhaps the still fledgling group had an unfair advantage at the get-go, which leaves some media outlets simultaneously mumbling enviously while praising their talent. Ultimately, the boys may have had crucial guidance, but their talent is undeniable. I'm definitely keeping this group on my radar and can't wait to see more!
Check them out and tell us what you think! – Romina Rosenow
Nightmare And The Cat – "Desert Heir"(Live @ Dim Mak Studios)