Review – Pearl Jam @ Alpine Valley – East Troy, WI – 09/03/11
This review of Pearl Jam, Queens Of The Stone Age and the Strokes comes from Benny Nova. This is the second review that Benny has sent our way and it sure sounds like he had a doozy of a time getting to see some of the greatest rock and roll bands around.
Pearl Jam, Queens Of The Stone Age
and the Strokes @ Alpine Valley Concert Review
Have you ever attended a show that was so memorable, it left you reeling and thinking about it for days after? Well this weekend, I attended such a show, this time in Alpine Valley, Wisconsin. The backdrop for a celebration of Pearl Jam's 20th anniversary. The celebration was complete with a full day of performances by various artists, and 3 other huge acts that opening for Pearl Jam during the main event; Mudhoney, Queens Of The Stone Age, and The Strokes.
Alpine Valley is truly beautiful. On this particular Saturday, the rains were coming down all day. Being an outdoor amphitheater placed on a steeply graded hill made things difficult, and I chose not to scope out acts on two other stages during the day for this reason. It was rainy, and tough. Especially with having to use a wheelchair! We were grateful to Queens Of The Stone Age & their friends for setting us up with some tickets where we could enjoy a private tent and stay out of the rain, until the real show began! The staff at Alpine Valley was also especially helpful and accommodating.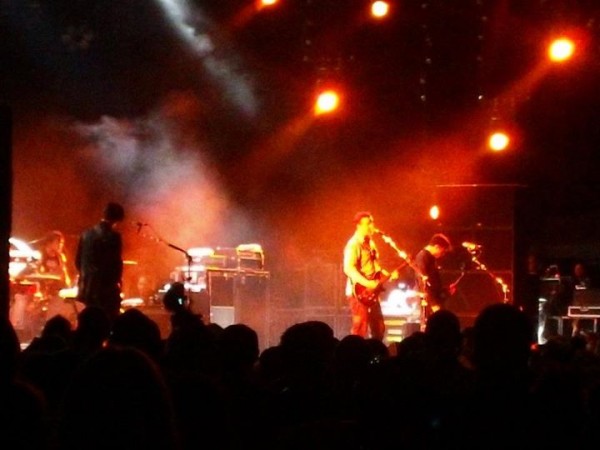 After Mudhoney warmed up a crowd of soaked conert-goers, Queens Of The Stone Age came out to really set the tone for the evening as they delivered a tight set of some of their best tracks. Each time I see this band, they thoroughly impress me with their direct style and hard-hitting jams. For my buddy Andy Salge, Queens Of The Stone Age was actually his highlight of the whole night!
The Strokes played a great set, albeit a really short one. I honestly haven't listened to a lot of their music, but thought they definitely held their own, with a performance awkwardly sandwiched in between two groups of heavy-hitting and well established rockers. And then..there was Pearl Jam!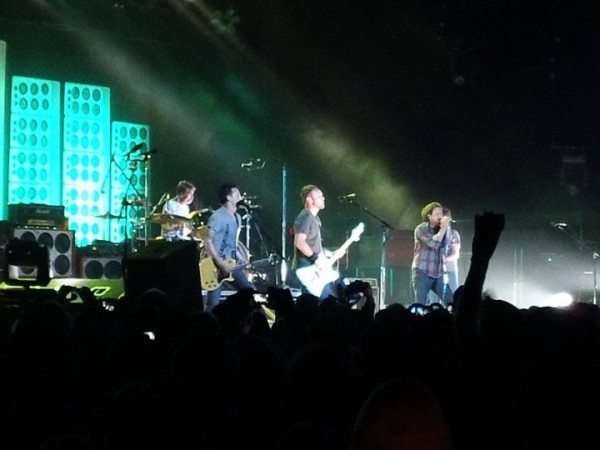 Having been a fan of Pearl Jam since hearing their first album "Ten" upon its release, and only having seen them once before (in 2009 at Austin City Limits), I felt honored to be there for their 20th anniversary. For people who love music, one of the greatest feeling is reminiscing about the past, through the songs that we've connected to those event in our mind. For a band with a now 20-year history, I'm sure a lot of people were experiencing that really cool feeling of getting to see your favorite band live. Which, was evident by the clear sing-alongs by the crowd to basically every song.
As an overall set, I've gotta say it was a little sparse of their bigger hits, as they performed deeper songs that ranged their entire career, with some choice picks in between ("Do The Evolution", "Better Man"). What made up for it, is that they smashed every song completely to bits, and kept the show pumping for almost 2 1/2 hours! It's kind of expected to collaborate with the other bands during a show like this, and fans we rewarded as Josh Homme (QOTSA), Julian Casablancas (Strokes), and others began to join Eddie Vedder for several songs.
Pearl Jam ended the first set of 1 1/2 hours with a great performance of Better Man, one that the audience really got into, and left us all fulfilled. As the second set opened up, I had all but forgotten about seeing Chris Cornell hop out of a van earlier backstage. Eddie Vedder began with "It's not often that this gets to happen anymore but, I'd like to invite my friend Chris Co(insert Out Of Control Screaming)rnell to the stage."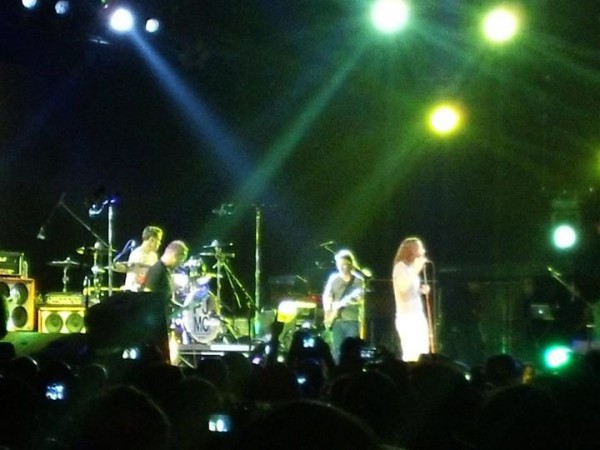 The next hour was basically a reunion of Mother Love Bone, and Temple of the Dog, two collaborations involving Chris Cornell and members from Pearl Jam during the early to mid 1990′s. If there's only one rock/grunge singer that I'm a bigger fan of than Eddie Vedder, it's certainly Chris Cornell. The guy belts out with a volume and grit that is unmatched, and just makes it look easy. Hearing them cover Stardog Champion by Mother Love Bone, and Hunger Strike by Temple of the Dog was a moment I'll never forget, and probably never get to see again.
With the variety, the celebratory vibe, the absolute rocking out, and exceptional surprises like bringing Chris Cornell to perform, this show shaped up to be one of the best rock shows I've ever attended, hands down. Three things were really noteworthy; Of course Chris Cornell, and his part in the second set. The performance of Better Man was particularly special. And last but not least, Eddie Vedder. He took his time between each song to make some really cool and meaningful remarks, reminiscing about the past, and how he's even reached this kind of success. It reflected a lot of great parts of his personality, and was something I dug a whole lot.:
"Its just hard to imagine..you know when you're a kid and you wanna play music…you listen to music..you can't stop listening to music..and you think it's the most powerful force in the universe…it gives you things..and you follow things…and you teach yourself things…
And there's a time when the adults around you are being very practical…and you can almost respect them for it..but they say:
"Oh that ain't gonna happen. It's a dream and other guys do that..you're not gonna do that..you've gotta have connections..you're dad's not a musician and he's not gonna help you..best get yourself just a nice construction job or maybe something working down at the long's drug store.."
But I think all of us on this stage went through that..and I'm so just proud that whatever those kids we were back then..we just didn't listen..because we TOLD them…maybe someday we could be that person.
And for it to be like this, its really against the odds…its really against the odds. But, I think that even if it were just..these 10 people right here..listening to us…I know these 5 people up here would still be playing music." – Eddie Vedder
Keep Rockin!! – Benny Nova
Pearl Jam @ Alpine Valley Setlist 09/03/11
Release
Arms Aloft (Joe Strummer & The Mescaleros cover)
Do The Evolution
Got Some
In My Tree
Faithfull
Who You Are (With Liam Finn, John Doe, and … moreMudhoney drummer Dan Peters)
Push Me, Pull Me
Setting Forth (Eddie Vedder song)
Not For You (with Julian Casablancas)
In the Moonlight (with Josh Homme)
Deep
Help Help
Breath
Education (with Liam Finn)
Once Play Video
State Of Love And Trust (with Dhani Harrison)
Better Man
Wasted Reprise
Life Wasted
Encore:
Rear view mirror
Stardog Champion (Mother Love Bone cover) (with Chris Cornell)
Say Hello 2 Heaven (Temple of the Dog cover) (with Chris Cornell)
Reach Down (Temple of the Dog cover) (with Chris Cornell)
Hunger Strike (Temple of the Dog cover) (with Chris Cornell)
Love, Reign O'er Me (The Who cover)
Porch
Encore 2:
Kick Out the Jams (MC5 cover) (With Mark Arm and Steve Turner from Mudhoney)