Ep.487 – Peter Bjorn and John @ El Rey – Los Angeles, CA – 10/05/11
I have wanted to see Peter Bjorn and John for a few years now, but for one reason or another, have never actually caught a full set from the guys. The last time I saw Peter Bjorn and John was at a small in-office showcase. I was absolutely blown away by Peter Bjorn and John's energy and performance.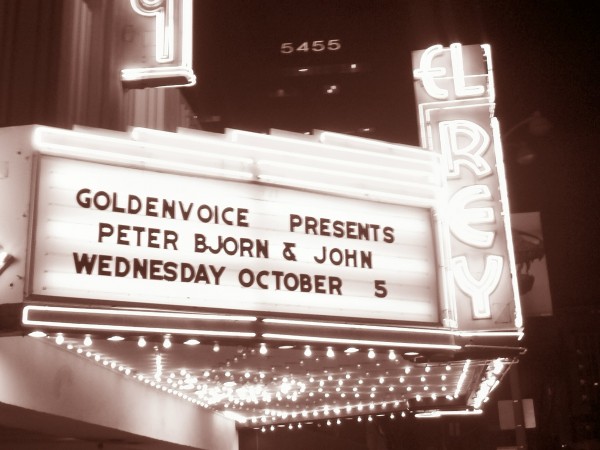 Peter Bjorn and John @ El Rey Video Concert Review
Peter Bjorn and John @ El Rey Concert Review
This show was the last of four shows that Peter Bjorn and John played in Los Angeles this week. I was excited to see them at El Rey, since it is quickly becoming one of my most-frequented venues.  I really dig the old-school theater layout and think that it was the perfect fit for Peter Bjorn and John's set up.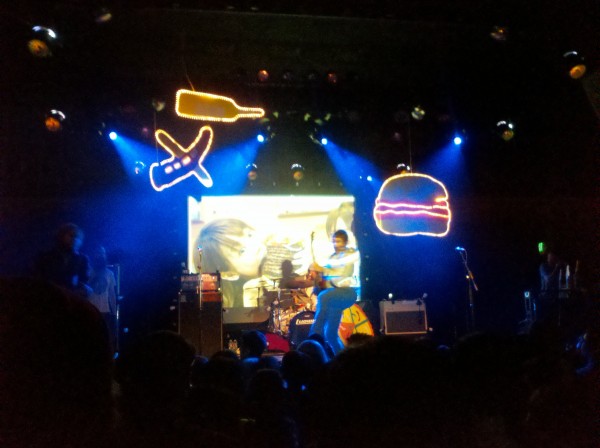 The stage reminded me of a low-budget music video from 1992, and I loved it. There were giant light up pieces of food hanging from the sealing and a screen behind the band that showed lots of random images and videos. There was also a gentleman that simply stood onstage next to a gong the entire set until it was time for him to bang away.
Peter Bjorn and John were bursting with energy throughout the set and seemed as if they would stop at nothing to get the crowd a-rockin'.  Although the crowed seemed to be fairly "LA," Peter Bjorn and John were able to get a good portion of us to sing and clap at different points throughout the set.
One of my favorite parts of the show was when Peter told that crowd that all he expected of us was to be loud and drunk while singing along to the song "Dig a Little Deeper."
Peter Bjorn and John went the extra mile to make this show a special one. Peter explained that they had performed six shows in Los Angeles within the year and had gone over all of the setlists to make sure that this show had some special treats – one of which was the song "Black Coffin." Other highlights from this set included, "Amsterdam," "May Seem Macabre," and "Young Folks."
I really have to give Peter some major credit on his whistling during "Young Folks." I would have never thought that live whistling could have sounded so good.   Peter also took the opportunity during "Young Folks" to leave the stage and walk amongst the crowd.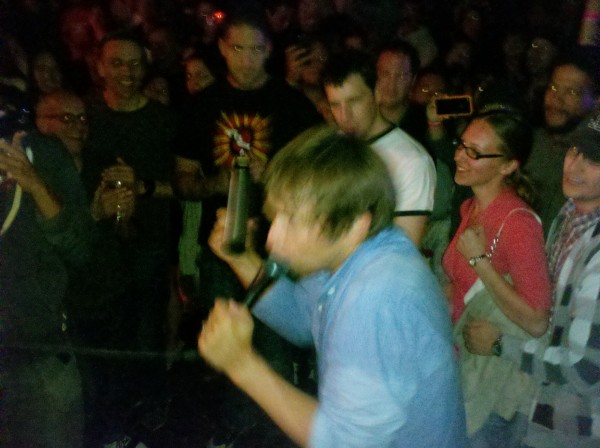 In closing, I thought Peter Bjorn and John put on a great show. The entire band knew what they were doing and had a great stage presence. I think it's far to easy these days for a band to phone in a performance.  I  love when bands actually put in some effort to rock the crowd.
I would def catch Peter Bjorn and John again and am glad that I finally got to see them perform a full set.
If you were at this concert, or have ever seen Peter Bjorn and John, please comment on this post and let us know what you think -  Because "When You Tell Concerts…It's Cooler!" -lorn
Check out these photos of Peter Bjorn and John fans that caught the show at El Rey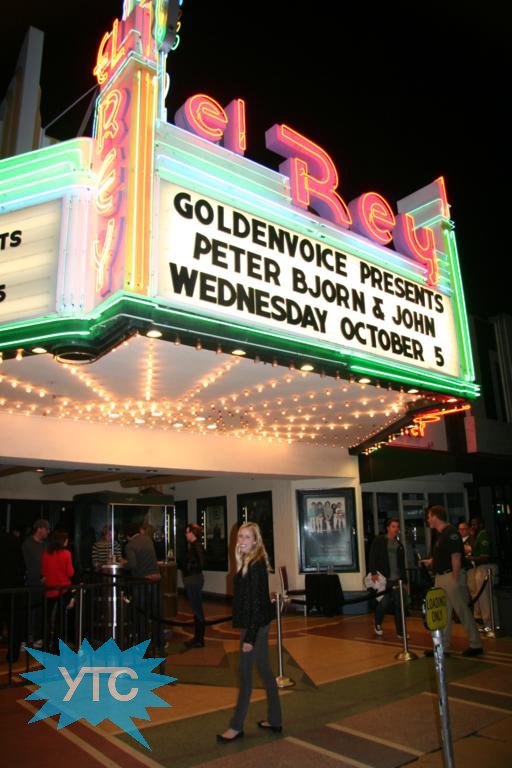 Photos by: Jessica Ettman