Ep.523 – Rodrigo y Gabriela @ The Palladium – Hollywood, CA – 4/7/12
I had only seen Rodrigo Y Gabriela one time prior to this show, but have to say the first time I found them spellbinding. Their style and talent was far better then anything I had seen before. Rodrigo Y Gabriela are composed of just two people, but they rocked the stage. From that point in time, I had nothing but good things to say about Rodrigo Y Gabriela and couldn't wait to see them. Needless to say, I sure was excited to have the chance to see them at The Palladium.
Rodrigo y Gabriela @ The Palladium Video Concert Review
Rodrigo y Gabriela @ The Palladium Concert Review
When I arrived at the Palladium, I was expecting to just see Rodrigo Y Gabriela. I was surprised to find that they were being backed by a 13-piece Cuban Orchestra (C.U.B.A). The duo's most recent album, "Area 52," was a collaboration with C.U.B.A and a reinvention of their sound.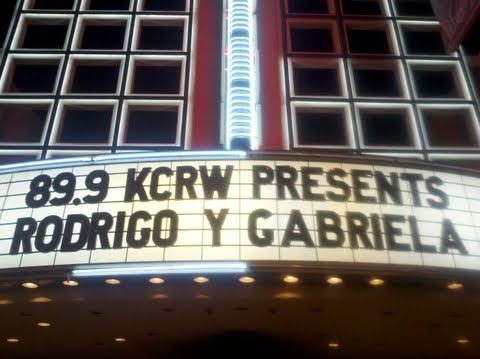 Rodrigo y Gabriela's stage presence was far above par. They were full of energy, yet incredibly humble. Rodrigo Y Gabriela spoke to the audience only a few times during the show, but it was more than enough to captivate us. One thing that I thought was really cool about this show was the crowd. It was just so diverse. There were families, couples, old people, young people, hippies and metal heads. It amazed me how universal the music of Rodrigo Y Gabriela truly is.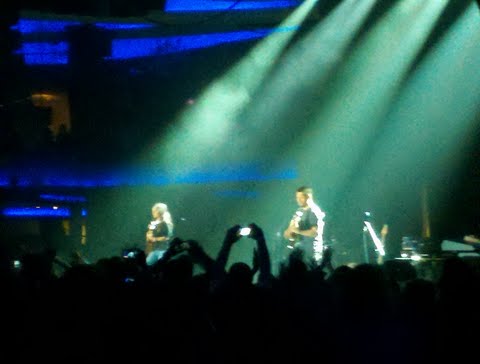 I wish I was more versed in the style of guitar that Rodrigo Y Gabriela performed, because I would love to be able to go into the musical dynamics of the show. Unfortunately, I cannot and am left to simply say these two are mind-blowing. I never in my life would have imagined that two acoustic guitars could rock so much.
In closing, I will def see Rodrigo Y Gabriela again, but hope that the next time it's not with the C.U.B.A. I feel like a dick for saying that, because they were truly great musicians and had they been performing at any other show – I would have really dug them. Although C.U.B.A brought a lot to the show, I also feel as though they took a lot away from it as well. My favorite parts in the show were when it was just Rodrigo y Gabriela strumming away. C.U.B.A's horns and drums overpowered the acoustic genius of Rodrigo Y Gabriela at several points in the show. Regardless, I had a great time at this show and can't wait to see these two again.
If you were at this show, or have ever seen Rodrigo y Gabriela, make sure to comment on this post and let us know what you think…because this is You Tell Concerts and "When You Tell Concerts, It's Cooler!" – poppinoff
Rodrigo y Gabriela @ The Palladium Setlist 4/7/12
The Pot
Santo Domingo
Juan Loco
Logos
Alfredo Solo
Ixtapa
Master Maqui
Savitri
Rodrigo Solo
Hora Zero
Gabriela Solo
Buster Voodoo
Hanuman
Alex Solo
11:11
Edwin Solo
Hanuman
Encore:
Diablo Rojo