Review – Santigold @ Club Nokia – Los Angeles, CA – 6/1/12
Wowzers was Santigold at Club Nokia a doozy! This review comes from guest writer Romina Rosenow. She has written several reviews for YTC already and is a valued contributor. I am really glad that she decided to write this review of Santigold. If you were at this show or have ever seen Santigold make sure to comment this video and let us know what you think because this is You Tell Concerts and "When You Tell Concerts It's Cooler". – poppinoff
Santigold @ Club Nokia Concert Review
When I was at the Santigold show last week, I envisioned my future children (should I have any) being jealous of my seeing her in her prime. Because after having seen her, I realized she is one of those cannot-miss-super-badass performers.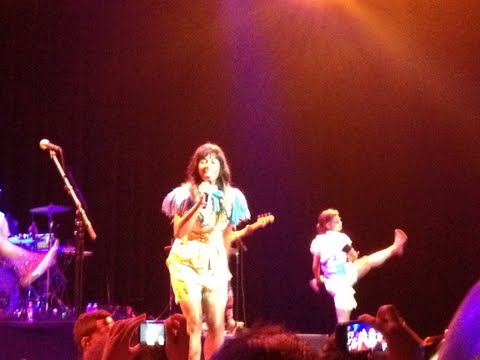 What I noticed first about her show at Club Nokia (a favorite venue) was her outfit. Consisting of a sort of floral romper with huge sleeves, she went perfectly with her two back-up singers/dancers, who both wore solemn 'don't mess with me' expressions throughout the show that was heightened by dark sunglasses and matching outfits (plus a slew of outfit changes). These girls worked synchronized dancing into their set throughout the show at various intervals and amped up the show's caliber a couple notches.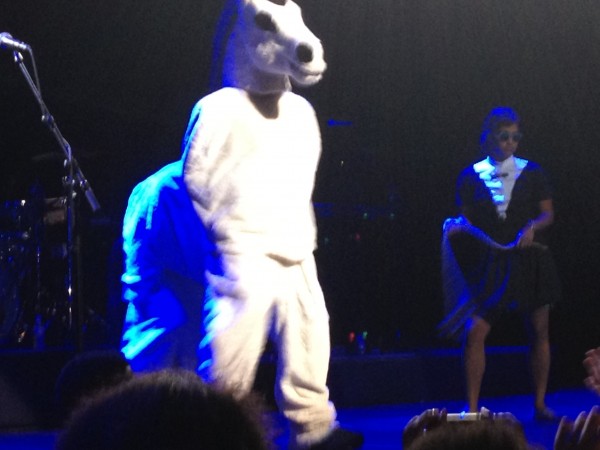 At one point, the other guys from the band trotted onto the stage in a horse suit as part of the show, and Santigold's sidekicks embarked on a strange but appropriate synchronized cowgirl-whipping dance while heavy beats played in the background. This was right after the ladies took the stage for an all out pretend brawl as everyone whooped and went along with the charade.
Santigold – "Starstruck" (Live @ Club Nokia)

Apart from the theatrics, track wise Santigold's set was right on point. She played most of the songs from her sophomore (and newest album), Master of My Make Believe including crowd favorite 'Disparate Youth' and the song that first caught my attention way back when, 'You'll Find A Way'. To say the crowd went nuts for this performance is an understatement. Everyone had an absolute blast, myself included. I definitely have gained respect for this alternative pop sensation, who has been having production help from Diplo. This is one beautiful marriage of electronic and pop. Suffice it to say I hope we don't have to wait another four years to see new material from Santigold.
Santigold @ Club Nokia Setlist – 6/1/12
GO!
L.E.S. Artistes
Lights Out
Say Aha
God From the Machine
Get It Up
Hold the Line
Disparate Youth
This Isn't Our Parade
Anne
The Keepers
Creator
Freak Like Me
Starstruck
Brooklyn (We Go Hard)
Shove It
Look At These Hoes
Fame
Big Mouth
Encore:
You'll Find a Way
Unstoppable
B.O.O.T.A.Y.