Ep.516 – Skrillex @ The Palladium – Hollywood, CA – 1/28/12
His name is Skrillex…… his name is Skrillex ….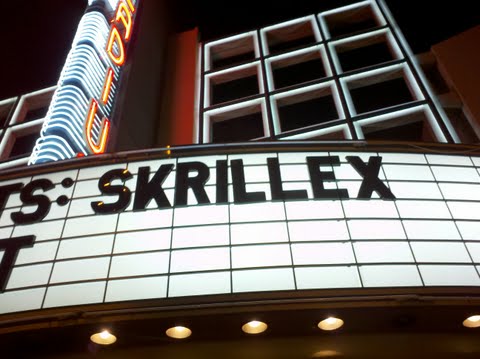 That's right folks! Skrillex rocked the sox off Los Angeles last week. He played a total of six shows including Dim Mak Studio, The Echoplex, The Exchange, Avalon, The Palladium and L.A Live Event Deck. Each show immediately sold out as soon as tickets went on sale. These were def some of the most anticipated shows of the year and Skrillex def raged it.
Skrillex @ The Palladium Video Concert Review
Skrillex @ The Palladium Concert Review
Out of all six shows on the Skrillex schedule, I wanted to catch The Palladium show most. I knew the other shows would be the absolute shit, but The Palladium would be the one with the highest level of production. I have seen several EDM shows at The Palladium and I really feel that EDM artists shine on this stage.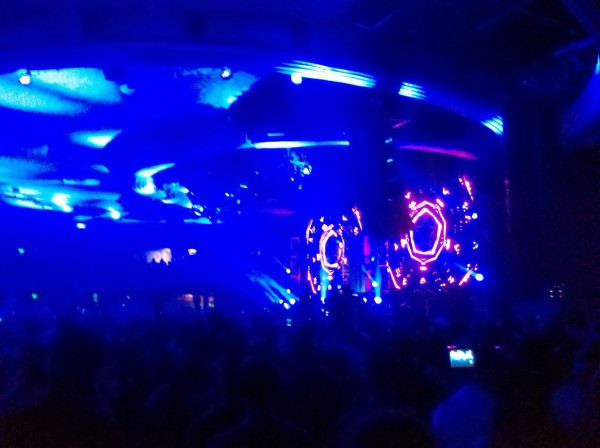 The Palladium was buzzing to say the least. The place was packed and ready to get down. Munchi and AraabMUZIK opened up the show. I had never listened to Munchi before, but I def dug the style. AraabMUZIK is always top notch and puts on a great show. There were a few questionable songs in his set, but over all, I am glad I got to jam out to AraabMUZIK.
Skrillex didn't leave The Palladium stage until 1:30am and by that time, the place was poppinoff. The stage design for this show was off the hook and featured two giant LED screens, a giant Skrillex /// logo that spewed out fire and flame throwing pillars. I couldn't believe that they were actually able to use pyro techniques inside The Palladium and it absolutely blew my mind.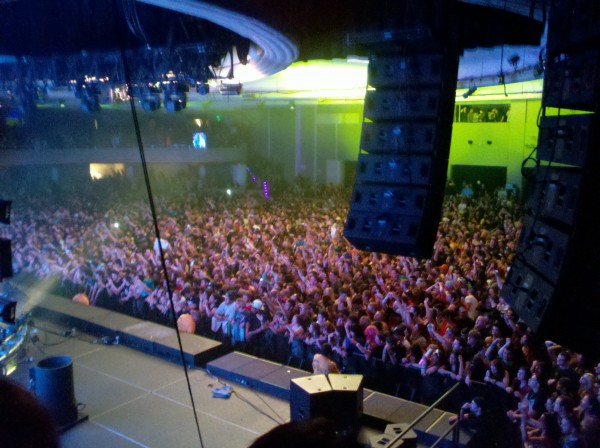 Skrillex dropped killer tracks such as "My Name Is Skrillex", "Scary Monsters and Nice Sprites", "Bangerang", "Breaking a Sweat", "The Devils Den", and insane remixes of "In For The Kill" (La Roux), "Levels" (Avicii), "Who is Ready to Jump?" (Dillion Francis) and "Cinema" (Benny Benassi),  just to name a few.
Skrillex @ Hollywood Palladium 01/28/12 [HALF SET]

One of the coolest parts of the night was when Skrillex busted out his remix of Benny Benassi's "Cinema". Skrillex asked the entire crowd to get out their lighters just as concert attendees of the 1980′s would have done. Once the room was filled with the flicker of hundreds of lighters, Skrillex dropped it hard.
Cinema Remix (Benny Benassi) – Skrillex @ Hollywood Palladium CA

I had read somewhere recently that Skrillex was really inspired by the work Daft Punk did on their Alive 2007 tour. I thought this really showed throughout his set as the blending and layering of the tracks were supurb. This show was incredibly entertaining and def lived up to the hype. I have to say that I dig the Bangarang and can't wait to see what Skrillex has in store for us next.
If you were at this show, or have ever seen Skrillex live, make sure to comment on this post because "When You Tell Concerts It's Cooler!" – poppinoff