Review – Snow Patrol @ The Palladium – Hollywood, CA – 5/8/12
Snow Patrol @ The Palladium Concert Review
I had seen only seen Snow Patrol once and it was several years ago and a very short set. I remembered very little about the show except that Snow Patrol had it going on. When it was announced that the Irish rockers would be returning to the states I honestly didn't put much thought into seeing them. The day of the show came and I teeter tottered back and forth about going. Around 8:45 I received a text from a friend letting me know that she had a ticket from me. Snow Patrol was set to go on at 9pm sharp and I was going to miss the first 20 min or so but decided that it would be worth checking them out and I'm sure glad that I did.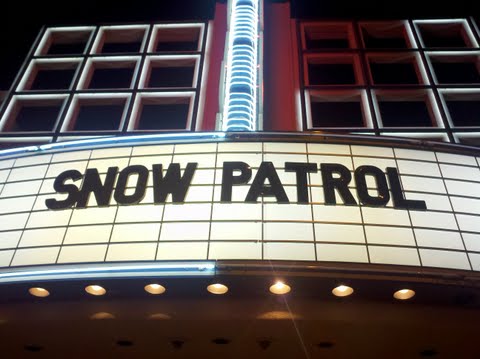 Through a random chance occurrence I ended up walking in with Silversun Pickups bassist Nikki Monninger. I didn't think much about it at the moment, but as we reached the Palladium stage Snow Patrols lead singer Gary Lightbody started to dedicate a song to his good friends Silversun Pickups, who just released their third album Neck of the Woods. I have to say it was pretty cool to be standing next to someone as a song was being dedicated to them.
I was surprised at how many people were at the Palladium. I had asked a lot of my friends come to the show and none of them really seemed like they were interested. When I got to the venue it was packed and the show was actually sold out.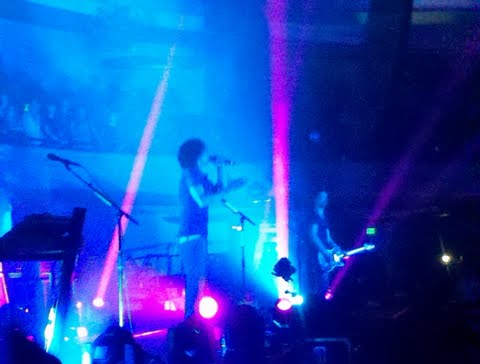 Another thing that really surprised me was how many Snow Patrol songs I actually knew. I thought the only song I knew was there 2006 hit "Chasing Cars". As the show progressed I found that I recognized a lot of their songs including "Chocolate" and "Set the Fire to the Third Bar" which featured special guest Ed Sheerean, who was the bands supporting act on this tour. It had been reported earlier in the day on Perezhilton.com that Ed had recently dropped off the tour due to personal reasons . Lightbody joked with the audience and assured us the it was really Sheerean and not a hologram. The 18 song set showcased a good chunk of songs off the bands latest release Fallen Empires. During one of the new jams "Called Out in the Dark" Lightbody and company brought out a special guest that had worked with them on the album, Queens of the Stone Age The Age  guitarist Troy Van Leeuwen. The vast majority of the set featured older tunes most of which were off the 2006 release Eyes Open including "Shut Your Eyes", "Your All I Have" and " Make This Go On Forever".
Snow Patrol – "Shut Your Eyes" (live @ The Palladium)
I had never listened to Snow Patrols music extensively as I found it to be to polished and cookie cutter. Their live set however was far above par. Gary Lightody's stage presence and command over the crowd is not often seen. I am not sure the last time I saw a crowd so captivated. The all around musicianship of the band was stellar. Especially that of lead guitarist Nathan Connolly in my opinion stole the show with his powerful rifts.  This concert was a truly great experience and if you are looking for a solid show Snow Patrol is where it's at. I look forward to seeing these fellows the next time they are state side.
If you were at this concert or ever seen Snow Patrol make sure comment on this post let us know what you think because this is You Tell Concert and "When You Tell Concerts It's Cooler". – poppinoff
Snow Patrol @ The Palladium Setlist 5/8/12
Hands Open
Take Back The City
Crack the Shutters
This Isn't Everything You Are
The Garden Rules
Run
In the End
New York
Set the Fire to the Third Bar (with Ed Sheeran)
Make This Go On Forever
Shut Your Eyes
Called Out in the Dark (with Troy Van Leeuwen)
Chasing Cars
Chocolate
Fallen Empires
You're All I HaveEncore:
Lifening
Just Say Yes