Ep.525 – Steel Panther @ HOB Sunset Strip – West Hollywood, CA – 5/28/12
For those of you who thought heavy metal hair bands were a thing of the past, you are only partially right. Los Angeles's Steel Panther formed in 2000 and has gone through several name changes over the years (Metal Shop and Metal Skool). The bands performances that mimicked that of 80s hair bands received rave reviews and they became one of LA's most talked about shows.  As the years went by, Steel Panther's legion of fans grew, and celebrities such as Sebastian Bach, Criss Angel, Tom Morello and Dane Cook started making on stage appearances.
The buzz around Steel Panther's live shows continued to grow and they were asked to tour in 2011 in support of heavy metal superstars Motley Crüe and Def Leppard. For some reason or another I never made it out to a Steel Panther show but late last week I was contacted by fellow blogger and YTC fan Chip Smith. He wanted to get my take on Steel Panther, so I decided I would give it a go.
Steel Panther @ HOB Sunset Strip Video Concert Review
Steel Panther @ HOB Sunset Strip Concert Review
A good portion of the audience was newbies like myself, but there was also tons of veterans in attendance. Steel Panther took the stage to a lively and energetic crowd that was ready to rock. The band was comprised of four guys in their late 40s who looked as though they had just received treatments. They were dressed in authentic 80s hair band attire and had some of the gnarliest dos around. All of the guys in the band portrayed characters that were ridiculous beyond belief. Bassist Lexxi Foxx took the cake – his character was the vainest of the vein. Throughout the show, Foxx would take breaks from playing the bass to touch up his hair and spend some time in front of the mirror. Lead singer Michael Starr was the runner up when it came to ridiculousness. Starr was the spitting image of Poison front man Bret Michaels and was the perfect leader for this band of 80′s misfits. He did a great job of engaging the audience and went the extra mile to rock our faces off.  Along side of him was the bands lead guitarist Satchel. Satchel and Starr spent the entire show cracking jokes and getting girls up on the stage to flash the crowd. The least colorful character of the bunch was Stix Zadinia, the band's drummer. It wasn't that Stix didn't totally rock, it was just that he didn't have much interaction with audience.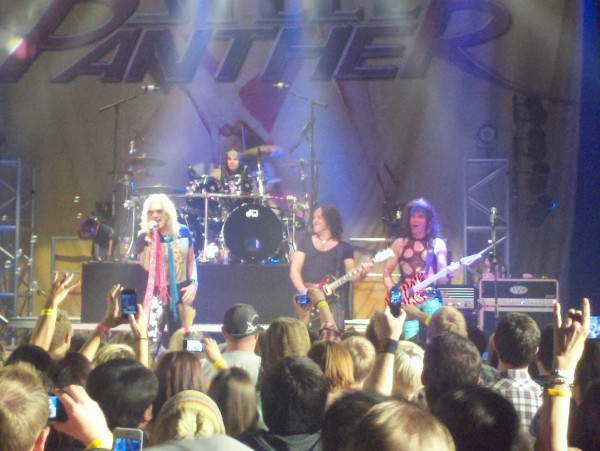 The band performed a handful of covers plus some original tracks such as "17 Girls In A Row", "Eyes of a Panther" and "Party All Day". I def dug the bands comical originals but the highlight of the show was when Def Leppard's Vivian Campbell joined the band on the stage to perform Dio's "Rainbow in the Dark", "Holy Diver" and Def Leppard's "Rock of Ages".
Steel Panther w/ Vivian Campbell – "Holy Diver"
All and all this show was a lot of fun and highly entertaining. Steel Panther is full of energy and is in it to win it. If you are looking to rock out and are down to laugh your asses off this is the show for you. I will def check out Steel Panther again and if you are looking for something totally insane to do on a Monday night this is the show for you.
If you were at this concert, or ever seen Hugh Laurie and the Copper Bottom Band, make sure comment on this post let us know what you think; because this is You Tell Concerts, and "When You Tell Concerts…It's Cooler!" – Poppinoff