Review – The Dandy Warhols @ The Wiltern – Los Angeles, CA – 5/17/12
The Dandy Warhols @ The Wiltern Concert Review
The Dandy Warhols were one of my favorite bands in high school, but somehow I had only managed to see them one time prior to this show.  Every time I tried to see them, something totally random or strange happened that caused me to miss the show. This go-around def had its bumps in the road as well.
I started my night off by attending the launch of a cool new website called Love My Provider.com. The site is designed to help parents with special needs children and those with special needs find good and caring doctors. I had never heard of a site like this before and truly believe that it will do a lot of good in the world.
The party was popping and I ended up leaving a little later than I had originally planed. I arrived at the Wiltern after the box office had closed. It took some doing, but I eventually was able to track down my tickets and managed to only miss nine songs of the 22-song set performed by The Dandy Warhols.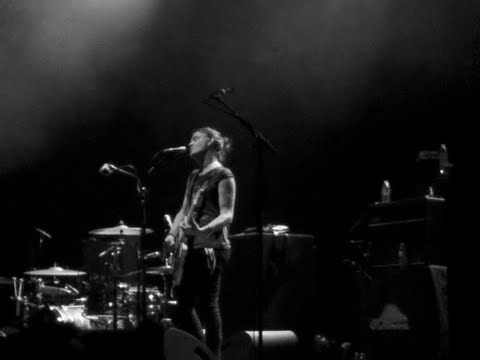 I walked into the Wiltern midway through "(You Came in) Burned," and the first thing I thought to myself was how have I not seen these guys more than just once before. The band was really rocking, and the vibe in the venue was infectious. Lead singer Courtney Taylor-Taylor was there the entertain and did a great job of doing so. After "(You Came in) Burned" was finished, the entire band except Courtney left the stage, this was the segue to an acoustic performance of  "Everyday Should Be A Holiday". I did not recognize the song, but was enchanted by its sweet melody and Courtney's connection to the crowd.
The Dandy Warhols rocked out another four tracks before they reached a track that I recognized, "Horse Pills," off the band's 2000 release 13 Tales of Urban Bohemia. The band then jumped into several tracks off the album, including their hit, "Bohemian Like You." The song lit the crowd on fire and had us all singing and dancing.
The Dandy Warhols – Bohemian Like You (Wiltern)
The Dandy Warhols followed it up by rocking out "Get Off" and "Godless." After the band finished their set, Courtney stated that he knows a good rock show and that we all had def seen one. He also professed that they weren't one of those bands that left the stage before the encore then began to play one last diddy, "Country Leaver."
I am really glad that I got to see The Dandy Warhols, but was surprised that the Wiltern wasn't even half full. The Warhols nemesis, Brian Jones Town Massacre, had played the same venue just weeks before and packed the place. Regardless, The Dandy Warhols killed it and brought the vibe of the North West to Los Angeles flawlessly.
If you were at this concert, or ever seen The Dandy Warhols, make sure comment on this post let us know what you think; because this is You Tell Concerts, and "When You Tell Concerts…It's Cooler." – poppinoff
The Dandy Warhols @ The Wiltern 5/17/12 Setlist
Be-In
We Used To Be Friends
Shakin'
Not If You Were The Last Junkie On Earth
I Love You
The Last High
Holding Me Up
Enjoy Yourself
Sad Vacation
(You Come In) Burned
Every Day Should Be A Holiday (Courtney acoustic solo)
Mohammed
Well They're Gone
Good Morning
The Autumn Carnival
Horse Pills
Bohemian Like You
Get Off
Godless
Pete International Airport
Boys Better
Encore:
Country Leaver