Ep. 483 – The Joy Formidable @ El Rey – Los Angeles, CA – 09/14/11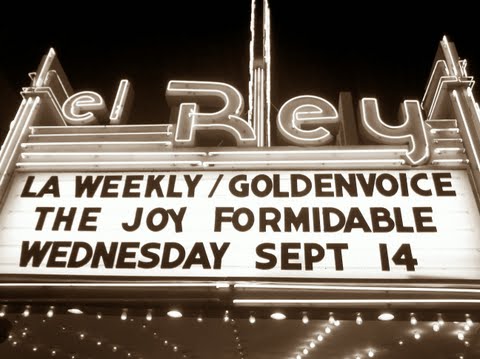 I first heard about The Joy Formidable a few weeks ago, after my friend Paradie Stewart caught them at 107.7 The End's Summer Camp up in Seattle. Paradie had never heard of The Joy Formidable at the time that she saw them,  but was absolutely blown away. I enjoyed reading about Paradie's take on The Joy Formidable and had to check them out for myself.
The Joy Formidable @ El Rey Video Concert Review
The Joy Formidable @ El Rey Concert Review
When I arrived at El Rey,  it seemed as if there was hardly anyone attending the show.  There was no one on the smoking patio and hardly anyone walking into the venue.  I hung outside for a while and eventually managed to finagle a couple of tickets.  When I finally made my way into El Rey,  I was shocked with how many people were in the venue.  The El Rey was packed.
The Joy Formidable took the stage as a classical ditty played and then began to rock out and hit it hard.  Every member of The Joy Formidable was incredibly skilled and ready to rock.  Although the band came full force from the second they hit the stage, the crowd however, did not return the energy.  No matter how hard The Joy Formidable tried they were unable to get the crowd to start jumping off the walls.  At one point during the show, the band even went as far as to ask the audience if we were out there.
The Joy Formidable only played for about 45 minutes, but def impressed me with their trippy-rock styling.  I think that The Joy Formidable's guitar defines the band's sound and is the most unique attribute. There was not a single song that did not have a kick-ass guitar part happening.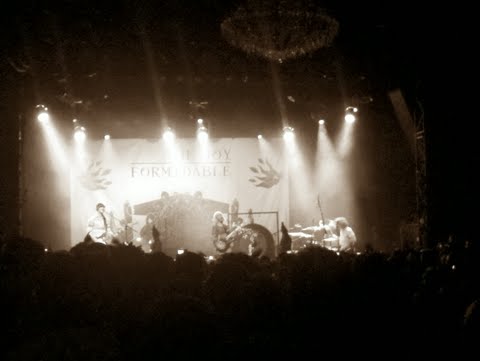 In closing,  although The Joy Formidable is a fairly new band and doesn't  have a lot of material, they still put on one hell of a show.  I would like to see a bit more variation in some of their song structure. There was a few points during the show where I thought to myself,  "Didn't they play this song already"?  I would def see The Joy Formidable again and look forward to seeing what they have to offer in the future.
If you were at this show, or have ever seen The Joy Formidable,  make sure to comment on this post, because "When You Tell Concerts – It's Cooler!"  -lorn
The Joy Formidable @ El Rey – Setlist
A Heavy Abacus
Greyhounds In The Slips
Austere
The Greatest Light Is The Greatest Shade
Cradle
Buoy
Whirring

Encore:

The Magnifying Glass
I Don't Want To See You Like This