Review – The Weeknd @ Hollywood Forever – Hollywood, CA – 5/5/12
The Weeknd @ Hollywood Forever Concert Review
Abel Tesfaye, who is best known by his stage name, The Weeknd, has become one of the biggest buzzing artists on the screen today. At just 22 years old, he most recently gained attention after collaborating on several tracks with Drake. The Weeknd was also selected to perform at the sold-out 2012 Coachella Music and Arts Fest. In the wake of Coachella, The Weeknd scheduled two Los Angeles dates, one at the Fonda Theatre and another at the Hollywood Forever Cemetery. Both shows sold out instantly.

The Hollywood Forever Cemetery is a venue unlike any other. With hedge stones and mausoleum lining the grass where the stage is and a supper moon in the sky, you couldn't ask for a better setting to listen to the smooth and sexy sound of The Weeknd. Unfortunately, due to this show being sold-out, it was tough to track down a ticket, and I managed to miss the first four songs of the set. Luckily, I made it into the venue just as Drake took the stage to join The Weeknd in performing "Crew Love" and "The Zone." The crowd was going wild as the two tore up the stage. When the song came to an end, Drake took a moment to express his love and admiration for The Weeknd.
The Weeknd  – "Crew Love", "The Zone" (Featuring Drake)

The show only consisted of 15 songs and lasted about 50 min, which was surprising since The Weeknd has already released three albums. Regardless, the entire show was beyond sexy and captivating. The smooth R&B vocals mixed with modern-day electronic beats made it nearly impossible to stand still. The Weeknd def lived up to his buzz, and with a heavy-hitting backing band, he put on one hell of a show. I have to give it up to the band's drummer, as he hit it hard and kept the show on point. I especially enjoyed how he went back and forth between his standard kit and his electric set.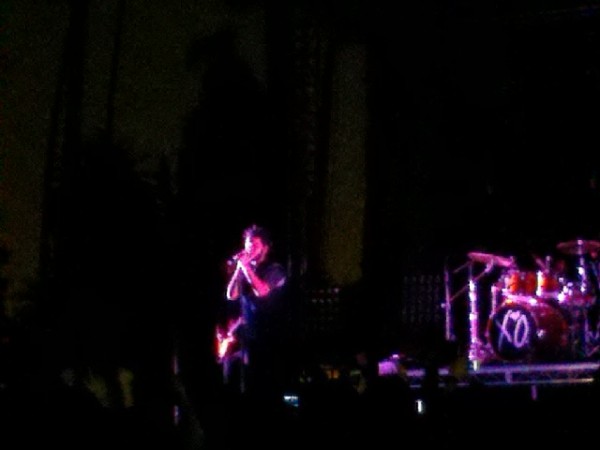 After the show, I took some time to interview some of the attendees at the show. Due to computer issues, I have yet to comprise my video concert review, but in a nutshell everyone seemed to be blown away and really excited about the show. I often find that people are hesitant to talk with a random stranger after a concert, this was not the case at this show. Folks were more then glad to sing the praises of The Weeknd.
I managed to see The Weeknd three times in the course of a month and can't wait to see him again. There are big things ahead for Abel and his set is sure to suck you in. This summer he will be on tour with Florence and the Machine, and that is an opportunity that should not be missed.
The Weeknd @ Hollywood Forever Setlist 5/5/12
High For This
D.D. / The Birds, Pt. 1
Rolling Stone
Gone
Crew Love (with Drake)
The Zone (with Drake)
The Party & The Afterparty
Montreal
The Knowing
Outside
Loft Music
Trust Issues
The Morning
House of Balloons / Glass Table Girls
Encore:
Wicked Games (Acoustic)