Ep.486 – Toro Y Moi @ El Rey – Los Angeles, CA – 10/03/11
Toro Y Moi at El Rey was a concert adventure for me to say the least. A few weeks prior to the show, one of our photographers (Jorge) asked to cover this show. I had never heard of Toro Y Moi before, but Jorge has great taste in music, so I was sure it was worth having him cover it. I sent a press request in and on the day of the show was contacted and told that Jorge could cover the show. Jorge was good to go,  but unfortunately, due to unforeseen circumstances he was unable to make the show.
I received a text from Jorge around 10:15pm stating that he wasn't going to be able to cover it, and I knew that the Toro Y Moi had probably already started playing, but decided to hop in my truck and head to El Rey anyway to see if I could catch some of the show. When I arrived at El Rey, the box office was closed and it looked as though I was out of luck…until I saw a friendly face that was kind enough to help me.  I only made it inside for the last four songs of Toro Y Moi's set, but boy-oh-boy, was it worth it.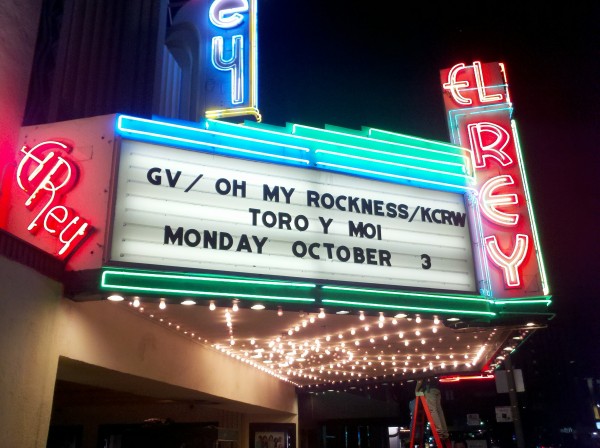 Toro Y Moi @ El Rey Video Concert Review
Toro Y Moi @ El Rey Video Concert Review
From the second I walked into into El Rey and until the time I left, I was having a funky good time. Even though I knew absolutely nothing about Toro Y Moi, I couldn't help but jam out. These guys rocked and had a totally stellar sound. I have been listening to a lot of Disco recently, and Toro Y Moi was right up my alley. From what I was able to gather, this style of music is called Chillwave. The bass was heavy, the drums hit hard and the synths were melting minds.
One person I talked with after the show said that it took a while for Toro Y Moi to actually get the crowd moving. Although I didn't catch the entire show, from what I was able to tell, everyone was having a really good time. There was dancing and even some jumping around from the audience.
Toro Y Moi had a lot of energy and are a band that I want to see again. I have to say that catching only four songs from Toro Y Moi was a major tease. I don't know when the last time I clapped this hard at a concert for an encore. I really, really wanted to see these guys play some more.
In closing, I wish I would have known more about Toro Y Moi before this show and would have actually caught this entire show. If you were at this show, or have ever seen Toro Y Moi, make sure to comment on this post and let us know what you think – because "When You Tell Concerts…It's Cooler." – lorn