Review – Trombone Shorty and New Orleans Avenue @ The Key Club – West Hollywood,CA – 2/11/12
This review of Trombone Shorty and New Orleans Avenue at the Key Club comes from Ambassador Doodle. AD has covered several shows for YTC in the past and I was really excited that she decided to check out Trombone Shorty and New Orleans Avenue at The Key Club. If you were at this show or have ever seen Trombone Shorty and New Orleans Avenue make sure to comment on this post and let us know what you think because this is You Tell Concerts and "When You Tell Concerts It's Cooler!" – poppinoff
Trombone Shorty and New Orleans Avenue @ The Key Club
Concert Review
A week before Mardi Gras, who comes to Los Angeles? Straight from the Crescent City, the Big Easy, the N to the O to the L to the A, New Orleans, Louisiana… Troy "Trombone Shorty" Andrews and New Orleans Avenue!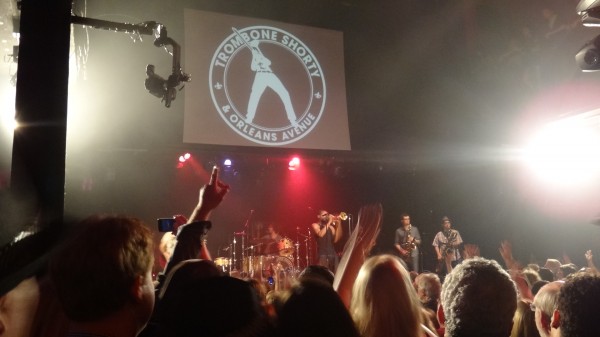 Standing outside of the Key Club on Sunset Boulevard, I felt as though I was down south for a quick minute. Folks lining up were rocking the gold, green and purple beads, and sunglasses resembling Mardi Gras masks. I overheard a group chit chatting about the upcoming New Orleans Jazz and Heritage Festival, which reminded me that I need to start sorting out my plans. The crowd spanned all ages and types. Think less hipster, more lay out a map of the U.S., close your eyes and see where your finger lands, local bar vibe. But WAY more people than a local bar.
The show that was originally set for the Music Box at the Henry Fonda, but due to recent loss of lease, was relocated to the Key Club. Let's just say… the Music Box accommodates WAY more people than the Key Club. But whatever! It's a party right? And a party wouldn't be a party without unconsciously grinding on the stranger next to you. Hell, I got a few free beers out the deal. Throw in a few people saying "baby" this and "sweetie" that with a couple "who dats!?" and you've got yourself a good time.
Trombone Shorty and New Orleans Avenue took to the stage with a vengeance. Mr. Shorty brought his trombone, trumpet, two saxophone players and a whole band of Louisiana natives. Louisiana musicians are special because they're always able to play multiple instruments and they play them well.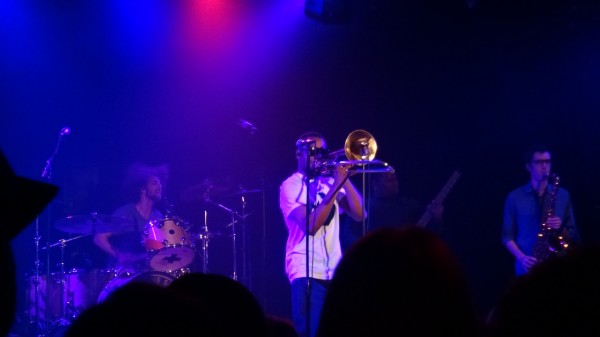 Not only does Trombone Shorty wail on the brass, he's the vocalist. The dude has some pipes for singing and for blowing his horns. At one point, he did about a two minute stretch of non-stop blowing and the crowd was loving it. During one song, he used a nearby clear plastic cup as a trombone plunger (the rubber cup looking device that muffles sound coming from the horn) and making use of the available resources resulted in a job well done.
Most of the songs were originals, but he also threw in a few classics such as "Let's Get It On" by Marvin Gaye, which prompted the lovely lady tending bar behind me to hop up and do a sexy dance for everyone. A medley of tunes followed ranging from Red Hot Chili Peppers to "California Love" to the New Orleans anthem, "When the Saints Go Marching In." I saw a few natives in the crowd waving their white hankies in lieu of a proper second line, which only made me want to teleport myself more to a corner in the French Quarter with daiquiri in a styrofoam cup in one hand and a shrimp po-boy in the other.
In preparation for pre-Grammy Awards festivities turned Whitney Houston tributes, Trombone Shorty made sure to note the passing of the one time R&B superstar and dedicated a song in her honor.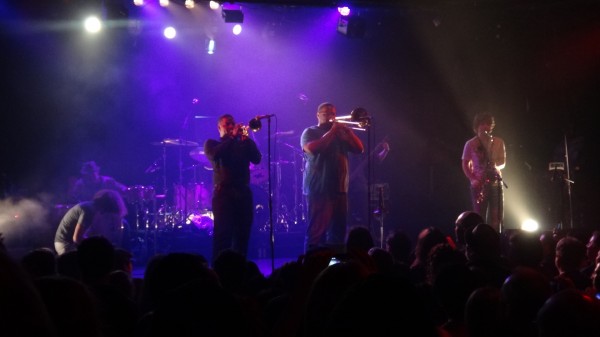 The show's finale surprised everyone when Trombone Shorty took to the drums, drummer to the guitar, sax player #1 to the bass, sax player #2 to the percussion, percussionists to the trombone and trumpet, and bass player to the sax. Unreal! That is what I'm talking about! That is Louisiana music. – Ambassador Doodle