Ep.531 – Van Halen @ Staples Center – Los Angeles, CA – 6/9/12
This was my first time seeing Van Halen, and since the band postponed the remainder of their Summer tour, it will most likely be my last. There were a lot of negative reviews about Van Halen's 2012 tour, and the canceled dates def didn't help their case.
Van Halen @ Staples Center Video Concert Review
Van Halen @ Staples Center Concert Review
Van Halen took the stage to a lukewarm crowd, and their energy seemed to match. From the top of the show to the bottom, it seemed like these guys were just phoning it in. David Lee Roth hammed it up most of all, with his big fake smile and menial attempts at engaging the crowd. Roth's vocals were shaky from the top of the show. As it  progressed, his vocals seemed to get better, but never really reached my level of expectations. The worst part of the show was when David Lee Roth attempted to perform an acoustic rendition of John Brim's "Ice Cream Man." His voice was shot, and if it wasn't for Eddie coming in with a power chord, Roth would have drowned.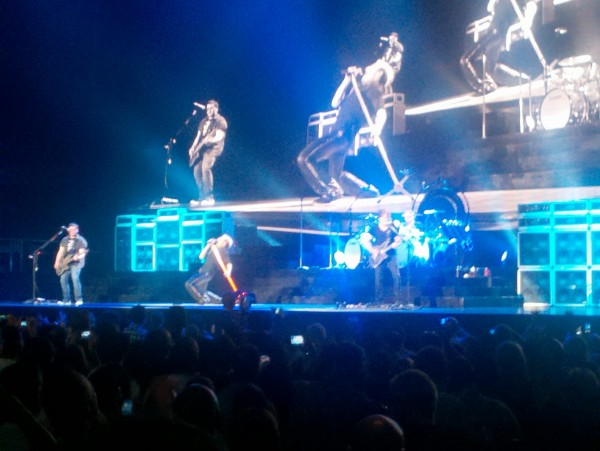 Even though Roth delivered a lackluster performance, everyone was there to see Eddie Van Halen play the guitar. Eddie killed it, but it seemed as though he was just going through the motions. The songs were being playing on point, but it didn't seem as though he was putting any emotion into it. Towards the end of the set, Eddie jumped into a rocking guitar solo. It lasted for about six minutes and was a doozy. I think the set would have been better had there been more guitar solos sprinkled through it, instead of just a single jam.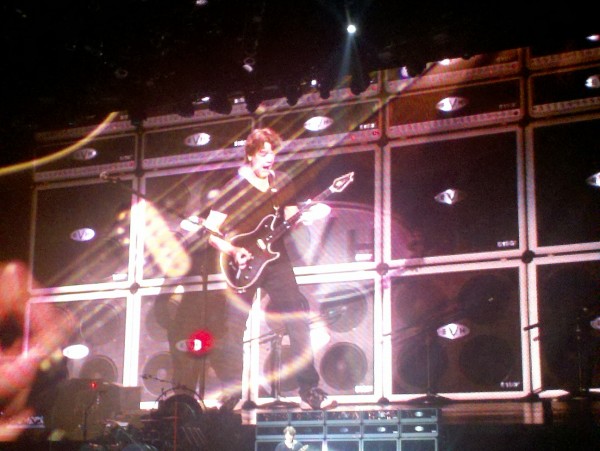 The most shocking thing about the show was that Eddie's 21-year-old son Wolfgang was on bass. Wolfgang joined the band at the age of 16 and replaced long-time Van Halen bassist, Michael Anthony. I remember all the hoopla around the young Van Halen joining the band, but until I saw him onstage, I had completely forgotten.  It wasn't that Wolfgang did do a good job…it's just seeing such a young whippersnapper rocking with a bunch of dudes in their 50′s threw me off.
One thing that really bummed me out about this show was the stage design. It was bare bones.  I had imagined that Van Halen would have thrown together some killer visuals to mach some of their timeless Rock and Roll tunes. Instead, the show simply featured black and white video of the band on a giant LCD screen. Every once in a while, an old-school Van Halen logo or some color would jump in, but for the most part, the visuals were very plain.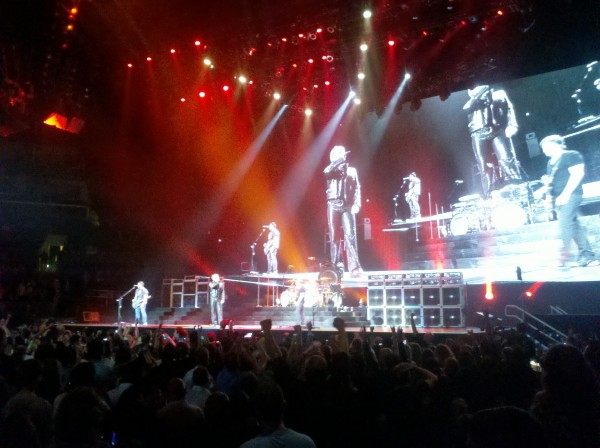 This show felt short. I was hoping to have my face rocked off, and it just didn't happen. As for the high points, Eddie and Wolfgang did a great job singing the harmonies that ultimately overshadowed David Lee Roth's performance. The song selection was solid and featured hits such as "Runnin' With the Devil," "Tattoo,""Everybody Wants Some!!," "Dance the Night Away," "Hot for Teacher," "Beautiful Girls," and "Jump." I had an all right time at this show, and regardless of my complaints, I will catch Van Halen again if the opportunity arises.
If you were at this concert, or have ever seen Van Halen, make sure to comment on this post and let us know what you think, because this is You Tell Concerts, and "When You Tell Concerts…It's Cooler!" – Poppinoff
Van Halen @ Staples Center Setlist – 6/9/12
Unchained
Runnin' With the Devil
She's the Woman
Romeo Delight
Tattoo
Everybody Wants Some!!
Somebody Get Me a Doctor
China Town
Hear About It Later
Oh, Pretty Woman (Roy Orbison cover)
Drum Solo
You Really Got Me (The Kinks cover)
The Trouble with Never
Dance the Night Away
I'll Wait
And the Cradle Will Rock…
Hot for Teacher
Women In Love
Beautiful Girls
Ice Cream Man (John Brim cover)
Panama
Eruption / Guitar Solo
Ain't Talkin' 'Bout Love
Jump